6 Tips for Student Veterans
When students are fresh out of high school, they get a lot of support in preparing for college. Counselors help them find scholarship opportunities. Teachers help them prepare for entrance exams and standardized tests. Mentors of all kinds write letters of recommendation and give students practical advice based on their own college experiences.
But when veterans apply to college after military service, they don't often have that kind of support. On their own, they have to learn how to pick the right college, get access to the funding they deserve, and figure out how their military training can actually support their education plans and career goals. And they have to do this all while re-adjusting to civilian life.
<!- mfunc feat_school ->
Featured Programs:
Sponsored School(s)
<!- /mfunc feat_school ->
If you're a veteran or soon-to-be veteran with lofty career goals, here are six practical ways you can get the most out of your college education.
1.
Be Specific About Your Career Goals
It might be tempting to jump right into college after military service because it just seems like the right thing to do. You can always change your major later, so why put off your education any longer?
While there's a lot to be said for going with your gut, defining your career goals before you enroll can save you precious time, money, and energy. Before choosing a college, ask yourself:
As a veteran, you've already invested in your own personal development. Your education is an extension of that investment — take the time to plan it wisely.
2.
Find a Degree Program That Works For You
Separating from the military doesn't mean your life will become magically less busy. You may be looking for a new home, hunting for a job, and catching up on some much-missed family time. Going to college after military service doesn't have to get in the way of that.
If settling down with your family in your hometown is a top priority, consider pursuing a degree online. While you may have to attend some live classes, there will probably be some pre-recorded sessions you can watch on your own time. You can also take the money you'd spend on relocating or commuting and devote it to building your post-military life.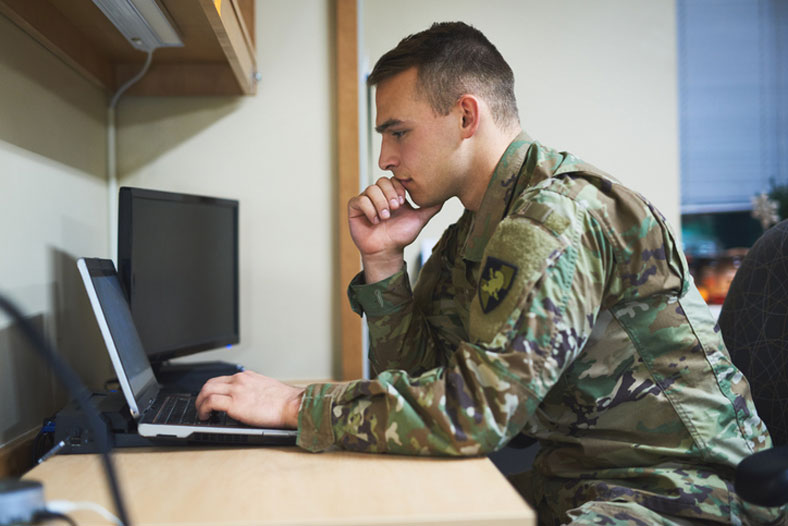 However, if you loved moving while you were in the military, you may get a lot out of attending classes on campus. You'll get a more hands-on experience and may find it easier to make new friends. If your career plans involve working for a specific company in a specific industry, attending a school near your future home could allow for some invaluable networking opportunities. Attending on-campus classes can also help you stay focused on your long-term plans.
No matter what kind of program you choose, remember that college is a different kind of work than military service. They're both full of long days and late nights, but in college, no one will hold you accountable but yourself. Set yourself up for success by choosing a degree program you can realistically handle.
3.
Don't Be Afraid To Change Plans If Needed
As detailed as your career and college after military plans may be, they may not work out the way you planned. Maybe you just aren't getting the education you need at your school of choice. Maybe you want to pursue a degree more in line with your MOS. In either case, consider transferring to another college before dropping out entirely.
Don't think of transferring as admitting defeat or as a waste of time. Think of it as a way to protect your investment and future.
In fact, the National Center for Education Statistics says that in the fall of 2020, about 1.2 million undergrad students were enrolled as transfer students. While every school has its own policies about transferring credits, the classes you took at a previous college may still count towards your degree after you transfer. If you're unsure about college in general, think about starting your education at a community college and transferring to a different program when your plans start to take shape.
4.
Get Help Understanding and Applying For Financial Aid
Perhaps the biggest advantage of going to college after military service is the financial aid veterans have access to. But determining how much and what kind of aid you're eligible for isn't always straightforward.
Many veterans qualify for some level of GI Bill funding, but not everyone gets the same amount. No matter the amount you qualify for, though, use it. Every little bit helps.
It's important to remember, though, that GI Bill benefits are calculated based on in-state public school tuition. That means if you qualify for 100% GI Bill benefits but attend an out-of-state private university, the government will likely not pay for 100% of your tuition. However, many universities will offer in-state rates to out-of-state military veterans.
On top of that, you might want to investigate other kinds of education benefits you and your family may qualify for. This could include veteran-specific scholarships like the Yellow Ribbon Program, merit-based scholarships, work study programs, and federal financial aid.
Hunting down those opportunities might not seem like it's worth your time, but according to Forbes magazine, about $100 million in scholarship money is left unclaimed every year. Working with local veteran organizations or your college's admission council can help you discover these opportunities and fill gaps the GI Bill doesn't cover.
5.
Use Your Military Training To Get College Credit Hours
From time management to technical knowledge surrounding your MOS, you probably learned a lot during your time in the military. Fortunately, those skills are good for more than just looking good on a college application. Some colleges will actually let you convert military training into college credit hours.
The American Council on Education (ACE) maintains a database of over 3,600 military occupations. Each occupation is broken down into the skills a member of the Armed Forces learns during their training. Each skill comes with a credit hour recommendation.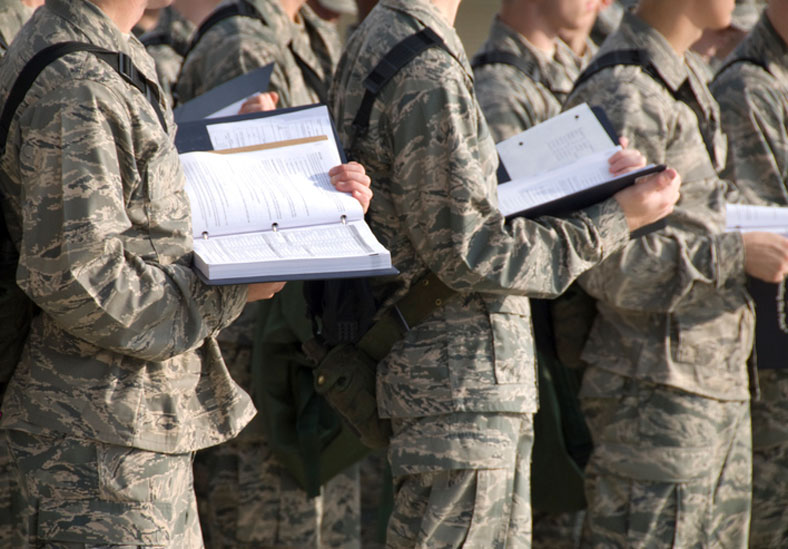 For instance, Army information technology specialists learn about server administration, project management, and network maintenance. ACE says military training in each of these skills is worth three college credit hours. That means a student veteran can enter a school's computer programming degree track with at least nine hours of credits towards graduation. Service members who received higher-level training can potentially earn more credit hours.
Practically speaking, this creates a huge advantage for students entering college after military service. They can bypass certain classes, get more out of their financial aid, and complete their degrees faster.
However, students have to request their transcripts from the military and submit them to their schools of choice on time. Also, ACE's credit hour recommendations are just that — recommendations. Schools are generally free to award students with the number of credit hours they see fit and can even award credit hours for skills not listed in the ACE database.
6.
Look For Military-friendly Schools (And Investigate Their Claims)
Not every school has a large student veteran population. While that shouldn't necessarily take schools off your list, keep in mind that they may not be equipped to guide you through parts of the college experience only veterans go through.
For instance, military-friendly college staff may be able to help you find scholarship opportunities and may be more likely to give you more credit hours for military training. They may also have social clubs where veterans can build support networks with other students dealing with post-military isolation, PTSD, and other issues student veterans face.
Keep in mind, though, that not every college that advertises itself as veteran-friendly is in fact truly supportive of veteran education. Before signing up for classes, do some investigation:
Many schools will happily share this information with you, but asking around doesn't hurt, either. Check with the VA, local veteran organizations, and some of your peers, too. They may have some recent, real-world insights into what life is actually like at your school of choice.
Learn More About The Veteran College Experience
When veterans learn how to use their military experience as a foundation for success in college, their opportunities are virtually limitless. Their discipline can give them a leg up in business administration. Their ability to work under pressure could prove useful in any kind of healthcare career. And every industry needs a shot of integrity and leadership. College-educated veterans are fully equipped to provide that.
To find out how you can turn your military experience into a successful career, read more about the post-service college benefits you're entitled to and how to use them. Going to college after military separation doesn't have to be intimidating. By using everything from financial aid to tutoring services, you can transition seamlessly into a civilian life full of opportunity and fulfillment.