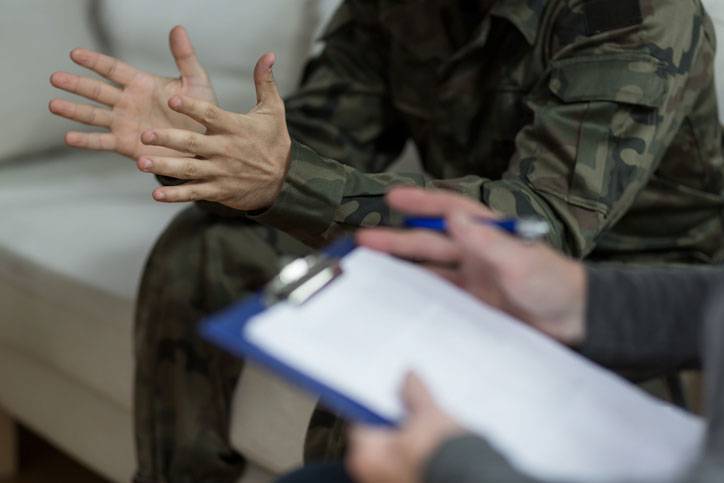 The appearance of U.S. Department of Defense (DoD) visual information does not imply or constitute DoD endorsement.
Counselors, therapists, and other similar human services workers represent a very significant slice of the American workforce. Bureau of Labor Statistics data from 2021 shows that more than half a million counselors and therapists can be found working in various roles in the United States.
It's all driven by great need.
The National Alliance on Mental Illness finds that one in five American adults experience mental health issues.
Unlike past generations, mental health issues are no longer stigmatized and swept under the rug, and that means more Americans are seeking the treatment they need.
When the research firm Barna Group surveyed Americans in 2018 about their perspectives on counseling, they found that more than 40 percent reported having seen a counselor at some point in their lives. Another 36 percent are open to the idea of counseling. And the numbers get higher with younger age cohorts, suggesting a future where mental health and other specialized forms of counseling are viewed with the same level of openness and empathy as any other health condition.
Explore Your Military Training and Degree Options
In a Sense, Counseling is a Way of Life in the Military
Military service offers a path into counseling and human services that might surprise those outside the service. Counseling has such a huge emphasis in the American armed forces today that every leader is also expected to be a counselor. Guiding subordinates to make the most of their performance and potential and to address any issues, mental or otherwise, is a key piece of keeping a command ticking over smoothly.
Guidance and Skills Instruction is Fundamental to All Forms of Counseling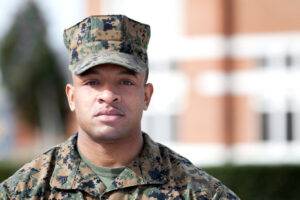 Although mental health counseling definitely is an important job in the American military today, when you hear the term used, don't assume immediately that is what is being talked about.
The term counseling has a far broader meaning in the service. It covers all kinds of advice, preventive, and corrective lectures and discipline. The Army alone lists Developmental, Event, Performance, and Professional Growth counseling as activities for officers and NCOs to engage in with subordinates almost daily. There are twelve different official forms in use!
These tasks are all right in line with the processes and spirit of mental health counseling, but they don't involve the same training or professional requirements.
Considering the socioeconomic groups that American military members are typically drawn from, there can be a lot of baggage to sort through. They come from all across the country, both urban and rural areas. They are young, usually right out of high school. And they often join because it's a way forward in lives that otherwise don't offer a lot of options.
So there are plenty of opportunities in the military to build your skills toward a career in professional counseling or human services—even if that's not the title of your billet.
Mental Health Counseling in the Military Can Lead to Civilian Careers in Similar Roles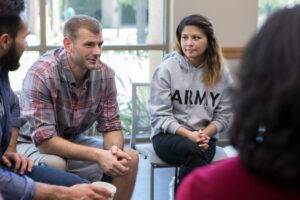 There's no question that being in the military can be stressful. Pressure is high when lives are on the line. Sleep is often the first thing to go when op-tempo goes up, whether it's conducting raids in hostile neighborhoods or supporting night flight operations on a pitching carrier deck.
And then you add the trauma of great violence and loss to the mix. It's a recipe for mental health issues and all the associated difficulties that come with them:
These issues aren't unique to the service. According to the National Institutes of Mental Health, about a third of Americans will have an anxiety disorder at some point in their life, and between 6 percent and 8 percent experience depression or PTSD.
The Field of Counseling Owes a Debt to The Military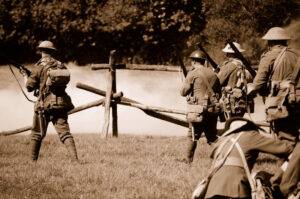 There's one type of counseling that pretty much owes its existence to the military. Unfortunately, it took a tragedy to bring it to the forefront.
In the wake of the First World War, unprecedented numbers of service members were discharged back into the civilian world with last damage. Improvements in front-line hospital care meant wounded soldiers with grievous disabilities had survived where they would not have in previous conflicts. And the horrific nature of trench warfare caused lasting scars on an estimated quarter of vets who were physically untouched.
Authorities realized that adapting back to the civilian workforce could require both retraining and guidance. So the vocational counseling profession exploded.
Vocs had to deal with mental health, physical injury, and training needs. The practical, problem-solving nature of the profession has remained intact today. And it's done good service for new generations of warriors returning from the front lines.
Civilian Counseling Roles Span The Range of Mental Health Services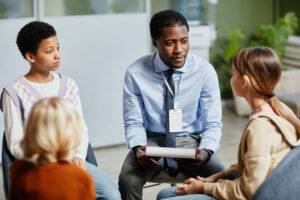 Human services is an enormous field with dozens of different kinds of jobs out in the civilian world. It embraces everything from counseling to psychology to social work. Some of these jobs are all about paperwork, managing the vast system of supports, benefits, and services that keep society afloat. Others are immersed in human contact, with outreach, advice, and counseling as their main tasks.
Particularly when you get into licensed mental health counseling and therapy, some of these professions are a bit hard to tell apart. But there are significant differences in licensing and scope of practice between psychologists, counselors, and therapists, even though they may have some overlap in terms of patients and therapeutic techniques.
A big difference in military counseling, however, is that there are fewer clear lines about what counselors and other support staff cover. Each MOS (Military Occupational Specialty) has a job description and duties that line up with their special training. But you're all on a team, and getting the job done is often considered more important than job descriptions. In what every way you can help, you will.
Counselors and Needed Everywhere in American Society
Counseling was already widely in demand in American society even before COVID-19 came in and sent everybody a little off-kilter. According to the Bureau of Labor Statistics, job growth in various counseling and psychology professions between 2020 and 2030 will meet or exceed the average job growth rate.
There are also hundreds of other specific job titles in human services. They can include:
But BLS only tracks statistics in two specific categories those fall into:
Jobs in these areas are most commonly found in public service (something you will be used to!) or non-profits. Major healthcare providers are also big employers of counselors and human service professionals. And there is room for entrepreneurial efforts, too: many counselors are independent providers, and your military take-charge attitude may lead you to starting your own organization to solve problems where you find them.
What Kind of Salary Can You Expect to Earn as a Counselor?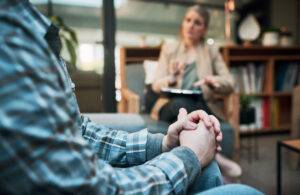 Although there are a wide range of different counseling and human services jobs to choose from in the civilian world, the salaries don't vary as much as you might think. That's true even though the educational qualifications can be quite different.
However, many of these positions are with government agencies or health care providers. These types of jobs often come with very generous retirement and health benefits, not to mention long-term stability. But this isn't a field you get into to get rich. Like the military, it's something you do because you want to make a difference.
For 2021, the median salary levels in human services and counseling jobs were:
You'll find that education can be one of the big differentiators in what different roles pay. The more training and skills you build on top of your military toolset, the higher your salary could be.
Counseling and Human Services Specialties in the Military Offer Training That's Just as Relevant in the Civilian World
America asks a lot of members of the armed forces. But the country also goes the extra mile to keep them on track and healthy. That's why every branch of the service invests heavily in counseling and human services support.
You can find counseling services and jobs in areas such as:
All of these have direct counterparts in the civilian world.
Most counseling jobs in the military come on the enlisted side in this field. If you find yourself in officer country you've overshot and ended up in clinical social work or psychological therapy territory.
On the enlisted side, however, you'll get good counseling skills through MOS roles including:
Every service has recruiting and retention specialists – roles very similar to what civilian career counselors do.
Training in all these roles typically amounts to no more than about 10 weeks of dedicated schooling. In some cases, education happens mostly on the job.
But you can also count on continuing education throughout your time in the service. Used wisely, that can build up your expertise toward civilian careers in the field. In some cases, it might even earn you college credits after you are discharged.
COOL Can Help You Earn Certifications in the Service That Will Be Relevant to Your Counseling Career Later
Many counseling and human services jobs require some sort of licensure or certification. Through the military's Credential Opportunities On-Line service, you may be able to earn relevant certs on while you are still in the service. Even better, you may be able to get up to $4,000 paid toward the educational or testing costs for those certifications.
This program requires the approval of your chain of command. You also generally have to come up with the time to study or take the exams on your own. But COOL can offer you a boost through such certifications as:
…and more! You'll want to check the COOL website for your service and explore the options with your commander.
The Most Traditional of Counseling Roles Has a Military Counterpart, Too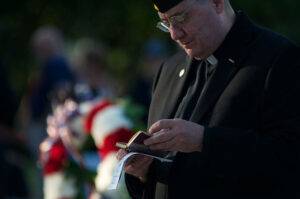 Although counseling is a secular, non-denominational field, it overlaps quite a bit with the most traditional roles offering succor: the ministry.
Every military unit of battalion-level or above generally has an attached chaplain. These are officers who have come in through direct entry programs with degrees in the ministry, there to serve the religious needs of the troops.
These ministers also have enlisted assistants to support them in their duties. The Navy's Religious Program Specialist or 56M Religious Affairs specialists in the Army assist chaplains with all the various kinds of counseling and support duties common to pastors. In some commands, these teams are seen as more effective in getting quick assistance than following the normal chain of command.
In practice, troops will bring all kinds of common difficulties to the doorstep of their unit chaplain. And in the tradition of religious ministers throughout history, no matter what the issue is, their team will try to solve it. It's a great, if unofficial, way to get counseling and human services experience in the Army, Navy, or Air Force.
A Wide Range of Degrees Offer Entry into a Wide-Ranging Field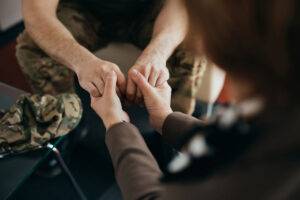 The training and credentials you pick up in the service were invaluable for helping your unit, and they can also help in laying a firm foundation for a civilian career. But to continue on into licensed counseling jobs in the civilian world, you'll need to earn a college degree.
The good news is that you can start climbing the educational ladder early and get real, useful skills quickly in counseling or human services.
Associate Degrees in Counseling
These two-year programs are often also called transfer degrees. That's because you can often apply them to the first two years of a bachelor's program, saving some money and keeping your options open. They offer a basic preparation in behavioral science, counseling, and human services, but you are usually expected to progress to a more advanced degree before working professionally.
Bachelor's Degrees in Counseling
A four-year bachelor's degree comes with the right combination of specific professional training and broad, general knowledge and education classes to qualify you for entry level jobs in counseling There are degrees specific to all sorts of different specialties, and the electives available at this level let you tune your studies to your individual career goals.
Master's Degrees in Counseling
A master's degree is a requirement to become licensed as a professional counselor in every state. These two-year programs focus on the specifics of the job you will be doing and offer both theoretical preparation and practical training through internships and practicum.
The National Board for Certified Counselors has more than 40 specialized practice areas listed for counselors—you'll want a master's program that prepares you for the one that speaks to you.
Doctoral Degrees in Counseling
Doctoral degrees in these fields prepare you for leadership roles or for advanced practice in your field. With an additional five to seven years of training involved, they involve a significant commitment. But when you come out the other side, you'll be qualified to deal with any kind of mental health counseling issue or become a manager or educator in human services.
<!- mfunc feat_school ->
Featured Programs:
Sponsored School(s)
<!- /mfunc feat_school ->
All Kinds of Undergraduate Majors Can Give You a Starting Point to a Career in Counseling
The kinds of degrees you will find available in human services and counseling span the same range as the sorts of jobs that are available in the field. Particularly at the associate and bachelor's levels, you can explore majors such as:
You'll find the curriculum quite similar, though specialized, in each of them. And you'll also find that all of them are perfectly acceptable as qualification for both generalist jobs in any of those fields, or for eventually being accepted into a more specialized master's degree program.
Counseling Programs Focus Your Skills Toward Helping Others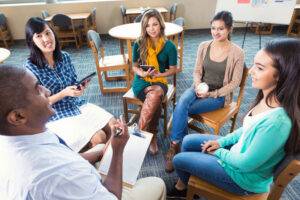 Your curriculum in counseling can be as varied as the kinds of jobs in the field. Whether you specialize in vocational work, substance abuse, or marriage and family therapy, you'll get very specific classes to prep you for the unique kinds of counseling you will perform.
But all of them will revolve around core coursework in how to relate to individuals and how to manage the support systems they need.
Another common aspect of all sorts of counseling degrees is a grounding in real-world experience. Internships and practicum work serve to get you out in the field, working with actual patients. You work under currently licensed professionals, but you get the opportunity to put your training in play and learn how to make a genuine difference.
Becoming a Licensed Counselor Requires More Than Just Education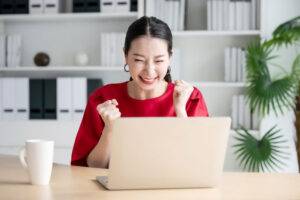 Becoming a licensed professional counselor (LPC), licensed marriage and family therapist (LMFT), or Licensed Mental Health Counselor (LMHC) requires meeting state-specific licensing requirements.
The most important of these is earning a master's degree from a school with specialty accreditation from CACREP (Council for the Accreditation of Counseling and Related Programs), COAMFTE (Commission on Accreditation for Marriage and Family Therapy Education), or MPCAC (Masters in Psychology and Counseling Accreditation Counsel).
But each state will also require that you pass a standardized examination and go through between 1,500 and 3000 hours of supervised post-graduate experience. All states have their own license requirements, so you'll want to check the qualifications needed to practice where you plan to live after discharge.
Professional certification is also typical for counselors. The National Certified Counselor (NCC) or Certified Rehabilitation Counselor (CRC) are common examples, which can lead to even more specialized certifications in different treatment or focus areas. Employers and clients alike look for these as signifiers of your commitment and experience.
Military Friendly Colleges Offer the Best Option for a Counseling Degree
No matter what degree you decide to pursue, choosing a military-supportive school to earn it at will make your path easier. You want colleges that have:
How can you tell they are checking those boxes? A good place to start is with the VA's GI Bill® Comparison tool. You can search by geographic area, type of school, or other criteria, and get all the details. Military-supportive schools show their support in concrete ways that will show up as:
You're not going to be the first one out of the door at this drop-zone, either. If a school is doing right by veterans, you're going to see other vets already enrolled there. And that usually means veterans groups and other supports that help someone in your unique position to get through it all to earn a full degree.
That's because veterans are used to reaching out to lend a hand. They do it with other vets, and they will do it for just about anyone in need. Protecting and defending your country in the service was only one way to watch out for fellow Americans. Becoming a counselor or human service professional offers another path, and one that may be even more satisfying.
2021 US Bureau of Labor Statistics salary and employment figures for Community and Social Service Occupations reflect national data, not school-specific information. Conditions in your area may vary. Data accessed June 2022.