A 2020 report by the United States Education Department found that there were 1.4 million military students enrolled in colleges and universities. This is throughout the country. These individuals play a significant role in campus life. Many schools are actively battling to get their share of military members onto their campuses. After all, the schools understand how much value military members bring to the culture of campus overall. So why are mental health services important?
One way that military-supportive colleges and universities can show their support for military students on campus is by offering an array of mental health services.
<!- mfunc feat_school ->
Featured Programs:
Sponsored School(s)
<!- /mfunc feat_school ->
Understanding the Unique Challenges of Military Students
The transition to college life can be a challenge for anyone. There are so many responsibilities and social pressures all swirling around at the same time. Military students might face even more obstacles than the average student. Some of the difficulties that military students have reported facing include the following:
Obligations Outside of School
Just like other types of students, military students might have obligations outside of their coursework. They may have a spouse, children, a job, or any number of other things that they must focus their energy on. This can create extra strain on the life of the military student. This is as he or she tries to figure out the best possible way to balance it all out.
Financial Difficulties
There are limitations to the VA benefits that military students can receive. Therefore, many of these students feel the need to take out student loans to help cover their school expenses. This may cause additional financial strain in their lives. This may make college even harder to take on than it otherwise would have been.
A Lack of Mental Health Services
Colleges and universities are finally starting to come around to the fact that mental health resources are as important as they truly are. However, a lack of mental health services on some campuses means that some military students still struggle to deal with the psychological traumas that they have suffered.
These issues, among others, are all potentially big issues when it comes to how military students cope with life on campus. Schools across the board should take a look at this. They should also work out how they can best help military students access the resources they need.
The Role of Military Supportive Colleges 
Military students should keep their eyes open to discover the colleges and universities that are the most supportive of them and their needs. U.S. News and World Report explain what they should do:
While putting together a list of colleges, veterans and active-duty service members should research whether a school enrolls other military-affiliated students, accepts education benefits reserved for them, has a military and veteran affairs office on campus and provides college credit for military training. 
These schools have made specific efforts to reach out to the military community. They are also supportive as they possibly can to those who have served so bravely. They offer some of the following attributes:
Flexibility
A flexible schedule is ideal for a busy military student who is trying to balance out all of their responsibilities. The ability to take online courses and other flexible offerings make it easier for military students to accomplish what they need to.
Support
A school that has people on staff who know what it is like to serve in the military can provide the relatable support that military students need to be successful. They need to know that someone out there understands their experiences and where they come from. The schools that offer this are sure to find plenty of military students enrolling in their programs.
Understanding
Transitioning from active duty service to the role of a full-time college student isn't easy. There are a lot of changes that occur when moving from one type of life to another. Nothing about it is easy. That is why one should seek out the specific schools that have gone the extra mile to provide support services to military members.
These colleges play a special role in the educational development of those who have served so bravely. It is important to continue to promote and support these schools whenever possible.
The Importance of Mental Health Services in These Colleges
The National Center for PTSD estimates that 7% of military members have Post-Traumatic Stress Disorder (PTSD). These individuals go through many challenging experiences and see things that the rest of us never have to see. This is a big reason why mental health services are so important to the creation of a military-supportive college or university.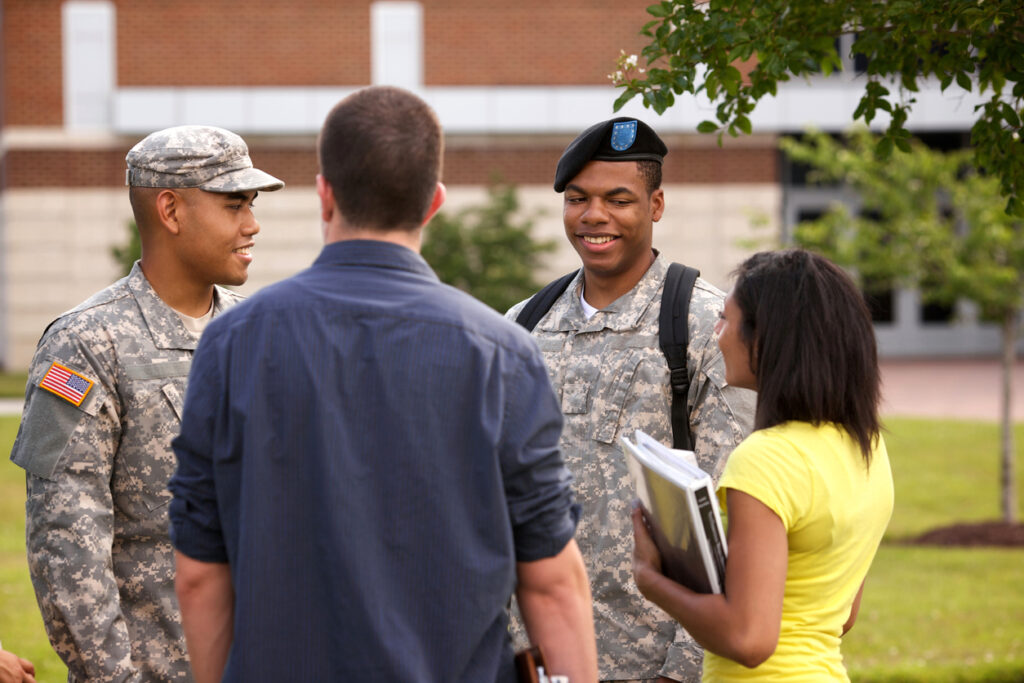 Military students need to know that they can receive the mental health support that they require whenever they need it. Simply knowing that there is a place that they can turn to and someone they can talk to is the best way to provide the support that military members need when they are going through something challenging.
Approximately 4 out of 10 college students say that they consider dropping out of classes. Mental health concerns are a major reason why so many of these students think about leaving the path that they had previously been on. Therefore, military-supportive colleges need to continue to offer a vast array of mental health resources to prevent this outcome and keep students moving forward.
Case Studies and Testimonials
There are a few schools that stand out as being highly supportive of military students.
Ball State University
This school, located in Muncie, Indiana, is known for offering empowering programs for military students. Not only do they stay on top of things as far as mental health support services are concerned. But they also have a number of degree programs targeted at military students.
Liberty University
Focused on providing a Christian-driven education, Liberty University is a unique school in many ways. They also deserve a lot of praise for going the extra mile to provide educational opportunities for members of our military. They are a school to keep an eye on.
Military-Supportive Universities are the Future
Society continues to learn about the impacts of issues such as PTSD and other concerns that members of our military are likely to have. It is pretty clear based on this fact that military-supportive universities are the future of education. They will continue to serve a vital function in the education of all of those who have served the country so bravely.
Continue reading and take a look at our guide to The Most Military-Supportive Colleges and Universities in America.