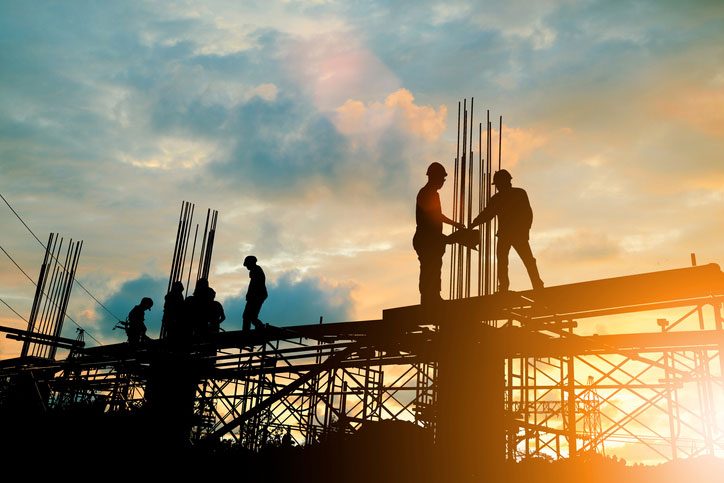 The appearance of U.S. Department of Defense (DoD) visual information does not imply or constitute DoD endorsement.
So, you get out of the service. Now what? Going to college is one option, but it's not the only one. These days, the trades seem a lot more appealing to many vets.
<!- mfunc feat_school ->
Featured Programs:
Sponsored School(s)
<!- /mfunc feat_school ->
For the past several years, skilled trades have been getting a lot of attention, recognized for offering a lot more opportunities for stable, well-paying work than you find in a lot of office jobs. But it wasn't till the post-pandemic trucker and longshoreman shortage made the news and took some blame for snarled supply chains and empty store shelves that it really became part of the national conversation.
That conversation should continue even now that there's plenty of toilet paper and baby formula to go around. The fact is, it's not just truck drivers and dock workers that are in short supply. There's a shortage of high-skilled workers in dozens of different skilled trades. The good news is that this situation is creating some great opportunities for anyone with enough focus and drive to learn a trade, and the diligence and work ethic to show up every day ready to get the job done.
In many ways, it's the kind of thing that members of the U.S. Armed Services were born for.
Explore Your Military Training and Degree Options
Does the GI Bill® Cover Trade Schools?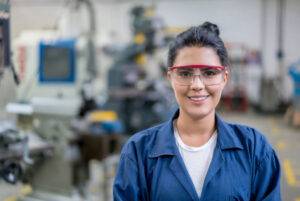 Yes – you can use the GI Bill® to pay for any school that's listed in the Weams Institution Search. You can search by "On-the-Job-Training/Apprenticeship" or "Non College Degree", and then list your state or territory of residence to find a trade school or other training program.
The Very Same Things That Made You a Warrior Make You the Kind of Person Companies Want to Hire
Whether you're a veteran, a dependent of an active-duty service member, or spouse of someone serving, you'll have an edge over other applicants thanks to one thing: Your character.
While the trades attract highly skilled craftsmen, just like in any field – and perhaps even more – you'll also find plenty who routinely spend more time thinking about their next paycheck than mastering their craft. Some don't show up on time, some stop showing up at all.
Experience in or around the military sets you apart in that you know the value of discipline. If you have to work tomorrow, you're not going to tie one on. That already sets you apart from other applicants for the same job.
People who own plumbing, electrical or other companies see a person who's served and think: "This person knows how to grind. They've endured tougher hardships than many others, and they'll probably appreciate the opportunity, and give it their all."
So, be confident as you head out into the civvie world for your training, and as you begin looking for jobs. Even if you have zero experience, just showing up, paying attention to detail, and working hard will get you further than many.
When interviewing, don't be afraid to disclose your responsibilities as a solider, seaman, airman, or marine. Talk about how you kept your cool in tough situations, and highlight any accomplishments you had. Employers will recognize that.
Choosing the Trade That's Right for You
We list two dozen trades in this article, and that doesn't even scratch the surface. There are dozens more for you to choose from, so how do you know which one to pursue?
First, reach out to your civilian network. You probably have a buddy or two who work in the trades. Work with them for a week or so, and see if you like it. Be honest with yourself: "Could I do this for the rest of my life?" Figure out what interests and excites you. That enthusiasm will make you a great craftsman.
Another thing: Look at what you're already good at. Are you more mechanically inclined, or do you enjoy building things? Can you easily grasp the logic behind electrical controls, or are you one of those folks who isn't scared of heights? Your talents will direct you to your ideal position. 
Look for Programs That Cater to Military Service Members
There are dozens of initiatives designed to get veterans involved in the trades, many of which are run by unions throughout the country.
For example, the United Association (UA) has a Veterans in Piping program that offers free training to transitioning service members. It's part of the DoD's SkillBridge program, and offers 18 weeks of accelerated training in either fire sprinkler fitting, pipe fitting/welding, and HVAC/R.
Non-union options include the "Trade Warriors" program offered by Trane Technologies or the Workshop for Warriors advanced manufacturing program, founded by Navy veteran Hernán Luis y Prado, which boasts a 95 percent job placement rate.
The biggest factor in finding a trade that fits you is to keep an open mind. Don't ever be afraid to learn something new. You jumped into the fire with the military. How hard can it be to do that with a trade?
What About Trades That Take Thousands of Hours of On-the-Job Training?
While going to a technical school is ideal for some trades, many require on-the-job training or apprenticeship programs. The term apprenticeship certainly isn't owned by the unions, but generally speaking, when you hear people in the trades talking about apprenticeship programs, it usually refers to union training.
Whether through a union apprenticeship or non-union on-the-job training, spending time on the job learning by doing is a means to acquiring the state-issued license required to perform certain trade work. For example, the Massachusetts Board of State Examiners of Plumbers and Gas Fitters require that apprentices complete 6,800 hours of work under a master plumber and 550 hours of schooling before taking the journeyman plumber and gas fitter exam.
That on-the-job training can certainly be provided by any employer that believes you have what it takes and that you'll stick around for the long haul. If that's the case, they would invest in you as a future employee by paying you as a helper while you learn the trade on the job under the guidance of an experienced tradesperson.
There are also non-union industry trade groups that offer formal on-the-job training programs where you walk away with a credential in the end that shows you've been trained to the industry standard. And, of course, there are trade unions that provide formal apprenticeship programs that offer that same kind of paid, on-the-job training.
Does the GI Bill® Cover Additional Education Costs and Living Expenses During Apprenticeship or On-the-Job Training?
If you're eligible, the Post-9/11 GI Bill® will pay a stipend for books, supplies, and housing every month for as long as you're enrolled in the apprenticeship program. Here's how it works.
And if you want to transfer those benefits to eligible dependents, you most certainly can:
If you, or your spouse or kids meet these criteria, you can search for a GI Bill®-approved employer or union through the Weams database. For instance, if you live in Pennsylvania, just search for "On-the-Job-Training/Apprenticeship" and select PA. There, you'll find B&R Electrical Contractors, Boilermakers Northeast Area JAC Local 154, and hundreds of other organizations.
How do you get the GI Bill payments? Every time your employer or union reports hours to the VA, the VA will send out your monthly housing stipend and supplies stipend. All of those payments are tax free.
Unions: A Crash Course for Service Members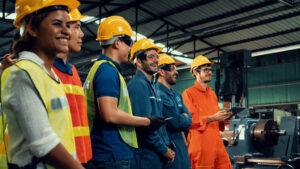 Here's where we get into some controversial territory. Depending on how and where you grew up, unions may have a positive or a negative connotation. While some rally behind the brotherhood of workers, others dismiss the organizations as outdated institutions. So, what's the real story?
Stripping away whatever you heard, unions are organizations that collectively bargain for wages, benefits, and rights on behalf of workers. Generally, each trade has its own union:
The International Brotherhood of Electrical Workers represents utility workers and electricians.
United Association of Journeymen and Apprentices of the Plumbing and Pipefitting Industry (UA) represents plumbers, pipefitters, sprinkler fitters, HVAC/R service technicians, welders, and others.
The International Association of Bridge, Structural, Ornamental, and Reinforcing Iron Workers Union represents (you guessed it) iron workers.
You get the idea. If you join a trade, there's probably a union available to join.
When you join a union, you're a part of a pool of workers. Private companies (in this case, called "union shops") tap into this pool when they need labor. Say you're a mechanical contractor subbed out to install the plumbing, heating, and A/C systems in a hospital. The contract stipulates that you must use union workers. So, you go to the local UA chapter to hire plumbers, pipefitters, and HVAC/R technicians.
Benefits of Joining a Union
For one thing, you won't get a higher hourly rate anywhere else. In some states, union workers make 30 percent more than their non-union counterparts, depending on the trade. In addition, many locals negotiate full benefits: healthcare, dental, vision, annuities, and retirement accounts. If nothing else, you'll make a better rate than non-union workers in your trade.
There's also the opportunity to go wherever there's work. If a contractor has a large job, and a local doesn't have the manpower to supply the workers, that local will reach out to the larger union network in an attempt to fill those positions.
On a related note: you'll work on some really cool facilities if you're in a union – especially if you've joined an organization like the UA. You'll build hospitals, biomedical labs, factories, and other facilities with complex, interesting systems.
Drawbacks of Joining a Union
Unfortunately, union tradesmen aren't exempt from layoffs. When there's work, it's awesome, but when there's none around, you still have to pay union dues. And you may be out of work for three months or longer.
One thing you may not think about: unions have a lot of rules. Given your background, you're not unfamiliar with them, but you may be looking for a less stringent environment. Here's an example: some unions designate specific tasks to one man, and one man only. A guy in the plumbing union may get paid $50 an hour to cut holes, and that's all he does. That may not be the case with your local, but it could be.
Political action is a big part of any union operation. You may find it challenging when a union endorses a candidate for whom you don't intend to vote. No one's going to strong-arm you into voting for that incumbent, but you may find pressure within the culture to do so. As you can imagine, that doesn't always sit well with people.
The Fastest Growing Trades for Military Vets are in Green Tech, Aerospace, Fossil Fuels and More
You're leaving the service, and you want to get into a job where you can count on plenty of work being available to you. No one wants to serve their country for four years just to enter a trade that's on the decline. So what are the fastest growing trades in the U.S.?
Wind Turbine Technicians: 68% Expected Job Growth Rate – 2020-2030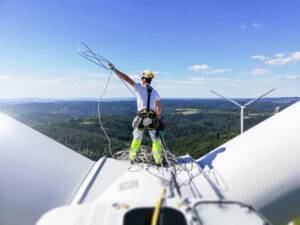 The number of job openings for wind turbine technicians is projected to grow 68 percent between 2020 and 2030, making it the fastest growing trade in the nation. As many states set net-zero emissions goals for the middle of the century, state legislators are doing all they can do boost local economies' clean energy production. For coastal states, wind power is an attractive option.
In 2021, wind turbine technicians earned, on average, $28.16 per hour, or $56,260 per year. The top 10 percent in the trade earned at least $77,810 per year.
Solar Photovoltaic Installers: 52% Expected Job Growth Rate – 2020-2030
Employment of solar photovoltaic (PV) installers is set to grow 52 percent between 2020 and 2030, adding 6,100 jobs to the market. As of 2020, 11,800 solar (PV) installers were working in the U.S. So, the story is similar to that of wind turbine technicians: Fast growth among a small labor pool.
What's driving this demand? Many states and localities provide incentives for homeowners to install solar panels on their homes. In addition, instead of purchasing the equipment outright, many homeowners are opting to lease these systems.
As of May 2021, solar PV installers earned $24.38 an hour, on average. That comes out to $50,710 per year. Not a bad living. While the bottom 10 percent earned less than $36,320 per year, the highest 10 percent grossed at least $72,080 annually.
Derrick Operators, Oil and Gas: 30% Expected Job Growth Rate – 2020-2030
For those of you who don't know, a "derrick" is not your friend from the 2nd grade. It's a giant machine used to dig holes for oil and gas wells. As the derrick bores a hole into the earth, a mud mixture comes out of the hole to cool the drill equipment. A derrick operator ensures the mud continues to flow so the derrick doesn't become damaged.
As long as we inhabit this earth, energy will always be in demand, so it's not surprising that the number of jobs for derrick operators is projected to grow 30 percent in the current decade.
So, what's it pay? Derrick operators earn an average $25.07 per hour, or $52,140 per year. The top 10 percent earn close to six figures: at least 77,000 annually. 
Roustabouts, Oil and Gas: 30% Expected Job Growth Rate – 2020-2030
"Roustabout" is the name given to those conducting manual labor on oil and gas fields. They clean work areas, inspect and repair equipment, and complete other miscellaneous tasks that keep operations running smoothly. Many roustabout positions involve offshore work, so those used to a life at sea would feel at home in this position.
Roustabouts can claim comfortable job security. The BLS projects a 30 percent growth in these jobs in the 2020s, so the chances are slim that you'll be out of work. Sites may shut down, but you may be able to find work at other operations.
The average hourly wage for a roustabout in May 2021 stood at $21.50 per hour, or $44,730 per year. The top 10 percent of roustabouts earned more than $60,830 per year.
Rotary Drill Operators, Oil and Gas: 26% Expected Job Growth Rate – 2020-2030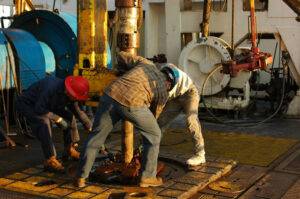 Similar to derrick operators, rotary drill operators use equipment to extract gas and oil. It's just a different type of extraction equipment. However, they also work in the exploratory phase of fossil fuel extraction, using drills to take samples from the earth for geologists.
What would your day-to-day look like? Aside from operating the equipment itself, you'll also double as a mechanic and technician. The machinery's complex, so using instruments to detect faults and dismantling equipment to replace parts isn't out of the ordinary.
Rotary drill operators are some of the highest-paid workers in the oil and gas industry. The average hourly pay for this position is $29.73 per hour – $61,840 per year. Gain experience, and a six-figure salary could be in reach: the top 10 percent in this job reported grossing more than $96,520 per year.
Industrial Machinery Mechanics, Machinery Maintenance Workers, and Millwrights: 19% Expected Job Growth Rate – 2020-2030
If a career in manufacturing appeals to you, a job as an industrial machinery mechanic would pay well. As the name suggests, these are the folks who repair, maintain, and install factory machinery from packaging equipment to production systems.
Between 2020 and 2030, the BLS projects an additional 95,200 open positions for mechanics, maintenance workers, and millwrights. The average hourly rate for these positions is $28.05, as of 2021 – $58,350 per year. The highest-paid mechanics earned more than $78,900 annually.
What sort of equipment would you be working on? It really depends on the company you work for. Industrial mechanics for food companies may work on conveyance and packaging equipment, while others could work on CNC and vertical milling machines. Manufacturers are increasingly installing computerized systems, so technical aptitude is helpful for those entering this field. 
Aircraft and Avionics Equipment Mechanics and Technicians: 11% Expected Job Growth Rate – 2020-2030
Air travel isn't going anywhere. The BLS expects an additional 17,400 aircraft mechanic and avionics technician jobs in the current decade, culminating in a growth rate of 11 percent.
What can you expect to earn? Well, it depends on your specialty. Aircraft mechanics and service technicians earned an average $69,470 per year as of May 2021. The job rewards experience: the top 10 percent of aircraft mechanics brought in upwards of $98,590 per year.
What about avionics technicians? The average yearly pay was a smidge higher: $69,860 per year. The BLS found that the top 10 percent of technicians grossed more than $100,860 annually.
Heavy Vehicle and Mobile Equipment Service Technicians: 11% Expected Job Growth Rate – 2020-2030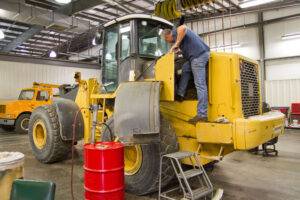 Just as people need mechanics to work on their cars, contractors need mechanics to fix and service heavy equipment. Bulldozers, excavators, skid steers, cranes, combines and other machinery all fail, and the folks who get them working again make some good money.
Never mind that the number of mobile equipment service technician jobs is projected to grow 11 percent in the current decade. On average, these mechanics earn $55,900 per year. The top 10 percent of technicians earned upwards of $78,280 annually.
The heavy vehicle and mobile equipment service technician role varies. For example, you could specialize in rail transportation. The average annual pay for rail car repairers was $60,400 in May 2021. In contrast, mechanics working on mobile heavy equipment (except engines) earned an average $57,280 per year.
Being a heavy equipment mechanic doesn't always involve working in a shop. Field service is a huge part of the job. Caterpillar is one company spearheading this trend: they outfit their technicians with trucks full of replacement parts for in-field assets.
The Troops to Trades Program Has One Goal: To Equip Veterans with the Hard Skills Needed to Succeed in the Trades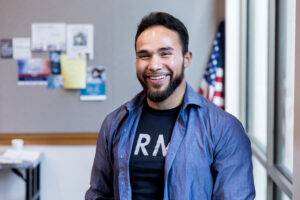 Run by The Nexstar Legacy Foundation, the program was proposed by Keith Mercurio, a sales trainer at Nexstar, who saw two buddies of his – both former RECON Marines – struggle to find work after leaving the service.
"While I am seeing this happen to my friends, I am also listening to how our businesses are having trouble finding good people," Mercurio told Contractor Magazine. "And both of these situations just didn't make any sense to me."
Mercurio pitched the idea of a training program to Nexstar CEO Jack Tester, who was on board with the idea right out of the gate. Today, Troops to Trades provides scholarships and professional connections to veterans who want to work in plumbing, HVAC or electrical.
One former soldier benefiting from this program is Bryan Daleiden, an employee of Uptown Heating and Cooling, a service company run by Josh Savage in Minneapolis, Minnesota. Through a grant for his employer, Daleiden received funding for the hands-on training he needed to get into the field.
"I applied for the scholarship with my boss a couple months back, he presented the opportunity to me and I was eager to get started right away." said Daleiden. "This scholarship will help me obtain my goals by continuing education for an ever-changing industry that requires up-to-date knowledge. Anytime there is an opportunity to achieve higher learning in something I'm passionate about, I seize it."
The Classic Trades Offer Steady Work and Great Pay for Military Vets – HVAC, Electrical, Pipefitting, Welding, Auto Tech, Carpentry and More
At first glance, you'd think it doesn't make sense to join a profession with an "average" or "slower than normal" growth rate. However, dig deeper into the numbers, and you'll realize the number of jobs either exceeds or is comparable to accelerating trades.
Let's take the wind industry for example. As of 2020, there were 6,900 wind turbine technician jobs. The BLS estimates an additional 4,700 technician positions over the 2020s. Now, consider plumbing and pipefitting. The BLS recorded 469,900 plumbing jobs in 2020. Within this decade, the agency expects an additional 23,400 plumbing jobs to enter the market. That's a growth rate of about 5 percent.
What this boils down to is that there will be far more new plumbing jobs in the next decade than will be jobs for wind turbine technicians. Should that dissuade you from entering the wind industry? Not at all. Rather, the stats give you context for projected demand.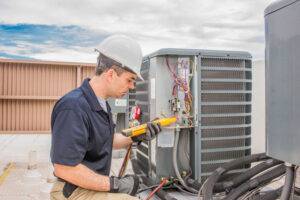 Technicians in the heating, ventilation, air conditioning and refrigeration sector earn a good living. On average, HVAC/R technicians earn $26.29 per hour – $54,690 annually. The top 10 percent earn more than $78,210 annually. Anecdotally, it's not unheard of for HVAC technicians to earn six figures. Does it take hard work and extensive technical know-how? Yes, but the ambitious tradesperson will get there.
Rick D., an HVAC technician based in Massachusetts, has developed enough experience to where he's clearing $100,000 per year, no problem.
"I made over a hundred grand last year, and I didn't have to kill myself to make that. Like today – today, I'm leak testing a mini-split system, sitting in an air-conditioned van until the system's vacuumed down. You can't beat it."
What about the "R" in "HVAC/R"? All HVAC technicians work with systems that use refrigerant, but not all of them service and install refrigeration equipment. Think of the big walk-in freezers in supermarkets and restaurants, or cold-storage facilities for health care. That's a whole other side of the trade not all HVAC techs venture into.
If you're bored easily, HVAC's a good option for you: it's such a multifaceted trade. One minute, you're in an attic installing ductwork for a new system. The next, you're diagnosing a heat pump with four mini-splits attached to it. Later on, you may replace a circulator on a boiler. The options are endless.
Those pursuing an electrical career have a bright future ahead of them. Many state and municipal authorities are pushing for a carbon-free future, putting pressure on contractors to minimize gas- and oil-fired HVAC systems. The more electrical heat pumps that get installed, the more work for electricians.
A job that's expected to grow 9 percent in the 2020s, electricians can work in new construction, service, and equipment installations. On average, these tradesmen make $30.44 per hour – coming out to $63,310 per year. Build enough experience, and you'll be clearing six figures: the top 10 percent earn upwards of $99,800 annually.
Here's another thing: there's a shortage of electricians now. A pretty big one, too. Mike Nemkovich, business manager of the International Brotherhood of Electrical Workers Local 573, said as much in an interview with The Business Journal.
"I don't have all the people lined up yet," said Nemkovich, in reference to filling positions for contractors. "We've been swamped. Our biggest issue is manpower right now."
Plumbers, Pipefitters & Steamfitters
Plumbers, pipefitters, and steamfitters cover a wide variety of work. If you specialize in pipefitting, you'll be installing process piping for factories, refrigeration lines, and other systems. Pursue a career as a plumber, though, and you'll install drainage, water, and gas systems in everything between single-family homes and high-rise offices.
No matter what you get into, you'll get paid well to do it. Plumbers, pipefitters, and steamfitters make an average $30.46 per hour – right up there with the electricians. That comes out to about $63,350 annually. The top 10 percent in this field earn upwards of $99,920 annually. So, six-figures isn't out of reach.
One thing to note: If you gravitate towards plumbing, you'll open a window into heating too. Many plumbers (especially in the north of the country) work on boilers that use hot water to heat their homes. Develop proficiency with those systems, and you can make some really good money.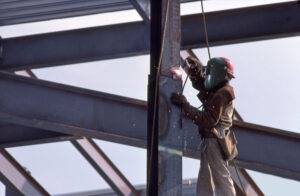 Growing at a rate of 6 percent over the current decade, the ironworking trade presents a physically demanding environment. If you don't have a fear of heights, this is the gig for you: you'll be working hundreds of feet in the air, depending on where you take the career.
It's a fiscally rewarding one too: Ironworkers earn an average $29.46 per hour, or $61,270 per year. Many start out at around $17.00 per hour, but the top 10 percent make over $98,000 annually.
Ironworkers primarily work in construction, erecting skyscrapers, bridges, and other infrastructure. They're the framers of the commercial world: using metal instead of wood to construct buildings. Welding, shearing, and bolting are common actions, so you'll have quite a bit of equipment at your disposal.
Sheet metal work could involve a number of things. On one hand, you could be assembling and hanging duct work for commercial HVAC systems. "Hanging trashcans" as some in the space would say. On the other hand, you could venture into fabrication, building sheet metal parts for automotive, medical, and power generation applications.
With these opportunities comes a comfortable pay rate. On average, sheet metal workers earn $28.25 per hour, or $58,760 per year. The top 10 percent earn at least $95,010 annually. So, the most experience sheet metal workers can clear six figures.
The type of sheet metal work you pursue depends on your proclivities. If you like being in a shop, using automated machinery to mold, cut, and bend sheet metal, fabrication will be more to your liking. If construction seems more fun to you, creating ducts for HVAC systems would be the better choice.
Carpentry can be meticulous, rewarding work. Both finish carpentry and framing demand attention to detail and an appreciation for structural integrity. Get into custom cabinetmaking, and you could be doing pretty well for yourself.
Approximately 942,000 carpenters work across the country, making it one of the largest trades on our list. Encompassing framers to finishers, carpenters earn an average $26.53 per hour, or $55,190 annually. Those who start out just make over $15.00 per hour, while the top 10 percent bring in at least $80,940 per year.
One thing to note is that many states don't have licensing requirements for carpenters, so competition can be stiff. Still, if you're fast at framing, or can make a kitchen come to life with finish, there's no reason why you can't make a good living.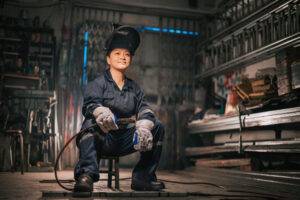 While ironworkers primarily work in construction, welders operate in multiple capacities. The BLS found that 64 percent work in the manufacturing sector, while others work as contractors or repairmen. They don't focus so much on building skyscrapers: that's the realm of the ironworker.
One week, you may weld hundreds of feet of steel pipe carrying natural gas. The next week, you could be repairing the bed of a dump truck for a construction company. It all depends on what kind of work you want to get into. It could be as varied as you like.
The growth prospects for welders look good as well. The Bureau of Labor Statistics projects an 8 percent rise in welding jobs in the current decade – on pace with all other occupations.
What could you expect to make? Welding, soldering, and brazing workers earn an average $23.04 per hour, bringing in $47,910 per year. The top 10 percent reported earning $63,170 or better.
Automotive Service Technicians and Mechanics
Vehicles aren't going anywhere. So becoming an automotive mechanic is a smart move if you're looking for work that will never go away. The technology may change, but your knowledge will expand with those changes.
According to the BLS, the average automotive tech earns $23.22 per hour, which comes out to around $48,000 per year. That's a decent, working-class income. You may start around $14 an hour, but after acquiring some experience, you could end up making north of $75,220 annually.
If you decide to pursue this trade, consider opening up your own shop. Working under someone else generally doesn't pay as well as going out on your own.
Diesel Service Technicians and Mechanics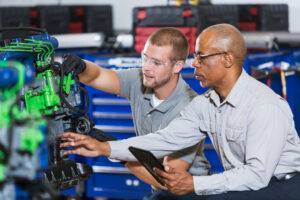 Whether you're working on buses, heavy equipment, or civilian vehicles, being a diesel mechanic is a rewarding trade. The number of diesel mechanic jobs is expected to grow 8 percent in the current decade – on pace with all other occupations.
As you'd expect, diesel mechanics perform much of the same work as automotive workers. They inspect brake systems, transmissions, and the like. The chief difference comes in the engines themselves, and the type of vehicles. You'll not only work on civilian vehicles, but also long-haul trucks, cranes, and construction equipment. 
What about pay? On average, diesel mechanics earn $25.49 per hour, or $53,020 per year – a bit more than those in the automotive world. The top 10 percent bring in more than $76,150 annually.
Electrical and Electronics Installers and Repairers
Electrical and electronics installers and repairers work on a wide variety of equipment, from factory machinery to mobile communication systems. It's not necessarily a dirty job, but one which demands intense analysis and logic.
For example, you may work in a manufacturing setting, where an electrical issue could shut down an entire assembly line. You'll use your tools to identify any broken circuits, relays, or capacitors that have rendered equipment inoperable. Fixing the issue quickly could save a company from losing hundreds of thousands of dollars in lost productivity, making you a valuable asset.
How much you make as an electronics repairer largely depends on the nature of your work. For example, those who work in powerhouses and substations earn an average $42.13 per hour. You read that right. That's the average, and comes out to about $87,640 per year. However, if you're working on electric motors for power tools, you'll make an average $23.43 per hour. So, it all depends on what avenue you take.
Construction Equipment Operators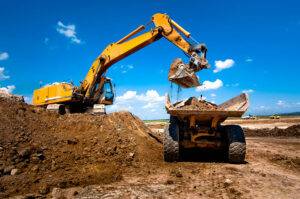 Were you the type of kid who used to play in the sandbox with toy bulldozers, articulated trucks, and excavators? This is the job for you.
Construction equipment operators work in a variety of settings. You could be in a city using a crane to lift metal I-beams hundreds of feet in the air, or in the suburbs digging trenches for utility companies. Many equipment operator schools offer courses certifying you in different machines, from excavators to mobile cranes.
What's the pay look like for these folks? As of May 2021, the average hourly rate stood at $26.87 per hour, or $55,890 per year. Seniority and experience will pay off in the long run: the top 10 percent of equipment operators earn more than $84,640 annually.
Flooring Installers and Tile and Stone Setters
This is another trade that's pretty varied. You could end up specializing in hardwood floors. Not a bad gig, especially when a family buys a fixer-upper with stained carpets. Then, you could get into tiling bathrooms – from the shower stalls to the floors themselves.
Residential isn't your only option though. There's a lot of opportunity to work as a stone setter for commercial buildings. We're talking giant 10 x 10 slabs of marble.
What's the job pay? It depends on what area of work you get into. Those in the residential side earn $24.95 per hour, on average. That's about $51,890 per year. The top 10 percent gross upwards of $78,130 annually.
If you decide to get into stone setting, you're looking at a bit more pay. The average hourly wage comes out to $25.64 per hour ($53,330 per year). The top 10 percent of stone setters make at least $78,370 annually.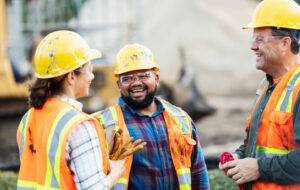 What to Expect On the Job
This all depends on the field you get into. Working in manufacturing is a different environment than home service. Same applies to construction. Still, you'll find some similarities no matter what line of work you'll go into as a tradesperson.
Your body's going to contort into all sorts of angles: Seriously, you'll feel like you're doing a yoga pose half the time.
There's weird nicknames: Just like in the military, you'll come across some bizarre monikers among your coworkers. "Delicious," "Nature Boy," "Gus-Gus," "Thor"… the list is endless.
There's a hierarchy: Journeyman, Masters, and foremen have the final say. Do what they ask. Once you prove that you're capable, then suggest ideas.
Respect is earned: Given you come from a military background, earning this respect will be easier for you than many others, but that doesn't mean you won't have to work for it. Show up on time and take pride in your work. Demonstrate the care you have for your craft.
Movie references: Mostly comedies. It just helps the day go by.
Humor aside, there's one thing you'll have to expect: every day will challenge you. Through those challenges, you will grow. You'll go from a guy who simply welds pipe together to one who designs a process piping system in a factory. You'll start out carrying materials in and out of jobsites. Down the line, you'll be running a team and teaching apprentices. The key is to be patient and persistent.
Specialty Trades Offer the Kind of Challenges Vets are Equipped for: Utility Work, Commercial Diving and More
This is the work that you may not think about. HVAC, plumbing and electrical are usually top of mind when you think about the trades. But what about the ones that aren't really spoken about? Here, you'll find some hidden opportunities.
Line Installers and Repairers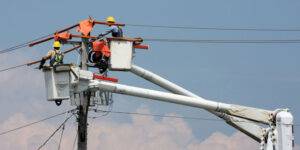 Also called "linemen", line installers and repairers are in charge of keeping our power and communications infrastructure intact. Whenever the power goes out, linemen are out trying to get it back up in running. In addition, they work on upgrading our infrastructure: building substations, erecting power lines, and so forth.
What kind of paycheck could you expect out of this work? Depends on the setting. Those working on powerlines earn an average $38.01 per hour, just over $79,000 per year. The top 10 percent clear six figures easily, making $107,110 or better on an annual basis.
What about telecommunications (think Verizon, Comcast, etc.)? Their rate isn't anything to scoff at, either. On average, a telecom line worker makes $29.93 per hour, or $62,250 per year. The top 10 percent reach the six-figure mark as well, earning $98,320 annually.
A look at the BLS website would mislead you into thinking line workers are in low demand. In reality, that's not the case.
Shawn Mandolare, a Chief Lineman with Green Mountain Power in Vermont, spoke about the shortage of workers utilities across the nation have been facing for some time.
"We have more work and future work than we have enough linemen to actually do the work," Mandolare explained. "We just aren't able to replace the knowledge we're losing with guys retiring fast enough."
Elevator and Escalator Installers and Repairers
Repairing and installing elevators isn't a job many would think about, but it pays well. The average hourly wage for this position is $43.91 per hour. That's not a typo. That means you could be bringing in $91,320 per year. The top 10 percent of elevator techs earn at least $130,940 annually. That makes it one of the highest-paid trades in the nation.
So, what does repairing and installing elevators and escalators entail?
For one, don't expect a cushy job. You're going to earn every cent of that $43.91. You'll be working in elevator shafts, lifting parts that way up to 200 lbs, and crawling under escalator lifts.
Also, consider the fact that your work will vary between installation and repair. In new construction, you'll have to read and interpret blueprints before conducting work. In repair, you may spend a bit of time performing preventative maintenance: cleaning and greasing components to ensure the systems remain in good working order. That makes is a natural transition for any military mechanic who has greased more HMMWV zerks than they care to remember.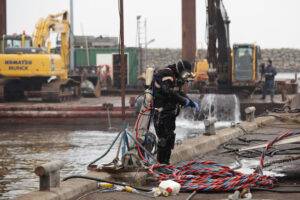 A fast-growing occupation (17 percent over the current decade) commercial divers conduct some of the most demanding work in the nation – physically and mentally. Obviously, military divers would transition naturally into this civilian role.
Commercial divers perform much of the same work as military divers. They use scuba gear to inspect, repair, and install equipment. Welding, drilling, and cutting equipment are staples of the trade. Rigging explosives is another part of the job, adding to the danger inherent in this position.
All this considered, commercial divers make an incredible living. On average, they earn $39.43 per hour, or $82,010 per year. The more dangerous the work you do (and the more skill you've acquired), the higher the pay. The top 10 percent in this field reported grossing more than $160,110 annually.
<!- mfunc feat_school ->
Featured Programs:
Sponsored School(s)
<!- /mfunc feat_school ->
2021 US Bureau of Labor Statistics salary figures and job market trends based on national data, not school-specific information. Conditions in your area may vary. Data accessed May 2022.