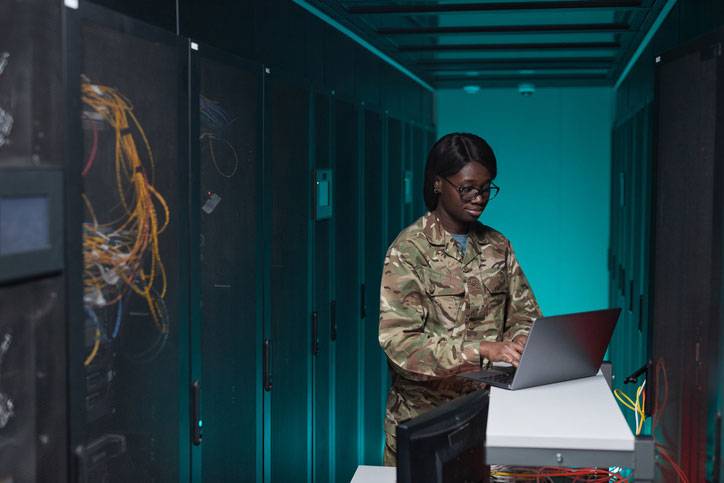 The appearance of U.S. Department of Defense (DoD) visual information does not imply or constitute DoD endorsement.
The ability to observe, store, and analyze huge stocks of digital data from different sources reveals hidden patterns and surprising conclusions about human behavior, corporate investments, and even the natural world. It's one of those game-changers, like the integrated circuit, that has the potential to truly revolutionize the way things are done in every aspect of modern living.
<!- mfunc feat_school ->
Featured Programs:
Sponsored School(s)
<!- /mfunc feat_school ->
That includes the field of human conflict. You better believe that American military investments in data science are already in play in conflict zones around the world.
AI models trained by machine intelligence algorithms for self-driving cars resemble those used by Reaper drones to develop targeting data. In Afghanistan, analysis of historical fighting patterns of the mujahideen revealed battlefield opportunities to commanders on the ground. Marines patrolling mountains and villages even used analytical techniques to track their own routes and identify potential patterns that could be used against them—before the enemy could.
It all comes together in the national Data Strategy, carefully developed and spearheaded by the Department of Defense.
Data has officially become a strategic asset for the United States. And military training in database management and analysis can be a massive asset for your future career in data science.
Explore Your Military Training and Degree Options
How Military Training Can Lead to a Career in Data Science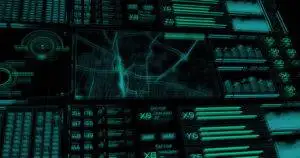 The military has been quick to invest in STEM (Science, Technology, Engineering, and Math) training. Like many cutting-edge technical fields, there's robust feedback between military and civilian data science developments. Semantic wikis first built for corporations cataloging in-house manufacturing knowledge are now being repurposed for forward-deployed field intelligence analysis.
It's worth remembering that although it's also a formidable fighting machine, the U.S. military is also just a really big organization with the same systems and operational needs as other big organizations. The Department of Defense has payroll, logistics, and even marketing functions. Data science is as useful, and is used in, all of those areas just as it is in the civilian world.
The American military has all the same data science needs as any other organization with more than 2 million employees and a nearly $800 billion market cap.
So there are plenty of opportunities to put data science skills to use and to be trained in the fundamentals through a stint of military service.
The Best Military Jobs To Prepare You for a Degree or Career in Data Science
In general, the best military jobs to prepare you for a career in data science fall into three different specialty areas:
Information Technology / Cyber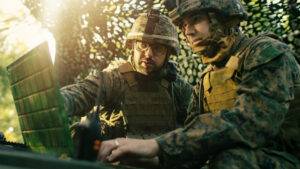 These are the obvious jobs to prepare for data science, dealing with day-to-day data storage, computational systems, and cyber-analysis. With advanced training that directly goes to programming, database structure, and sometimes Big Data storage and analysis, any of these jobs can get you started with training in data science essentials: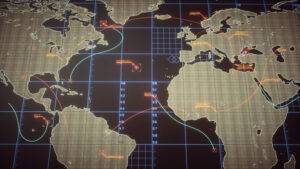 Military intelligence may be the field that has been most revolutionized by data science. The ability to analyze large volumes of data rapidly and systematically has completely changed the way the military both gathers and interprets intelligence information. In an intelligence MOS, you get to see the high-level functions of data science jobs, including algorithm design, visualization, and interpretation—all great preparation for a data science degree.
Linguistics might not be the area of expertise you immediately associate with data science. But in fact, natural language processing is where some of the biggest breakthroughs in analytics and machine learning are happening—both in and out of the military. That means MOS jobs in this area offer excellent prospects for future careers in one of the hottest areas of data science.
You can also find the occasional job outside these areas that can also offer data science training. The Army's 125D Geospatial Information Technician or Air Force 15A Operations Research Analysts also may work with Big Data and the tools needed to analyze it.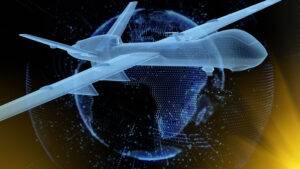 Many of the most high-level data science jobs in the service are restricted to officers. That only makes sense when you think about it: data science is a field that absolutely requires intensive college-level education. Since officers are required to have at least a bachelor's degree, they are the ones with the expertise to run and make use of data science techniques.
Within and around these specific MOS classifications, there are also some billets that offer golden opportunities to build data science expertise. Getting assigned to the Army's AI Task Force co-located at Carnegie Mellon University, for instance, offers a chance to learn from the best and the brightest in both military and civilian data science research.
Advanced Military Training Can Offer a Path to a Data Science Degree and Career After Service
All the basic schools you are sent to for the MOS listings above offer the building blocks you will need for understanding and pursuing data science degrees.
But because the military relies on data science heavily these days, you can also find opportunities to get a data science degree, or even advanced specialized training, on the service's dime.
Data Science Helps Solve a Classic Point of Failure in Military Operations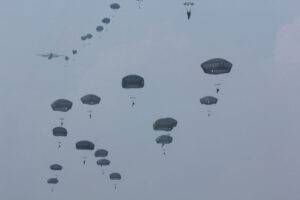 To understand why data science is such a big deal in the military, it helps to understand a little military history. Every officer gets to study a long list of costly military blunders that were the result of limited information or bad analysis of data.
Near the top of that list is Operation Market Garden, the Allied operation in 1944 designed to cross the Rhine and defeat Germany in one fell swoop.
Conducted with almost perfect surprise and using some of the most elite and heavily reinforced Allied units, Market Garden was supposed to cut short the war in Europe and avoid the grinding attrition of frontal attacks on the German Westwall defensive line.
As classic as the idea was, commanders suffered from poor analytics in putting it together. Intelligence about enemy tank units in the area weren't incorporated in planning or distributed to battlefield commanders. Limited weather forecasts delayed vital supply drops to airborne troops. Poor understanding of road networks limited the advance to a single vulnerable highway.
Modern military strategists use data science to bring all these factors togethers in their planning now. Although bad decisions will still be made at times, data science helps to ensure they won't be made because of bad information.
Programs at government-operated universities like National Defense University or National Intelligence University are starting to incorporate data science training into their curriculums. You can get a master's-level Certificate of Intelligence Studies in Data Science Intelligence now at NIU, or a Data Science Certificate at the Naval Postgraduate Institute, for example. Hardcore math, visualization, and analysis techniques you learn in such programs all have significant civilian applications.
It's not easy to get assigned to courses at these schools, but when you do, it is an assignment, not a luxury. It becomes your full-time duty to study and pass.
Because these are graduate-level schools, you need a degree to even be considered for such assignments. In practice, that means they are mostly available to officers.
Accessing Military Education Benefits for a Data Science Education Before You Enlist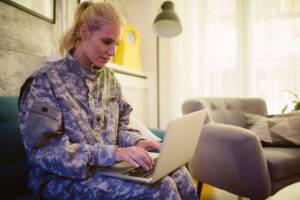 Since the military is hungry for data science experts who can hit the ground running, it's worth looking into pre-service opportunities to get a data science degree fully or partly paid for.
ROTC, or the Reserve Officers Training Corps, is far and away the biggest pre-service college program offered by the military. Each service except the Coast Guard offers two, three, or four-year scholarships to students accepted to these programs in a variety of different majors. Picking data science certainly improves your odds of getting one of those scholarships.
Graduates of ROTC programs enter the service as officers, with all the pay, responsibility, and opportunity that entails.
Another route to becoming an officer – perhaps an even more difficult one – is through one of the service academies. Three out of the four academies offer majors in Applied Statistics or Data Science. Although getting in is tough, you can combine a high-caliber education in data science with some of the most respected professional training in leadership and organization in the country.
Data Science Is One of the Hottest Career Paths in the Country Today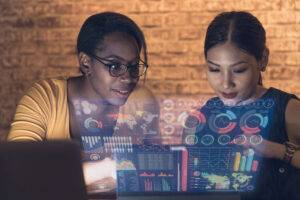 You already know how much data science is booming in civilian industry. Since 2001 – when the term was first introduced to describe the particular blend of statistical science and intensive computational analysis that was coming into being – and 2021, more than 100,000 positions have been created for data scientists, according to the latest Bureau of Labor Statistics (BLS) figures.
That demand is only increasing. Data science occupations are slated to be among the fastest growing occupations in the United States between 2021 and 2031, with the BLS projecting a growth rate of 36 percent. New applications and new technologies boosting the abilities and importance of data science are being discovered almost daily.
Having both a degree and military experience in data science will help move your resume to the top of the stack.
Data Science Salaries are Strong in Both Government and the Private Sector
Data science has definitely come up on the radar of the BLS. For 2021, the median annual salary for all data scientists was $100,910… not counting bonuses or benefits.
Six figures is the expectation in almost every data science job, particularly when you are coming into it with some military experience in the field.
There is widespread demand for highly educated professionals who have also worked with data in the real world.
But there are some industries that beat out that overall average pretty easily. Those include:
The level of education you achieve can also have an impact on your salary. Computer and Information Research Scientists, professionals in a field where a master's degree is required and which includes many data scientists, commands an average of $121,490 per year. Those in the top ten percent, with the highest levels of education and experience, make over $208,000 annually.
And in many of the companies that employ large numbers of data scientists, stock options and perks sometimes come with the territory.
How To Identify Military Friendly Universities Offering Degrees in Data Science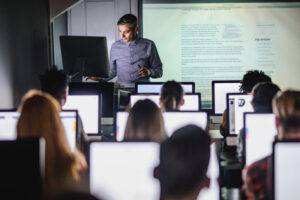 Big bucks in data science only come after in-depth study. So the first thing you will need to do is find a military friendly university that offers the kind of data science training you can rely on.
There's no official designation for military friendly schools. You have to look carefully at a few different factors to decide on the right choice:
But there are also some must-have aspects that any university has to have to truly be considered military friendly.
The GI Bill® Offers the Greatest Education Benefit Available to Veterans
The biggest dealbreaker is for schools that don't accept GI Bill® benefits. Your biggest educational bonus from service comes in the form of the GI Bill® program. Just as importantly, the VA validates schools for quality and service before it will cut them a check. So you know that any university that qualifies to receive payments meets some solid academic standards already.
And with all the costs that GI Bill® benefits cover, you can easily get a bachelor's, or a master's degree if you already have a bachelor's. Benefits include:
Schools That Participate in the Yellow Ribbon Program Offer Extra Opportunities for Data Science Students
On top of the essential GI Bill® program participation, you might also look to military friendly universities that go the extra mile: those that also take part in the VA's Yellow Ribbon Program.
Yellow Ribbon is a cooperative effort between colleges and the VA to help cover costs beyond what the GI Bill® pays for. You run into those limits when you attend out-of-state or private schools.
The GI Bill® covers any level of in-state tuition from a public university, but otherwise caps tuition payments to private schools at about $26,381 per year. Yellow Ribbon helps you make up the difference.
That's good news if you want to study data science. Some of the best programs in this emerging field are at elite private universities. In other cases, you may need to relocate to hot areas like Silicon Valley or New York to get your training from professors who are straight from the trenches and have the freshest experience in the industry.
Yellow Ribbon schools agree to help fund a certain number of participants each year, and decide on what amount they will offer toward tuition. The VA then matches that amount. In many cases, it's enough to let you attend any university you can get into, even with the most in-demand data science degrees.
Special Veterans' STEM Education Benefits Apply to Data Science Studies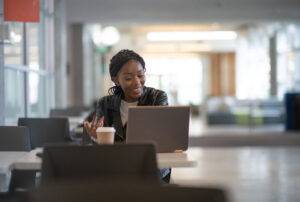 There are at least two other GI Bill® programs that can apply to data science studies for veterans. The Forever GI Bill® introduced the Edith Nourse Rogers STEM Scholarship and the VET TEC (Veteran Employment Through Technology Education) options to help deal with the unique costs and challenges of STEM (Science, Technology, Engineering, and Math) degrees.
The Edith Nourse Rogers STEM Scholarship extends your GI Bill® coverage for up to six months at full benefit levels. Since data science studies are so intensive, it's not unusual for them to take longer to complete than other degrees. Previously, anything over 36 months had to come right out of your pocket. But the Rogers scholarship offers breathing room to data science students getting down to the wire.
VET TEC covers tuition and housing costs for non-traditional information technology training offered by VA-approved providers. That can mean certificate or bootcamp programs, which are becoming increasingly common in data science circles. With the basic skillset you get in the military or from a related degree, maybe all you actually need is a certificate. VET TEC is a completely separate pool of money from the GI Bill® benefits, so you can still use your full benefits toward a degree even if you take advantage of this program.
Data Science Degrees are Offered at Every Level – to Get You Started or To Build on Your Military Training

Of course, you don't just need to find a college that is military friendly: you need to find a college that is military friendly and has a red-hot data science department that will give you the training you need to complement your military skills and education in the field.
You can find data science programs popping up at every level of education today.
Associate Degrees in Data Science
These two-year programs are a fast-track to getting started in basic data science jobs, or preparing for further studies in the field. They combine a set of core courses in foundational fields like statistics and programming with general education classes designed to improve your knowledge and communication abilities.
Bachelor's Degrees in Data Science
A four-year bachelor's program opens up new horizons in data science jobs. Not only do you get a more intensive exploration of key concepts and techniques in computational and statistical analysis, but you also get a full-on liberal arts education. That means extra courses in the classics, English, social studies, math, and science. It's a time-tested system of developing communication and problem-solving skills that are critical in turning data science knowledge into actionable information for decision-makers.
Master's Degrees in Data Science
Master's degrees in data science may be completed in only a year or two, but that extra twelve to twenty-four months is jam-packed with focused expertise. This is the level where leaders and highly-paid research scientists make their bones. The liberal arts courses are left behind in favor of heavily-focused explorations of cutting-edge techniques and game-changing research topics in the field.
Doctoral Degrees in Data Science
At the highest levels of data science you'll find the people who have devoted the additional four to six years needed to earn a PhD in the field. These graduates go on to become key researchers and educators, often working in academia or in corporate research labs. They make the breakthroughs that change the entire industry overnight, and develop concepts and uses that will change the world.
<!- mfunc feat_school ->
Featured Programs:
Sponsored School(s)
<!- /mfunc feat_school ->
The Curriculum in Your Data Science Degree Will Build on What You Learned in the Service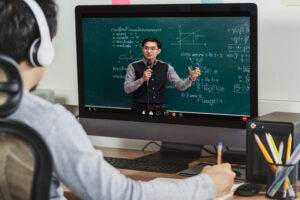 The curriculum for each level of data science degree will vary a lot depending on how long you can expect to study to earn it and on the level of difficulty involved. But at the core, you will find the same types of classes no matter what level of degree you opt for.
As you get to higher and higher degree levels, you will find the emphasis shifting to more intense subjects and including more research and hands-on experimentation time. Master's and doctoral students will be assumed to have already mastered calc and algebra; bachelor's and associate students won't spend as much time in research design or machine learning.
Data Science Concentrations to Complement Military Training
Data science has exploded across many civilian industries at exactly the same time it was getting big in the military. Similarly, there are unique applications that have created unique degree concentrations you may want to pursue. These include diverse areas like:
You can also go the other way around in many cases. Universities may offer majors in any of these concentration areas, with a concentration or minor in data science. The only real difference is a matter of emphasis. You'll spend more time focused on core data science concepts in a data science major, and more time on the specialization field with other majors.
In many cases, you will find that these concentrations line up with the kind of work you were already doing in the military. Geospatial analysis and law enforcement concentrations have a lot of similarities with different types of intelligence billets, for instance. So you can capitalize on what you have already learned by picking the right specialty focus.
No matter what specialization you decide to choose in data science, there are some big ways that your service will make you a hot prospect in the job market. It's not just your data science training. Military training in general builds character traits and values that all employers swoon over:
With the qualities that you absorbed and the skills that you were trained in, you will have the fundamental assets it takes to get the job done. And with the educational benefits you earned, you'll have the resources to get the university degree you need to be a competitive job candidate.
2021 US Bureau of Labor Statistics salary and job growth figures for Data Scientists and Computer and Information Research Scientists reflect national data not school-specific information. Conditions in your area may vary. Salary and job growth data accessed in July 2022.