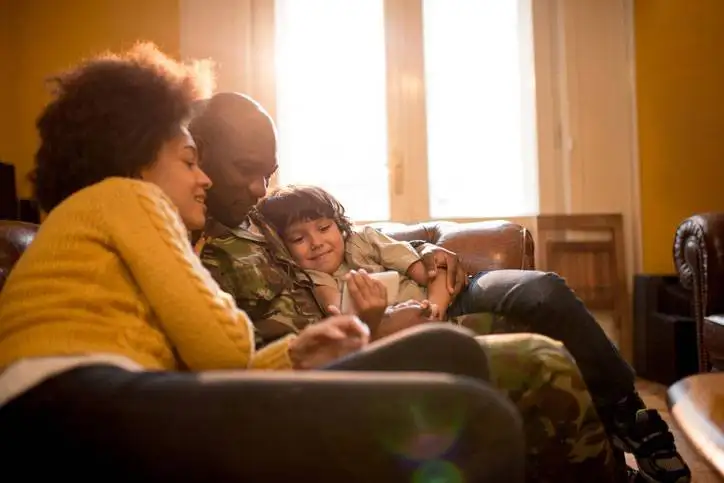 The appearance of U.S. Department of Defense (DoD) visual information does not imply or constitute DoD endorsement.
American soldiers have gone off to war for generations. Sure, they do it out of patriotism and duty, and for God and country, but there's another big reason that doesn't always get as much attention. Generation after generation, American warfighters have volunteered to stand between the threats that exist in the world and the ones they love back home.
<!- mfunc feat_school ->
Featured Programs:
Sponsored School(s)
<!- /mfunc feat_school ->
"…against all enemies, foreign and domestic," is the oath they take. And they have stood firm in every war and conflict and kept us all safe.
The United States military doesn't just take care of service members—it looks out for family members too.
The service understands that your family is your unit, too. And you'll do your job better and be more focused knowing that, whatever happens to you, your family will be secure and provided for.
That kind of care and attention extends to college benefits for military families. Those benefits can be categorized in one of three ways:
Explore Your Benefits Options
Military College Benefits for Family Members Are Offered at Every Phase of Service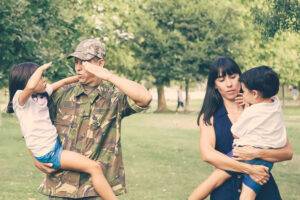 When you join the military, you are joining a larger family. And your benefits start on day one, whether you are a soldier, Coastie, Marine, sailor, or member of the Guard.
Something that may surprise many service members and their families is the emphasis on education at every phase of military service. The American military is an adaptable, high-tech force that thrives and succeeds based on knowledge. A culture of learning is endemic. You start learning on your first day, and never stop.
Family members benefit from that ethos as well, giving them a wide range of benefits to take advantage of.
Military Benefits for Children and Spouses Start During Active-Duty Service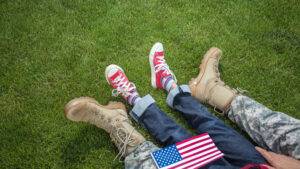 While service members are on active duty, each branch offers all kinds of supports for families. Dependent children and spouses are eligible for healthcare, housing, at-cost shopping at the commissary, childcare, and even recreational benefits.
It may not be the college tuition benefits that first come to mind when people think of military education benefits, but school-age dependent children have access to a unique resource, one that helps tell the story of how the military recognizes the importance of education. There are 160 DoDEA (Department of Defense Education Activity) schools located around the world that exist for no other reason than to provide a first-rate education for military kids from pre-K through high school.
Active-duty military spouses can tap into MyCAA, the My Career Advancement Account. In addition to a host of free career counseling, online courses, and job search resources, MyCAA offers scholarships of up to $4,000 ($2,000 per year for two years) to cover tuition and fees for military spouses to go to college while their partners are on active duty.
And each individual branch has a whole array of different educational support programs.
The Biggest Military College Benefits for Dependents Kick in When Things Go Wrong
For the most part, though, military families are expected to fund and pay for college like other American families. Parents save up and help their kids, or they qualify for the many available scholarship programs for military kids, tap into federal financial aid, or all of the above.
That's assuming everything goes well. But life in the military comes with a degree of risk. And sometimes mom or dad doesn't come back quite the same as they left. Sometimes they don't come back at all, and those college plans all fall apart.
For those terrible moments, the VA has two different military family college benefits programs to help spouses and children pick up the pieces and get the education they deserve.
The Survivors' and Dependents' Educational Assistance (DEA) Program Delivers College Benefits to Family in Case of Death or Disability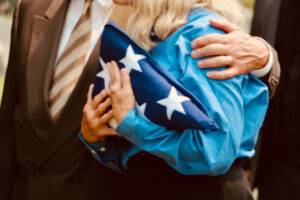 The Survivors' and Dependents' Educational Assistance program is so important that it gets its own chapter in Title 38, the legal code covering veteran's assistance. You can also find it referred to by that number, Chapter 35, or with the abbreviation DEA.
DEA was created through the same legislation that created the Post-9/11 GI Bill®. That makes it effective only for those who served after September 10, 2001. It's a big improvement on the provisions of the original GI Bill® for dependents, which offered only a fixed monthly allowance for survivors, with no specific provisions for education.
Determining Eligibility for DEA Benefits
The DEA program requires that both the dependent and the service member or veteran they are related to meet certain qualifications for eligibility.
It's important to note that these qualifications can include veterans who have long been discharged from duty, as long as their disability or death was service related.
The veteran or service member must fall into ONE of the following categories:
A child of that service member must be:
In America's longest war, it wasn't uncommon for multiple generations of one family to be serving simultaneously in Afghanistan. For children on active duty who would otherwise be eligible for DEA, eligibility is extended past 26 to the age of 31, but you must first be honorably discharged from service.
The spouses of these service members do not have to meet any special qualifications, but do have different benefit eligibility dates:
How DEA Enrollment May Affect Other Military Benefits for Family After Death
Although it's not specifically education-related, the VA has another program for surviving spouses or dependents of deceased service members called DIC, or Dependency and Indemnity Compensation. This is not a post-9/11 program, but tapping into DEA may impact your eligibility for it:
Enrolling in DEA also can impact whether you are able to take advantage of the Fry Scholarship, discussed later on this page.
Military Dependent College Benefits Provided Through DEA
The basic DEA benefits are very straightforward—a flat monthly payment is made to help you cover the costs of educational courses including:
The benefits offered through DEA are adjusted annually. Only tuition and fees are paid, up to a maximum rate of $1,298 per month in 2022. Correspondence courses are paid out at a rate of 55 percent of the benefit for on-campus training.
There's also a sliding scale of benefits that pay different rates for part-time attendance, in 25 percent increments.
You'll also find special rates for apprenticeship, on-the-job training, restorative training, and farm co-op training.
Anyone using the program after August 1, 2018 is eligible for 36 months of benefit payments. For those who began the program prior to that date, a total of 45 months may be available.
The John David Fry Scholarship Provides Military College Benefits for Dependents After Death
The Marine Gunnery Sergeant John David Fry Scholarship is another one of those educational benefits that you hope never gets used. That's because it's only offered if a service member pays the ultimate price in defense of our country.
Who was Marine Gunnery Sergeant John David Fry?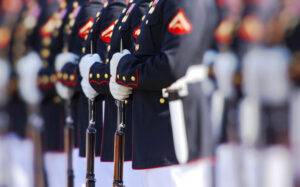 Most military dependents have at least heard of the Fry Scholarship. But who was Marine Gunnery Sergeant John David Fry, and why is it named for him?
Fry was a native of Lorena, Texas. He enlisted in the Marine Corps in 1995 and became an Explosives Ordnance Disposal technician.
By the summer of 2005, IEDs were wreaking havoc in Iraq and EOD teams were in high demand. Fry deployed as a team leader in August and went to work. He and his team disposed of more than 230 IEDs, including the largest ever discovered in Al Anbar.
On March 6, 2006, with less than a month to go before rotating home, Fry was killed by a boobytrap left to sabotage a device that he had volunteered to disarm.
He was 28 years old, and left behind a wife and three children.
John Fry had already earned a Purple Heart and could have gone home several months earlier due to that wound. But he volunteered to stay, and paid the ultimate price.
His family paid that price, too. But Congressman Chet Edwards, a member of the Veterans Affairs subcommittee, represented Fry's hometown and new his story. He was instrumental in the creation and naming of the Marine Gunner Sergeant John David Fry Scholarship to provide for the survivors of future heroes like Fry.
But there is some comfort in knowing that the VA makes it available to families if the worst happens. Nothing can replace a fallen father, mother, or spouse. But providing for the education of the survivors is a sacred duty. And that's what the Fry Scholarship does.
Determining Eligibility for Fry Scholarship Benefits
As with DEA, qualifying for a Fry scholarship means that both the service member and the child or spouse applying must meet certain conditions.
The service member must have been a member of the armed forces or Selected Reserve who died in the line of duty or from a service-connected disability on or after September 11, 2001.
Any spouse or child of that service member can qualify for the Fry scholarship by default. All recipients must be over the age of 18. But how long you are eligible will change based on different factors:
As with DEA, spouses are eligible to receive both DIC and Fry benefits, but children have to choose one or the other.
Military Dependent College Benefits Through the Fry Scholarship
Fry benefits are much more comprehensive and generous than those available with DEA. In fact, the Fry Scholarship is basically just the Post-9/11 GI Bill® transferred over to spouses and children of those who made the ultimate sacrifice. Before the Fry Scholarship was introduced, soldiers who never made it home never had the option to transfer their benefits to a spouse or dependent.
That means the Fry benefits include:
As of 2018, Fry Scholars Can Also Access Yellow Ribbon Program Benefits
Like Post-9/11 beneficiaries, Fry scholars are now eligible to participate in the Yellow Ribbon Program.
That option to participate in the VA's Yellow Ribbon Program was added for Fry Scholars in 2018; even if you didn't initially qualify, it's worth checking into now.
The Yellow Ribbon Program is a cooperative effort between schools and the VA to offer additional tuition compensation above the normal limits. The whole goal of the program is to open-up the field of options for the types of colleges and universities you can attend by covering some or all of the additional costs of attending private universities or out-of-state schools.
Special Assistance or Restorative Training Offers Benefits to Help Prepare Military Kids for College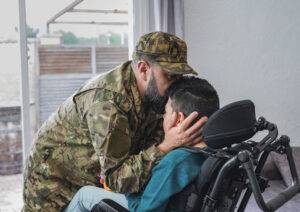 The VA also recognizes that not every high school kid eligible for these college education benefits is ready to dive right into university studies. American military families face all the same challenges as others. Mental health disorders, drugs and alcohol, or just plain old bad luck can put veteran's kids behind the curve in college readiness.
Chapter 35 offers two special programs to help those kids get up to speed.
Special Assistance Training
Special Restorative Training
Both programs require undergoing a professional evaluation and being certified as needing assistance.
Special assistance training is a limited term program that is designed to help kids who have fallen behind in secondary school get caught up and ready for college. It will kick in before you take advantage of other educational benefits.
Special restorative training, on the other hand, is more comprehensive and can go on both before and during college studies. Normally, it's authorized for a year, but can be extended based on progress and need. It can cover almost any kind of supportive training, including:
Choosing Between the Fry Scholarship and DEA College Benefits Program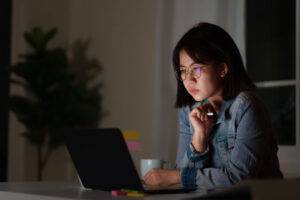 In most cases, you have to pick the Fry Scholarship or DEA, and you have to stick with that decision—you can't change your program later. It's almost always better to choose Fry Scholarship benefits over DEA benefits where you qualify for both.
In some cases, however, you may be able to use both programs. If your parent died in the line of duty before August 1, 2011, and you otherwise qualify for both Fry and DEA, you can use both programs sequentially. Up to 81 months of benefits are available for full-time training if that's the case.
How To Activate Retired Military College Benefits for Dependents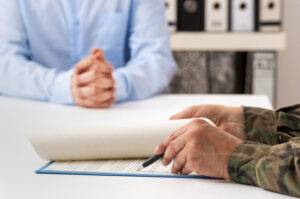 Like most VA programs today, the easiest path to apply for either Fry or DEA benefits is online through their website. But if you are feeling old-fashioned, you can also visit a regional VA office or fill out VA Form 22-5490.
If you are still a minor, you'll have to have a parent sign the application.
You can also apply even if you have already started your degree program. There are a couple additional hoops to jump through:
After the VA verifies your enrollment, you can expect it to take about a month to actually process the application. After that, your deposit should start showing up regularly on the first of the month.
Using the GI Bill® Comparison Tool To Get the Most From Military Child and Spousal Benefits
While DEA benefits are pretty easy to figure out, the Fry Scholarship has a few different angles that can mean you will receive different benefit levels at different schools. For example, only in-state tuition rates are covered, and MHA benefits depend on your location and whether or not you are attending in-person.
Fortunately, the VA has put together a comprehensive tool to help you sort through your choices. The GI Bill® Comparison Tool on their website includes options for both DEA and Fry Benefits, and allows you to get estimates based on individual schools and whether you are a spouse or a child of the qualifying service member.
The tool even lets you search and sort by Yellow Ribbon Program participation.
Can You Get Fry Scholarship or DEA Military Benefits for Stepchildren?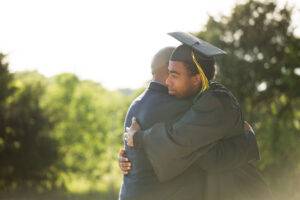 It's an unfortunate reality that divorce rates are high for military members in all branches. It's a stressful job that can take a toll on families.
So many service members end up remarrying, and in the process, with new dependents from previous marriages. Many people wonder if stepchildren are covered equally under DEA or Fry scholarship benefits.
You don't have to look any further than trusty ol' VA Form 22-5490 for your answer, though. The application for Fry or DEA benefits spells out right on it that natural, adopted, and stepchildren are all eligible for exactly the same treatment.
The only real difference is that stepchildren must have become part of the family and the service member's household before turning 18.
Transferring Post-9/11 GI Bill® and Yellow Ribbon Benefits to Eligible Dependents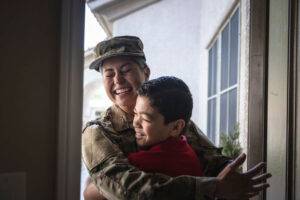 One more way that a military spouse or dependents can receive educational benefits is by receiving the GI Bill® benefits available to the service member themselves.
The Yellow Ribbon program, offered under the Post-9/11 GI Bill®, is a special provision program that's designed to cover the additional cost of going to more expensive private universities as well as public colleges around the country where you wouldn't qualify for the in-state discount. It's designed to cover the cost difference between those higher tuition rates and what you can expect to get from the traditional Post-9/11 GI Bill®. Dependent children have qualified to have Yellow Ribbon program benefits transferred to them for years, and effective August 2022, military spouses can also take advantage of that benefits transfer option!
One of the great provisions in the Post-9/11 GI Bill® allows qualifying service members to transfer their benefits to a spouse or dependent, or even spreading them among several dependents. If you're a service member not planning to use all of your GI Bill® education benefits, they don't have to go to waste – they can go to your spouse and kids.
But it's important to note that college benefit transfers to spouses and kids are only ever available to those on active duty. After discharge, benefits can no longer be transferred except in certain special circumstances.
There are also some specific restrictions on when the benefits can be used. See our Guide to GI Bill® Benefits for more details about this option.
Ready to start looking at military friendly schools that make the most of the education benefits you've earned? Take a look at our top selections of the most military supportive colleges by region:
The Most Military Supportive Colleges in the Northeast 
Connecticut, Delaware, District of Columbia, Illinois, Indiana, Maine, Massachusetts, Maryland, Michigan, Missouri, New Hampshire, New Jersey, New York, Ohio, Pennsylvania, Rhode Island, Vermont, Wisconsin
The Most Military Supportive Colleges in the Southeast
Alabama, Arkansas, Florida, Georgia, Kentucky, Louisiana, Mississippi, North Carolina, South Carolina, Tennessee, West Virginia, Virginia
The Most Military Supportive Colleges in the Central U.S.
Colorado, Iowa, Kansas, Minnesota, Montana, Nebraska, North Dakota, Oklahoma, South Dakota, Texas, Wyoming
The Most Military Supportive Colleges in the Pacific Region 
Alaska, Arizona, California, Hawaii, Idaho, Nevada, New Mexico, Oregon, Washington
Don't Overlook State Military Benefits Open to Military Families
Although federal benefits for spouses and dependents of service members are generous, they aren't the only source of support for survivors. Many states offer their own college benefits for military dependents, such as California's College Fee Waiver for Veteran Dependents program, or the Texas Hazelwood Legacy Act.
These programs are typically tied to state-run university or community college systems. Importantly to dependents of reservists or National Guard members, they may also offer broader eligibility than the federal options for dependents of service members who were never on active duty.
The VA isn't responsible for any of these programs and doesn't offer information about them on the GI Bill® Comparison Tool, but veteran support offices at just about any college in the state will be able to give you a rundown on the options.
Request information from the schools you're interested in to learn more.