The United States is unique among nations for its exceptionally diverse population, proudly home to people of all races, religions, and gender identities.
Over the past few decades, national attention has become more focused on responding to this diversity with inclusion initiatives to ensure that equal opportunity is made possible for the many American identities that exist within our country. The U.S. Military has been swept up in this force of change, making key changes at policy level to allow more Americans to join its ranks.
Making the military a more inclusive and accommodating place for all requires more than regulatory changes – it requires a transformation of military culture, and individual army personnel can play their part in contributing to this evolution.
So how can you play your part in creating a more equitable U.S. military? It's not as simple as having good intentions (though that is a great place to start). Truly creating change requires a proactive effort to understand the state of diversity in the military today and to see where there is still room for improvement.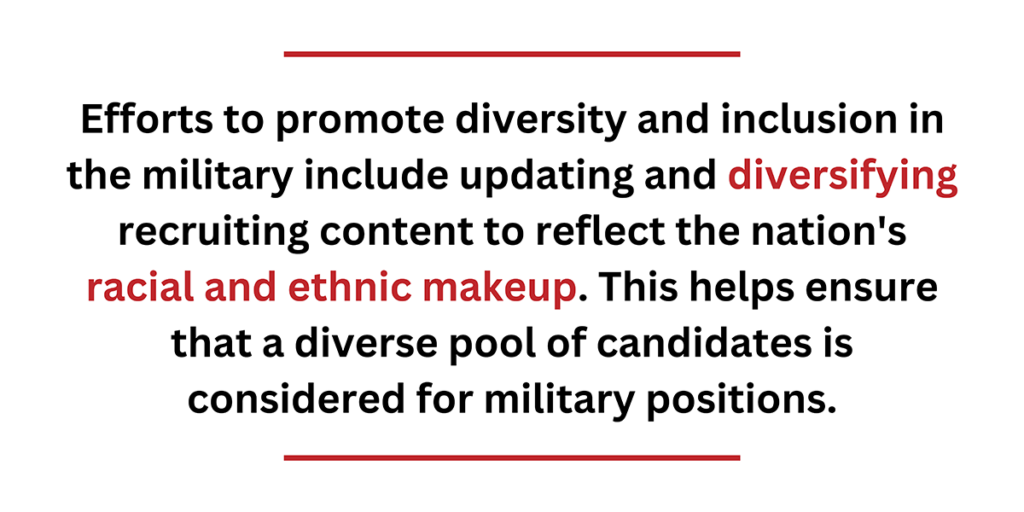 Fortunately, there are many resources available for members of the military to learn about the unique conditions of the U.S. Armed Services. This guide provides a multitude of educational resources focused respectively on communities with a variety of perspectives and needs, all framed specifically around the particular context of the military. (For a more general guide to diversity, equity, and inclusion initiatives, you can take a look at our guide here.) These include information about military history and policy, as well as insiders' takes on the inside culture of the military with targeted recommendations for what can be done to create change.
If you are a member of the armed forces who would like to play your part in making your military community a more diverse and inclusive space, read on.
General Military DEI Resources
ARTICLE: "How the Military Supports Diversity and Inclusion" (MilitaryOneSource)
This article from MilitaryOneSource outlines many of the actions the U.S. Military has taken in recent years to create a more equitable and inclusive armed forces, as well as steps that can continue to reshape the military in positive ways. These include considerations related to recruitment, protections against harassment, anti-discrimination policies, and more.
ARTICLE: "Diversity, Equity, Inclusion are Necessities in the Military" (U.S. Department of Defense)
This article, published by the U.S. Department of Defense, makes clear that the highest-ranking officials within the U.S. Military are prioritizing building a diverse armed forces. The article includes data-driven analysis of current military personnel and speaks to ways that the military can enhance and expand its ranks to create an armed forces that reflects the population of its country.
The Military Equal Opportunity (MEO) Program
This program is an initiative of the US Defense Threat Reduction Agency, and is a service that aims to improve and enhance opportunities for people of all backgrounds. They promote conflict resolution strategies and also act as a watchdog for military members to report incidents of discrimination and harassment occurring within their ranks.
BIPOC
Black Americans in the Army: A U.S. Army Initiative
This website, created by the U.S. Army, documents the largely untold history of Black soldiers in the U.S. military, from the Revolutionary War through to today. It also features the history of Black women soldiers who fought in the Civil War disguised as men, the story of WWII's all-Black battalion, and other incredible stories from U.S. and world military history.
Blacks in the U.S. Army: Then and Now
This reader provides an extensive historical overview of the place of Black Americans in the U.S. military, drawing from statistical analysis, census projections, and more to identify areas of progress in recruitment and promotion as well as areas that still show room for improvement. It also provides a breakdown by gender, spotlighting the achievements of Black women soldiers as well as the barriers they continue to face while serving in the military today.
VIDEO: "Celebrating African-American History Month" (U.S. Army)
This video, made in honor of Black History Month, celebrates the contributions of Black army soldiers throughout U.S. history, providing context and imagery to illuminate the often underrepresented role Black Americans have played in the armed services.
AAPI
Asian Americans & Pacific Islanders in the Military: A U.S. Army Initiative
This website by the U.S. Army honors the achievements and contributions of AAPI soldiers throughout U.S. history. It includes profiles of notable individuals who have served in high-ranking military roles as well as stories of unsung heroes who fought prejudice from within their ranks while serving their country.
VIDEO: Asian-Pacific Islander Americans: Service to the Country
This featurette by the Army Historical Foundation documents the impact AAPI soldiers have had on military efforts throughout the history of the U.S., highlighting lesser-known stories and illuminating the need for greater diversity, equity, and inclusion initiatives.
LatinX
ARTICLE: "More Can Be Done to Bring Hispanic Americans into DOD, Defense Official Says" (U.S. Department of Defense)
This article by the U.S. Department of Defense highlights the need for LatinX representation within the military and addresses some of the existing barriers to LatinX recruitment and promotion within the armed forces.
Soldiers' Angels: Honoring Hispanic/Latin Military Heroes
This website spotlights several notable LatinX individuals who have made significant contributions to the U.S. military, with examples from throughout U.S. history.
Women in the Military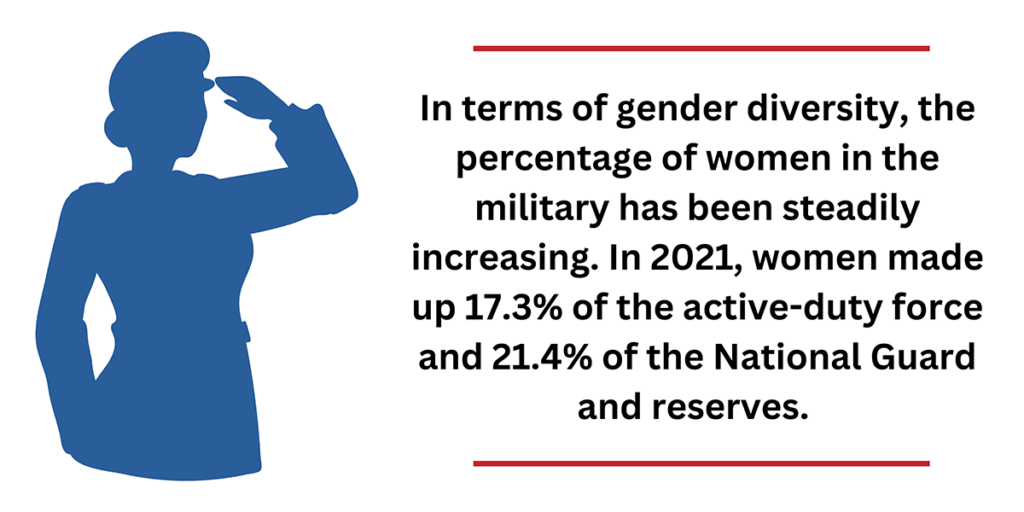 Women in the Army: A U.S. Army Initiative
This website by the U.S. Army creates a record of women's history in the military, from the earliest participants in military actions even prior to the founding of the U.S. through to the many women serving in the army today. The website features articles, videos, up-to-date news, and more.
The AWM is the only museum in the world dedicated to preserving and sharing the history of women in the army. Beyond offering in-person exhibitions and programs, their website offers numerous educational resources describing the contributions of women soldiers and the ways the U.S. Military can continue to create a more inclusive organization for women.
ARTICLE: "Culture, Gender, and Women in the Military" (Georgetown Institute for Women, Peace, & Security)
This report from the Georgetown Institute for Women, Peace, and Security reviews the policies in place to support women's inclusion in the U.S. military and draws upon interviews with women military members to gain an understanding of on-the-ground experiences of military culture. It includes concrete recommendations for U.S. Military leaders to better support women in the military, with topics including improving access to opportunities, modifying the benchmark physical standards to qualify for particular roles, and implementing more prudent policies to prevent sexual harassment and assault.
LGBTQ+ in the Military
ARTICLE: "LGBT service members are allowed to be out and proud, but a fear of repercussions persists" (MilitaryTimes)
This article from MilitaryTimes explores the current standing of LGBT military members, drawing attention to progress made within the military on the level of policy as well as continued room for improvement in terms of internal military culture.
Department of Defense LGBT Timeline
This timeline, prepared by the Department of Defense and the US Navy, outlines the history of LGBTQ+ military members, from the classification of homosexuality as a mental illness in the 1940s through to the repeal of "Don't Ask, Don't Tell" and beyond.
Religion
ARTICLE: "How the U.S. Military Embraced America's Religious Diversity" (NavyTimes)
This article draws upon the history of the U.S. military to show that America's religious tolerance has drawn those of all faith backgrounds to join the armed forces, highlighting the strengths of this religious diversity and identifying areas where it could be improved further.
Neurodiversity in the Military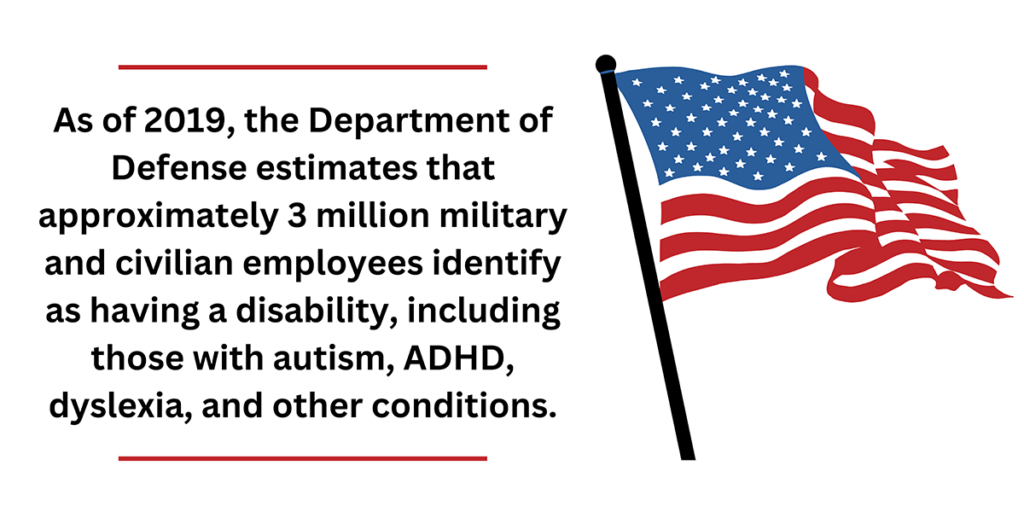 ARTICLE: "Why National Security Needs Neurodiversity" (RAND)
This report by the RAND Corporation outlines how those who are neurodivergent – meaning those with cognitive diagnoses including but not limited to the autism spectrum, ADHD, dyslexia, and more – can be of great benefit to the U.S. Department of Defense, providing unique skills and insights that can strengthen strategic efforts. It includes recommendations for creating a more inclusive work environment as well as creating recruitment strategies specifically to draw in a diversity of candidates.