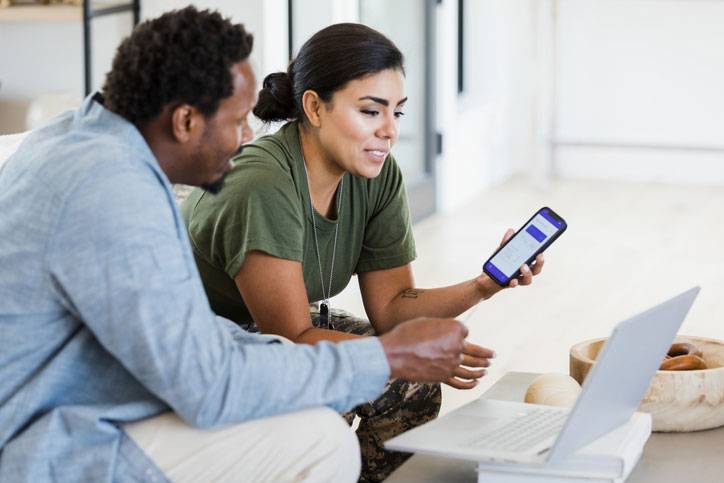 The appearance of U.S. Department of Defense (DoD) visual information does not imply or constitute DoD endorsement.
Military spouses are really the unsung heroes of the American military. Watching the person you love and have devoted your life to go off to risk it all in defending our country takes strength and adaptability.
<!- mfunc feat_school ->
Featured Programs:
Sponsored School(s)
<!- /mfunc feat_school ->
The American armed forces understand it's important to keep the home front strong when troops are deployed overseas. That's why military benefits for spouses have increasingly been a focus for both active duty and veteran's support programs.
Of course, all dependents of military service members have different kinds and levels of benefits available to them. But military benefits are often in their own class. It's worth taking a look at what the armed forces and the Department of Veteran's Affairs are doing to support military spouses in education and beyond.
Nobody is out there getting married just for the military college benefits, but it's nice to know they are there for you after tying the knot.
Explore Your Benefits Options
Military Education Benefits for Spouses Start During Active Duty Service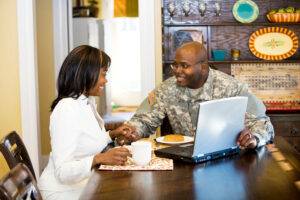 Most military spousal benefits start as soon as your husband or wife begins active duty service. Each branch, and sometimes individual units, place a premium on supporting families.Because those military spouse benefits are so diverse, they can't all be described here in detail. But what we can tell you about is one single resource that will help you find and take advantage of all the benefits that you are eligible for…
The Military Family Readiness System Knows All the Benefits Military Spouses are Eligible For
MFRS supports military families and survivors with a web of comprehensive services dealing with almost any kind of challenge that can come up in military life. They cope with everything from employment assistance to deployment support to morale and welfare… and personal and family education services are right at the top of the list.
With most benefit programs for military spouses, the service member you are married to is referred to as your sponsor. 
Military and Family Support Centers have counselors available on most installations, and, of course, help is always available online or by phone. There's no cost, making this a key benefit to getting all your other military spouse benefits.
MFLC service eligibility is pretty broad. It's open to:
MFSC staff are practical, issue-oriented problem-solvers. That means they know the resources and options on the table for any kind of issue, including getting educational support.
Taking Advantage of Most Military Marriage Benefits Means Registering With DEERS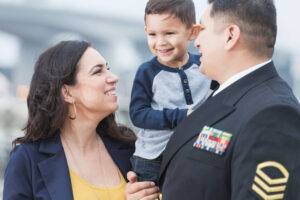 Before you can take advantage of almost any military benefit program, spouses have to register in DEERS: the Defense Enrollment Eligibility Reporting System.
This is something that service members have to initiate but it's a pretty straightforward process. Your local ID card office can take care of it. You'll speed things up by filling out a DD Form 1172 before your appointment, however.
Filing requires:
The My Career Advancement Account (MyCAA), Offers Military Spouse College Benefits While On Active Duty
The service encourages military spouses to pursue their ambitions while their husbands and wives are deployed – whether that means starting a business, launching a career, or getting a college education.
MyCAA offers solid financial support toward those goals. You're eligible if your sponsor is in pay grades E-1 to E-5, W-1 or W-2, or O-1 or O-2, whether they are on active duty or in the National Guard or reserves. Guard or reserve members can't be in warning order, post-deployment, de-mob, or transition status, however.
You don't need to root against your hubby or wife getting a promotion after you start receiving MyCAA benefits; you'll keep your eligibility even if they are promoted out of those pay grades.
A MyCAA scholarship awards a spouse up to $4,000 in tuition assistance, at a rate of $2,000 per year. That's enough to put together a full associate degree. It can also go toward a license, certificate, or certification at an accredited college or technical school. It will cover both in-person and online colleges. That offers terrific flexibility for dealing with frequent permanent change of station moves!
There are some restrictions, however.
MyCAA also comes with an individual coaching session with a career coach and an education and training plan that you will build with them to make sure your degree will get your closer to your career goals.
Although $2,000 per year is the default cap limit, it's possible to get more for certain programs if there is an up-front cost higher than that.
And although the programs is aimed at helping spouses pick up associate degrees or certificates, it's also possible to apply the funds toward more advanced coursework if that can lead to credentials in your field.
Branch and University Scholarships Offer Even More College Benefits to Military Spouses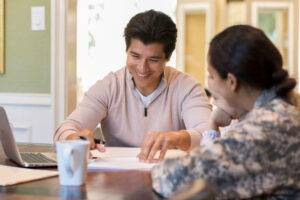 MyCAA, along with most of the other military spouse benefits programs, are offered directly by the Department of Defense or Veteran's Affairs. That makes them available to husbands and wives of service members from every branch.
But don't overlook the efforts that each individual branch makes to support military spousal education! Like the college funds they make available to their members, each branch has special educational options devoted to military spouses as well.
You'll also find that many public and private colleges and universities step up to the plate for service member's spouses. Special scholarships and grants offered by schools themselves can be a great way to pay for your education while your husband or wife is serving our country. Every school will have their own eligibility rules and support levels, so check where you want to attend to see what's available.
Branch-Based Military Spouse Education Benefits
Branch-based spousal education benefits are usually actually offered by independent non-profit organizations. Each branch has their own system, setup, and funding for these programs. That means you have different possible benefits, different qualifications, and different ways in which to apply. You'll have to consult each organization for details.
As part of the Department of the Navy, the Marine Corps participates in Navy support programs.
Space Force is closely associated with, and only recently detached from, the Air Force. As a result, Air Force education programs have been extended to support Space Force spouses. But keep an eye on the options as Space Force establishes its own traditions and support systems over time.
General Henry H. Arnold Education Grant
Grant is a scholarship that awards between $500 and $4,000 to eligible Air Force and Space Force dependents, including spouses.
Air Force Aid Society Merit Scholarship
Merit scholarships in the amount of $5,000 are offered to spouses with outstanding academic potential.
Air Force Aid Society Supplemental Education Loans
Air Force dependents can receive no-interest loans of up to $1,000 through AFAS toward undergraduate studies. These can go toward books and supplies or tuition.
The Army Emergency Relief Fund Mrs. Patty Shinseki Spouse Scholarship Program
AER offers a variable scholarship each year to Army spouses with awards based on the total number of applicants, the approved budget, and average cost of attendance for U.S. universities.
Navy-Marine Corps Relief Society Grants and Loans
NMCRS offers both grants and interest-free loans for undergraduate or graduate studies to spouses. Amounts range from $500 to $3,000 per academic year, covering tuition, books, fees, room and board.
Coast Guard Mutual Assistance Education Loan
Interest-free loans of up to $2,000 may be offered to spouses for associate, bachelor, or graduate studies.
Coast Guard Mutual Assistance Supplemental Education Grants (SEG)
SEG funds are available up to $500 per calendar year to be applied to materials, fees, or books but not tuition. The funds can be applied to undergraduate or post-graduate studies, or even a GED.
CGMA also offers reimbursement for CGMA clients and family members for loan fees if you are pursuing traditional Federal Stafford or PLUS loans to fund your education
Military Spouse Education Benefits Through GI Bill® and Yellow Ribbon Program Transfers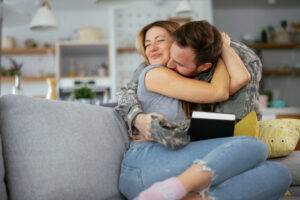 Like other dependents, a spouse is eligible to receive Post-9/11 GI Bill® education benefits if they are not going to be used by their service member husband or wife.
As of August 2022, spouses of active duty service members are eligible for Yellow Ribbon Program benefits transfers too. For spouses with their sights set on a more expensive private university degree or just a state school in another part of the country where they don't qualify for the residential benefits, the Yellow Ribbon Program helps cover those additional costs. Dependent children have qualified for Yellow Ribbon Program benefits transfers for years, and now military spouses can take advantage of them too.
For all GI Bill® military education benefits, including the Yellow Ribbon Program, the process of transferring benefits has to be initiated while the service member is still on active duty. Additionally, it can only happen if they have completed at least six years of service and agree to serve for four additional years on top of their current commitment. The only exception to these transferability rules is if the eligible service member is killed or seriously injured in the course of duty.
Under transferability rules, as the recipient, you'll get the entire benefit just as if you had served yourself, including:
For the most part, these are the same as any other dependent would receive. But there are a couple of rules that are unique to military spouses.
Unlike children, a military spouse may begin using Post-9/11 GI Bill® benefits immediately when they are transferred.
While kids are age-limited in using their transferred benefits before the age of 26, a spouse has up to 15 years after the service member's separation from active duty. This offers a broader range of time for you to go to school either during or after your spouse's discharge from the service.
There's also a limitation that comes with being able to use the benefits immediately, however: spouse GI Bill® education benefits do not include the housing allowance while your husband or wife remains on active duty. Since you're covered under their existing housing allowance, this makes some sense. But it also restricts you from getting housing paid for if you had planned to attend school in a different location than assigned.
This process is discussed in more detail in Your Guide to GI Bill® Benefits.
Military Education Benefits For Spouses in the Event the Service Member Makes the Ultimate Sacrifice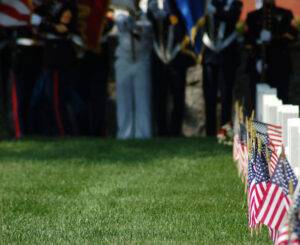 The most frightening part of being a military spouse is the one no one wants to talk about: the possibility that your loved one goes off to war and doesn't come back again. It's a possibility that has decreased dramatically during modern wars, with superb force protection postures and the best field medical care in the world.
But that never stops you thinking about it.
The military thinks about it, too, which is why there are special military spouse benefits after death or disability, including for educational programs. It might seem like it's impossible to pick up and continue your life after such a devastating tragedy. But the Department of Veterans Affairs offers you the tools to persevere if you need them.
Spouses Are Eligible for Survivors and Dependents Educational Assistance (DEA) Program Benefits
DEA, as it's also known, is laid out in Chapter 35 of Title 38 of the US Code, passed at the same time as Chapter 33 (the Post-9/11 GI Bill®). DEA makes a flat monthly payment to survivors to help cover the costs of undergraduate or graduate degree programs, or other career training or counseling programs.
The main qualifications in getting DEA benefits depend on the circumstances of the service member's injury or death:
As a spouse, your eligibility for receiving and using DEA benefits is unique.
Additionally, as the husband or wife of a deceased or disabled service member, you are eligible to receive both DEA benefits and military Dependency and Indemnity Compensation (DIC). Other dependents are forced to choose between the two.
DEA benefits are a flat-rate payment that comes to you monthly, to be applied to college or certificate training programs. Rates are adjusted each year; for 2022, the rate for full-time attendance was $1,298 per month.
Military Spouse Benefits After Death Include the Gunnery Sergeant John David Fry Scholarship
DEA is only one of the options available if your husband or wife pays the highest price in service to their country. The other is the Marine Gunnery Sergeant John David Fry Scholarship.
While DEA is available in cases of either death or disability, the Fry scholarships are only available to survivors of military members who died in the line of duty or from a service-related issue.
Fry Scholarships are more generous for that reason, basically mirroring the benefits available through the Post-9/11 GI Bill®. That includes:
And Fry Scholars have the option of participating in the Yellow Ribbon Program, in which participating schools and the VA cooperate to offer higher tuition reimbursement to cover costs at private universities or for out-of-state tuition.
Your eligibility for a Fry scholarship as the spouse of a deceased service member also rests on your future marital status. Unlike other dependents, the husband or wife of such a service member is eligible for Fry benefits at any age, for any length of time.
Of course, it's natural for life to go on. Survivors meet new people, fall in love again. It's something your spouse would certainly want for you. But if you do remarry, you will lose your Fry eligibility entirely.
We discuss both of these benefits in more detail in our Military Family and Dependents College Benefits Guide.
Divorce and Separation May Impact Benefits for Military Spouses
It's true that military service puts a lot of stress on marriages. While this is tough on kids as well as spouses, a divorce doesn't put children at risk of losing their educational benefits. They are, after all, still the children of a soldier who earned those benefits.
Military spouse benefits after divorce are pretty much nonexistent, however, with a couple of exceptions:
Although GI Bill® benefits are definitely a kind of asset, they are not one that is on the table in divorce proceedings. The law is clear: the benefit stays with the service member.
But in the case of Post-9/11 education benefit transfers, that service member still has the option of leaving the benefit with their spouse. And this might be done voluntarily as part of a settlement, even if the spouse had no rights to it. For example, the service member might agree to offer the benefit in exchange for their spouse voluntarily giving up claims on other assets.
Like all such transfers, it must have been initiated while the service member was still on active duty, as well as prior to the divorce.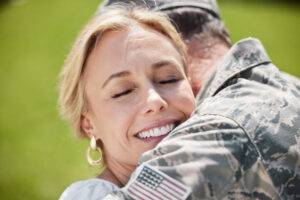 Death and divorce are not the things to focus on as a military spouse, though. When your husband or wife goes off to put themselves in harm's way, their mind is put at ease by your safety and your support. The benefits of military spouse life is not why they do what they do, but it's one additional way they protect and serve you. Enjoy those benefits with gratitude and in honor of what they do for us all.