<!- mfunc feat_school ->
Featured Programs:
Sponsored School(s)
<!- /mfunc feat_school ->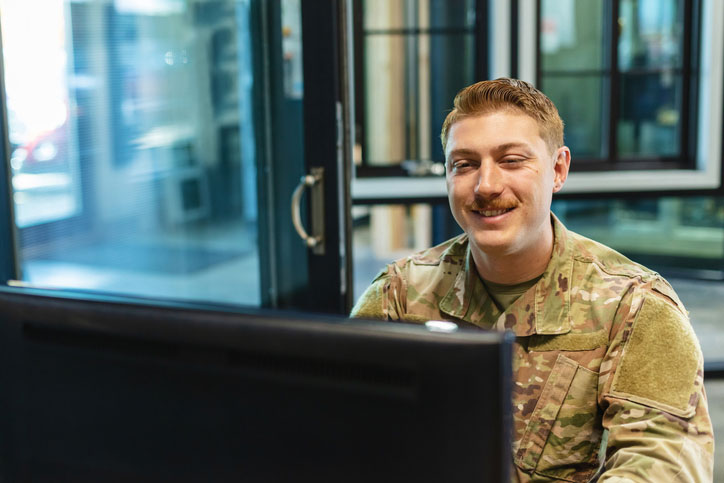 The appearance of U.S. Department of Defense (DoD) visual information does not imply or constitute DoD endorsement.
Active duty military forces are really just the tip of the spear of American military might. Although they get the splashy news coverage and the best gear (and, to be fair, are the first to take fire in a shooting war), there are just as many reservists and National Guard members ready to serve.
According to DoD figures for 2020, the Selected Reserve had just over 800,000 members from all branches excluding the Coast Guard.
In some ways, your dedication and commitment as a reservist is even more impressive than someone on active duty. When your country calls, you drop everything and stand to. You're more likely to have a career, a family, a community. Yet with all that on the line, you're still willing to put your country first.
So it's only fitting that you should be able to take advantage of the various military reserves' benefits for college.
Explore Your Benefits Options
Military Reserve and Guard Benefit Eligibility Has to Be Broad Enough To Fit Different Backgrounds
There are a lot of different paths into the reserves.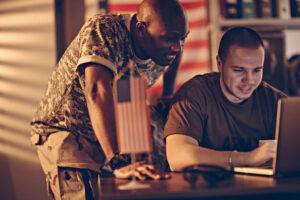 So the reserves are a very diverse group with many different kinds of motivation. But many members, particularly those who are just joining up, are probably in a stage of life where they are thinking about getting a college degree.
In a way, just being a member of the Guard or reserves is a kind of college benefit: you get to serve your country while still being able to go to school full-time. With only one weekend a month and two weeks of training to account for, you've got plenty of time to study. And you're doing it while still keeping a commitment to defending America.
When you look at it that way, the actual financial benefits for education are gravy.
You Need to Know Your Reserve Component To Understand Your Education Benefits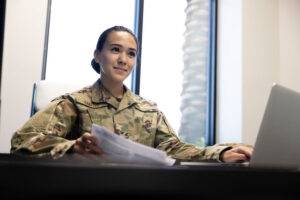 National Guard and Reserve components are so complicated a lot of members don't even fully get which is which. The Office of the Secretary of Defense for Reserve Affairs specifies thirteen different categories of reserves.
The military reserve benefits for education you are eligible for depends on which one of those you fall into.
For the most part, education benefits are restricted to members of the Selected Reserve. This group consists of individuals who are essential to initial wartime missions, and are the first to be called up.
In general, if you actively drill as part of your reserve or Guard duties, you will be in the Selected Reserve. If you are retired, or have some remaining obligation in your contract after discharge but do not actively train each year, you probably don't have any reserve benefits coming—although it's quite likely you are eligible for other veteran's education benefits.
The military reserve benefits you are entitled to can differ depending on your status, the reserve component you belong to, and your length of service.
The Montgomery GI Bill®-SR is the Biggest Military Education Benefit for Reservists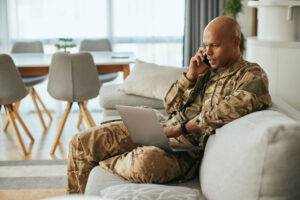 The Montgomery GI Bill® was the only thing going in veteran educational benefits through the 1980s and '90s. Fortunately, General Montgomery was a National Guardsman who was originally commissioned through the Reserve Officers' Training Corps, so the reserves were on his mind when he was writing the bill.
Chapter 1606 was written specifically to offer certain GI Bill® benefits to reservists and Guard members.
This part of the bill is commonly referred to as MGIB-SR.
To qualify for MGIB-SR benefits, first you have to be a member of the Selected Reserve. Individuals falling into other reservist categories aren't eligible.
There are really only two other important qualifications:
You also need to have your high school diploma or GED, but with high recruiting standards these days, that's pretty much a given. And you have to remain in good standing with your unit.
The MGIB-SR offers a fixed monthly payment toward your educational expenses for up to 36 months.
As of 2022, the Montgomery GI Bill®-SR monthly payment rate for full-time students is $407.
You are able to use this as long as you remain eligible, until you exhaust all 36 months. Part-time attendance only counts as part of the month for these purposes, so if you're in school only half-time, you effectively double the duration. But the dollar amount you get is also chopped in half, so this is really about timing.
If you are called to active duty, your eligibility term is extended for the length of your mobilization plus four months. And that period is extended even if you leave the Selected Reserve after de-mobbing.
We already go into a lot of detail about the MGIB-SR in our Guide to GI Bill® Benefits.
Some Branches Boost Benefits for Reservists Through GI Bill® Kicker Upgrades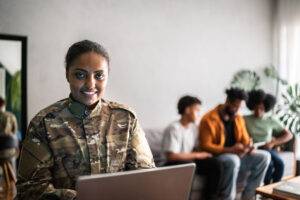 One benefit where many reservists have an edge over active duty service members is when it comes to the so-called GI Bill® kicker. These incentive programs are operated by each individual branch in order to hang on to individuals in critical specialties, or to encourage re-enlistment or extensions.
Although kicker programs are available for active duty personnel also, the reserves rely on them more heavily since they have a harder time keeping qualified staff.
A kicker bonus is simply added to your monthly MGIB-SR payment. Amounts range from $100 to $350 per month as of 2022. The actual figure will depend on why and how you qualify for the bonus.
You also need to keep in mind that it is a bonus, not a benefit. Your MGIB-SR benefit is earned simply through your service. But a bonus payment, like the kicker, depends on you meeting the qualifications matching the incentive. If you switch to a different MOS that isn't rated as critical, for example, you'll lose the kicker payment.
Assuming you continue you qualify, however, the kicker payments will last for as long as your MGIB-SR eligibility does, up to 36 months.
Many Reservists or Guard Members May Qualify For Active Duty Benefits
If you served during America's longest war, the War in Afghanistan, or other Global War on Terror theaters, then the odds are high that you probably have qualified for active duty education benefits. According to the Reserve Organization of America, more than one million reservists or National Guard members were activated between September 11, 2001, and 2020.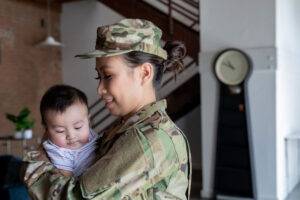 In order for those activations to qualify you for Post-9/11 GI Bill® benefits, you only had to serve on active duty for 90 days. The level of benefits reflects how long your activation lasted. In most cases, it won't have reached the 36 months required for full benefits. But anything under 6 months still offers 50 percent benefits, and a year of service takes you to 60 percent.
If you happened to get wounded or suffer from another service-related disability while you were on active duty, that automatically becomes 100 percent benefits—even if you were active for fewer than 90 days.
ROTC Offers a Unique Option For Reserve Officers
Maybe the best-known educational benefit for reservists in the Army, Navy, or Air Force is one that directly attaches your degree to your service commitment: the Reserve Officer Training Corps.
You'll find Space Force ROTC programs available through the Air Force, while Marine Corps programs are available through the Navy.
Despite the name, ROTC actually graduates more than half of all newly commissioned active duty officers in the U.S. military. But ROTC contracts are also available that will place you directly in the Selected Reserve after graduation. This reverses the normal path for reserve military education benefits—you get all the benefit first, and perform your service afterward!
ROTC benefits are variable, depending on your contract, commitments, and at what stage in your education you join. You can find out more about them in our Guide to ROTC Education Benefits.
Student Loan Repayment Programs (SLRP) Pay Off Existing Student Debt
Another military education benefit that some reservists qualify for is SLRP, or Student Loan Repayment Programs.
SLRP has been a feature for active duty soldiers in every branch—basically, the military agrees to cover your outstanding student loan debt, up to a certain amount, once you join up and meet some other qualifications.
Only the Army and Air Force offer SLRP for reservists, however, and only certain specialties qualify. Both National Guard and individual reserves are covered, though. Air Force Reserve/ANG members can have up to $20,000 in loans covered, while Army Reserve/NG will go up to $50,000.
Similar to GI Bill® kicker options, loan repayments are usually only available to enlistees who fill critical specialty roles.
Only certain loans are eligible for payment, usually those that are guaranteed by the federal government like Stafford or Perkins loans. The loan can't be in default status, either—you will have to be current on your payments.
You aren't allowed to take advantage of SLRP at the same time you are using MGIB-SR benefits.
SLRP payments are sent directly to loan servicing, taking you out of the loop. But it's considered taxable income, so don't get caught by surprise when April 15th rolls around—you'll have to pay taxes on the amount of SLRP payments made on your behalf, even if you didn't actually see a dime of it in your bank account.
The Army runs a companion program that doesn't just help with outstanding student loans—it can actually cancel them entirely. There's a catch, though—you have to be deployed in a combat zone. Reservists who are activated for at least a year in hostile or imminent danger pay areas can have all federal student loans forgiven completely.
SLRP terms are typically written into your enlistment contract. You'll have to make a minimum six year commitment and score at least a 50 on your ASVAB. If you don't negotiate SLRP as a part of your initial enlistment contract, you may be able to do so when re-enlisting, although it means signing up for at least another six years.
Military Tuition Assistance Is an Active Duty Benefit That is Sometimes Extended to Reservists and Guard Members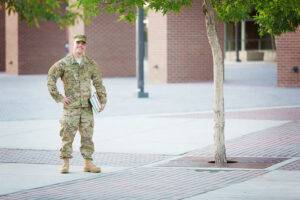 Military Tuition Assistance is one of the best educational benefits offered to active duty military personnel. MTA covers college tuition and fees for classes you take on your own time while you are enlisted, whether online or in traditional classes. But some reservists are also eligible for this big educational boost.
Military Tuition Assistance for Army Reservists or National Guard Soldiers
If you are on drill status in the USAR or Army National Guard, you can receive tuition assistance that pays up to $250 per credit hour, totaling $4,000 annually. You can receive up to 130 total semester hours of this benefit toward undergraduate courses, and 39 credit hours toward graduate coursework.
What happens if you go over those limits? Well, you are free to pay any additional costs out of your own pocket. As of 2021, however, you're now also free to use any MGIB-SR benefits that you are eligible for with MTA, as long as you are enrolled more than half-time.
For enlisted members, this all comes without any additional obligation other than your regular commitment. Officers, on the other hand, are required to sign up for an additional four years of service in the reserves or Guard in return for receiving tuition assistance.
Military Tuition Assistance for Air Force Reservists or Air National Guard Airmen
Just like the Army, you have to be on drill status in either the ANG or AFR to receive tuition assistance. While the per-credit benefits are identical, at up to $250 per hour, the Air Force cap limit on annual payments is slightly higher, up to $4,500 per year.
In return, you have to meet high standards to stay on the pay roster for Air Force MTA. You'll need to pass undergraduate courses with a C or higher, and graduate courses with a B or above. That applies for each individual course as well as your overall GPA, so you better crack the books.
Military Tuition Assistance for Coast Guard Reservists
Although the blue water Navy and Marine Corps don't offer tuition assistance for reserve components, the good ol' Coast Guard is always ready to kick in for training for reservists.
Semper Paratus, "Always Ready" has been the official motto of the United States Coast Guard since 1910.
In fact, the TAP authorization for Coasties in the reserves is identical to that available for those on active duty. Like the other services, it caps at $250 per credit for semester credits. The annual cap is somewhat lower, however, at $3,750.
You can apply USCG MTA to first certificate programs, associate, bachelor's, or master's degrees. You're not allowed to apply it to a second degree at the same level as a degree you already possess, however.
States Can Offer A Bump to National Guard Education Benefits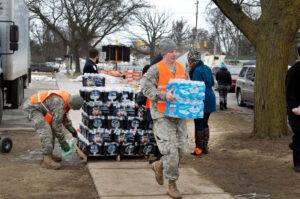 So far we've just been talking about federal programs that offer benefits equally regardless of where in the country you are located. If you are a reservist, those are all the benefits you will get.
But the National Guard is a bit different. As a cooperative effort between states and the federal government, the Guard has full access to federal benefits, but can also receive support from programs run by their state.
Not every state offers the same education benefits, and not every benefit will have the same eligibility standards from state to state. You'll have to check with your state Guard agency to find out the details.
But in general, you can find the following types of education benefits in the National Guard:
 Some states, such as Georgia, offer tuition loan programs for colleges in their state that can cover up to 100 percent of your tuition and fees. While these loans are available for you to use during your membership in the Guard, they often also require continuing service for some period after you graduate. Once you fulfill those terms, however, the loans are forgiven in full or in part, leaving you with little or nothing owed. In Georgia, two years after completing your degree is all it takes.
Because Guard programs are run by states, they can have close relationships with state university systems. In some states, that means that Guard members are eligible for tuition discounts or waivers on the regular in-state tuition rates. At the University of Washington, for example, Washington State Guard members can get 50 percent off in-state tuition rates.
Other states piggyback on the federal Military Tuition Assistance program and offer a boost by kicking in their own tuition assistance for college. In some cases, this can be more generous than the federal funding… California, for instance, offers up to $12,192 per year in state tuition assistance, making the $4,000 in federal assistance look pretty stingy.
Since Guard members serve their states as well as their country, it only makes sense that states kick in for extra education benefits. Guard members are younger on average, too, so more likely to be heading for college and making use of those benefits.
Reservists and Guard Members Can Take Advantage of the Defense Activity for Non-Traditional Education (DANTES)
Another reserve education benefit that often gets overlooked is access to DANTES and all the resources it offers, including CLEP (College Level Examination Program).
DANTES is a powerful companion piece that lists all the resources available to apply to your training at every stage of your military service. That means you can find out what kind of college and career counseling resources are available, find out where to get help with your tuition assistance application, and even evaluate schools to find out where you can use your benefits.
DANTES is sold as offering access to non-traditional educational programs for troops who are deployed or frequently getting shuffled around the country. But that list of resources is just as powerful even if you never travel any further than your community Guard armory.
CLEP is one of the most powerful tools in the DANTES arsenal, allowing you to take exams that translate into college credits for your service training or experience. This isn't unique to military service, but what is unique is the free access you get through DANTES. If you translate that into what you could save on a per-credit basis, this benefit alone could outshine your MGIB-SR compensation.
The National Guard or reserves can offer education benefits that are nearly as generous as those for the active duty force. And the flexibility that reserve service comes with can be a huge benefit in terms of finding the time to go to school—while collecting a little additional cash along the way. It's a win/win situation for Guard and reserve members actively pursuing a college degree.