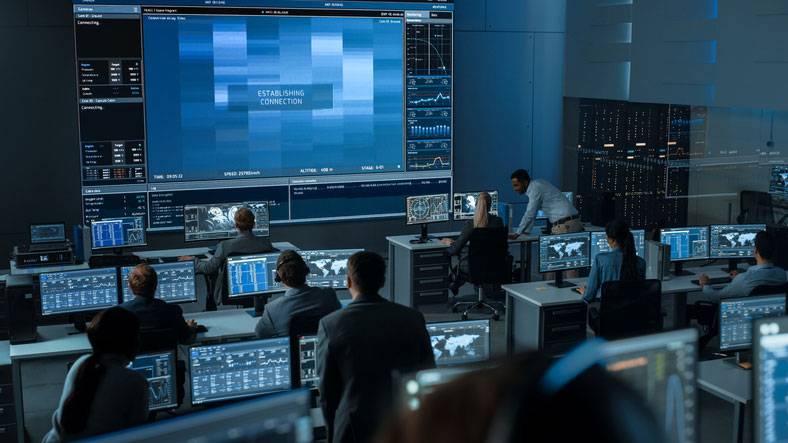 The appearance of U.S. Department of Defense (DoD) visual information does not imply or constitute DoD endorsement.
America's military is unquestionably the most high tech fighting force in history. A lot of that rests on the innovation and breakthroughs that have come from the civilian tech sector.
<!- mfunc feat_school ->
Featured Programs:
Sponsored School(s)
<!- /mfunc feat_school ->
It's not just the technology that is a force multiplier, though. It's also the fact that recruits to the American military come from a society that is swamped in the fruits of computer science. Kids learn programming in high school; they play games after class. Everyone has a virtual assistant riding around in a veritable super-computer in their back pocket.
You can leverage your innate familiarity with modern technology and take the experience and training the military gives you, together with generous educational benefits, and join one of the hottest careers in the world today.
Explore Your Military Training and Degree Options
When It Comes to Ones and Zeros, Military and Civilian Computer Science is All the Same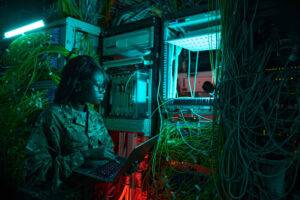 Computer science is one of those areas where there is a significant overlap between civilian and military needs and practices. When you get right down into the code, it's all still ones and zeros.
But military computer science assignments can open up some cutting-edge experiences you might not come by in the civilian world. Of course, you won't be able to tell anyone about them. But detached duty with the NSA looks cool on any resume.
What Is the Difference Between Information Technology and Computer Science?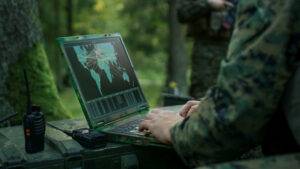 Most people don't have to worry about the distinctions between computer science and information technology. It's all just code and cabling to them. Even when it comes to getting jobs out in the civilian world, most companies don't draw a lot of distinctions between computer science and information technology training.
But there are differences, which you will see most clearly when it comes to earning degrees in those fields.
Computer science is about development of software and hardware, thinking about and designing algorithms and computational processes on either a practical or theoretical level.
Information technology handles implementation, systems design, and practical applications of computer systems.
IT tends to be more business-facing, handling support functions and daily operational tasks. Computer science is more abstracted, developing code and machines for more general use.
In practice, a degree in either field will work to get you a job in the other. But compsci programs tend to be heavier on the math and theory of computation, while IT degrees are focused on bigger picture systems and outcomes.
Military computer science jobs are some of the easiest specialties to roll right over into civilian positions. But even more than in other IT roles, a degree is important to companies hiring top computer scientists.
Some MOSs Today Come With Advanced Technology Training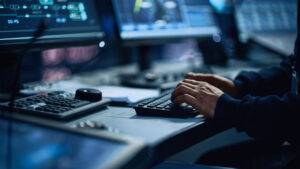 There are fewer dedicated computer science jobs in the military than information technology positions. In general, programming and other computer science jobs are handled by defense contractors or civilians working at the Department of Defense (DoD). The qualifications for getting into them are higher, too… many are reserved for officers, who already hold four-year degrees in the field.
But IT jobs are still a good place to start laying the groundwork for computer science studies, and you can find those in every service.
Army – The Signal Corps is where most Army electronics and communications jobs are at. That puts MOS fields in the 25 series as your top choice, offering 20 weeks of advanced training. Cyber Branch, with MOS series 17, is a close second.
Navy – Navy Information System Technicians receive 6 months of training at their "A" schools after basic. A special school trains submariner IST ratings apart from normal fleet ISTs. Cryptologic Technicians also receive compsci-oriented training.
Marine Corps – As in the Army, the Marine Corps has delegated most computer support and development jobs to their Communications field, 06. Recruits often train with the Army, too.
Air Force/Space Force – The Air Force may have the most dedicated computer science roles, like the 1D7X1Z Software Development Operations position, but most enlisted 1D and 1B roles offer between two and five months of dedicated training in technology.
Coast Guard – The Coast Guard's Information Technician ratings go through one of the longest training regimes in the service at their own dedicated "A" school.
Although all branches have information technology training and roles that are good preparations for the hardcore business of computer science, the Air Force and Navy are really the go-to forces for serious compsci jobs.
Ships and planes run on code these days. And you can't exactly just pull over somewhere in the South China Sea and call in a programmer if you hit a glitch. The expertise needs to be on board.
So certain Navy staff and limited duty line officer positions, like electronics and cyber warfare officers, and some Air Force engineering and systems programming jobs, offer the best compsci training in the service.
There is huge competition for these positions and your ASVAB scores and college GPA will need to be through the roof.
The Reserve Officer Training Corps Offers Free Tuition for In-demand Degrees Like Computer Science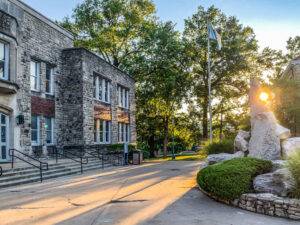 Because most real compsci jobs in the military are restricted to officers, it's natural to look to the Reserve Officer Training Corps as your first option for college benefits. ROTC, available at some 1,700 schools nationwide, is offered by the Army, Navy, and Air Force. Air Force and Navy programs also fuel Space Force and Marine Corps officer pipelines.
The Coast Guard doesn't have an ROTC program, but offers the College Student Pre-commissioning Initiative, which plays a similar role.
Whichever branch you pick, ROTC offers two, three, and four-year full-ride scholarships depending on when you apply and are accepted. You even receive a basic monthly stipend for walking-around money. Summers and some college classes are devoted to military subjects, but you will earn a full degree from a civilian university with all the same coursework and requirements as any other students.
In return, you'll have to fulfill a service commitment of 8 years or more, with half typically in the reserves. But with a computer science degree, your posting is likely to be one that builds your experience and opens up advanced training opportunities.
Every Service Academy Offers Degrees in Computer Science or Engineer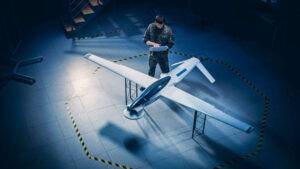 If ROTC isn't intensive enough for you, all four of the American military service academies offer programs in either computer science, computer engineer, or cyber systems.
Getting into these programs isn't easy, but it's hard to beat the benefits. Each service academy is a highly respected academic university, with all the resources needed to make every program a showstopper in its field. And on top of the education, which is entirely free, you actually get paid to attend!
The Coast Guard, Air Force, Army, and Navy each run their own academies. The Marine Corps and Space Force both commission officers out of the Naval Academy and Air Force Academy, respectively.
Credentials Are Big in Computer Science, and Military Benefits Help You Get Them
Whether you join as an officer or not, you have a couple of excellent options to get credentials or credits out of your military training. COOL, the Credentialing Opportunities On-Line program through the DoD, offers up to $4,000 in payments toward testing, course requirements, or other costs of earning common certifications.
Since the computer science world is boiling over with important certs, this is a great opportunity to start building your credentials before you are even discharged.
Even if your chain-of-command doesn't sign off on COOL credentials, your military training may still be worth college credits from military-supportive schools. DANTES, the Defense Activity for Non-Traditional Education Support, includes a couple of different programs like CLEP, the College Level Examination program. You can take tests for credits that will count toward a degree later on.
College Credits or Degrees Can Come Through Advanced Military Computer Science Training
The military puts a lot of money into ongoing training to keep everyone current on the latest and greatest technology available. As an enlisted IT specialist, you can find additional courses in various computer science subjects at military training units such as:
And virtual training has taken off in the military just as it has elsewhere. With the right approvals, you can tap into online courses like those offered by the Army's Information and Communication Technologies Defense Division.
Advanced Degrees Are on the Menu for Top Computer Science Candidates
As an officer, with a bachelor's degree already in hand, you have some even more exciting options. DoD and individual branches actually have their own universities that offer degrees in various areas relevant to national defense.
Many of these, particular at AFIT and NPS, are heavily computer-science oriented even in other degree programs. Instructors are first-rate and you will have the opportunity to participate in cutting-edge research.
If for some reason the military needs expertise through advanced studies that aren't available at any of these institutions, they also have the option of sending you off to a civilian university for a graduate degree.
These programs are often branch specific, like the Army's Advanced Civil Schooling program, the Air Force Technical Degree Sponsorship Program, or the Special Education Program/Advanced Degree Program in the Marine Corps.
These are coveted assignments—you keep your military salary and benefits, and your tuition and housing are entirely paid for. But they are also tough gigs. Your entire mission is getting the degree, and failure is not an option.
You Already Know Careers in Computer Science Are Growing Fast and Paying Well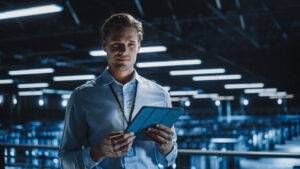 We're not disclosing any military secrets by mentioning that computer science is one of the top-growing, top-paying professions in America today. It has been for decades, and there are no signs it will slow down anytime soon.
According to the Bureau of Labor Statistics, some compsci roles, like information security analysts, will grow at a whopping 33 percent between 2020 and 2030.
There are many different kinds of jobs that computer science degrees can potentially lead into. These include the full range of traditional information technology jobs like system administration and database architecture.
But as your degree level advances, you'll also find some more hardcore computer science jobs on the table: programming, in-depth systems analysis, and information research. There are also more advanced positions in other fields that open up. For example, information security analysis at the most fundamental levels of architecture and design is something that takes a good computer scientist to master.
These positions exist in every industry, at organizations ranging from non-profits to government agencies to massive Fortune 50 companies. There are plenty of research and teaching positions at universities, too. The best computer scientists can basically build their own positions, exploring what interests them and getting top dollar along the way.
Computer Science Salaries Rest on Degree Attainment
More education and more experience are always going to land you in a higher paying position. As a field that rests heavily on academic achievement, computer science definitely rewards higher degrees.
But there are different specialties and industries that experience different demand. Some of the most common position for CS grads had the following different degree requirements and median salary levels for 2021:
Computer and information research scientists in the top ten percent of the profession can expect to make more than $208,000 annually—plus bonuses and benefits.
Some industries where computer and information researchers work also have different median salary levels:
You might even leverage your degree and military experience and go back to work for a defense contractor!
The Right Degree Is Key To Building on Your Military Experience in Computer Science
Because your experience and training in the military is likely to lean more toward information and general technology, it's even more important to get a solid computer science degree under your belt.
Associate Degrees in Computer Science
A fast two-year program kick-starts your programming career with the basics in algorithms, systems analysis, and development processes. You will get an overview of various programming languages, data structures, operating platforms, and security concepts. These degrees offer a great preparation to roll into a bachelor's program, often being accepted as the first two years of studies for those degrees.
Bachelor's Degrees in Computer Science
These four-year degrees are where computer science studies really get rolling. Although you'll have a strong focus on the mathematical and computational theory and practice that the field is grounded in, these degrees also include liberal arts studies. Those courses in communication, history, and the arts give you a broader understanding of compsci applications and ideas. It's considered the critical degree for entry-level roles in most IT and compsci jobs.
Master's Degrees in Computer Science
A master's-level compsci degree devotes two to three years of study that take you right back to the core of theoretical and practical computer science. Your courses will drill down into advanced concepts that are focused in an area of the field you decide to concentrate in, such as artificial intelligence or human-computer interaction.
Doctoral Degrees in Computer Science
Doctoral studies in computer science take you right up to the bleeding edge of research and technology breakthroughs. PhD programs in computer science focus on academic and theoretical knowledge, developing your skills in teaching and research. You'll be expected to evaluate the state-of-the-art in the field and come up with new and original ideas to pursue on your own as part of your doctoral dissertation. Completing one of these programs can take four years or more. But top universities and hot new startups as well as giants like Google and Apple will be beating down your door when you graduate.
<!- mfunc feat_school ->
Featured Programs:
Sponsored School(s)
<!- /mfunc feat_school ->
Your Computer Science Curriculum Fills in the Gaps in Military Training
Even the most comprehensive military training in IT and computer science is practical stuff. You need to hit the ground running on day one, and that doesn't leave a lot of room for theory.
But a degree will round out that training, with courses in areas like:
Mathematics – Math, math, math… you'll never get away from it in a world where ones and zeros rule all. So compsci programs often have both discrete and general coursework in advanced mathematics.
Algorithms – Algorithms are what drive software systems at a conceptual level. Most of programming is about implementing the right algorithms in the right order to get the right result. You'll learn algorithmic thinking as well as the most popular solutions to common challenges.
Principles of Computer Systems – Computer scientists don't get to be the guys who just reboot the machine when there is a glitch. You have to dig deep and learn what's going on. Learning computer systems from first principles helps you get there.
Programming – Coding, of course, is how things get done in computer science. You'll not only learn languages, but about families of languages and the theories and practical uses that differentiate them.
There's plenty more to learn than the basics, of course. The depth you get to will be determined by the degree you are pursuing. But there are plenty of electives at every level to focus on the areas you are interested in.
Computer Science Specializations Build the Career You Want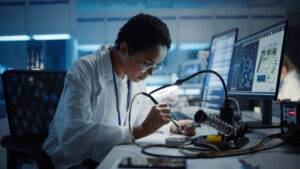 One of the reasons you can find computer science positions in so many different industries and organizations is that it has broad applications in the modern world. That also means there are a wide range of specialties available.
In many cases, these concentration areas are something you will start focusing on during your degree program. Many degrees have concentrations available in several of these areas; others allow you to pick your own electives to create something new and unique. Naturally, more than a few of them have direct tie-ins with various military computer science roles.
Artificial intelligence – Maybe the hottest area in computer science today, getting computers to think like people pushes the boundaries of computation and philosophy at the same time. Your military background may involve AI applications like radar tracking/sorting or signals analysis.
Biocomputation – Turning computers into thinkers has a mirror specialty, too: using DNA and living organisms as methods for computation may be the next big thing in computing.
Security – Security starts at the lowest conceptual levels, areas that only computer scientists fully understand. This specialty is the foundation for all other computer security work, and it's always a big deal in military computer science roles.
Human-Machine interaction – Learning how the human mind works is just as important as understanding algorithms in this specialty that helps programmers and designers build systems for usability. Military computer scientists are constantly analyzing how complex systems like fighter controls or tank targeting systems can be made more accessible to operators under stress in combat.
Information management – Staggering mountains of data are generated by the minute in the modern world, the result of constant streams of video, interactions with devices, and automated sensors. The same thing is true on the battlefield. Computer science professionals are coming up with new ways to organize, manage, and conceptualize these challenges.
Software theory and theoretical computer science – Then there is the important thinking that underlies all other software development. In a relatively new field, ground remains to be broken in basic theoretical ideas in computation and programming.
Whether you decide to continue the path your military career started you on, or branch out in a new direction, you degree specialization is where you will do it.
Choosing a Military-supportive School for Your Computer Science Studies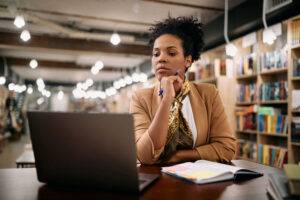 Naturally, to make the most of your benefits and to get the support you deserve, you'll want to find a compsci program at a military-supportive university.
What exactly is that? Well, there's no official definition. The absolute minimum qualification is that they must accept GI Bill® benefits toward tuition. After that, you will have to look at a few different things that will influence the kind of student experience you have But the more of them on offer, the more it adds up to a college that is thoughtful and supportive of veteran students:
You can identify these schools and discover even more about them by using the VA's GI Bill® Comparison Tool on their website. It lists all those features and other important factors, like complaints made against an institution or the number of GI Bill® students currently attending.
National Centers of Academic Excellence in Cybersecurity Deliver Premier Training
Even more military friendly are schools that are designated as a center of excellence in this NSA partner programs. NCAE-C bridges the gap between national cyber defense and corporate and organization cyber defense.
That's basically the exact same thing you are going to be doing in computer science. Picking one of these schools offers two advantages:
These programs aren't specific to computer science, but they overlap it. There are three types of centers:
Of these, CAE-R is probably the best recommendation to go along with a computer science program, but you won't go wrong with a school that has any of those designations.
Forever GI Bill® Provisions Offer Extra Computer Science Training Options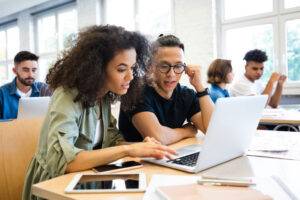 Hopefully you are getting the picture by now that computer science is no cakewalk. As a STEM (Science, Technology, Engineering, and Math) field, you can expect tough classes with strict grading.
That can make it tough to pack in all the requirements in four years. But the VA has your back thanks to the Edith Nourse Rogers STEM Scholarship. This provision offers an additional six months of standard Post-9/11 GI Bill® benefits, giving you the time you need to finish up those tough courses.
Another Forever GI Bill® provision you might be able to take advantage of is VET TEC: Veteran Employment through Technology Education Courses. This pilot program offers tuition and housing coverage for computer programming and information science classes offered by VA-approved training providers. These are often boot camp and other highly focused training, but with the popularity of intensive training in computer science, you can often find college programs in that style. Best of all, VET TEC is a separate pool from your GI Bill® benefits.
In some ways, though, the biggest benefits you get from your service aren't the skills you learned or the payments the VA will make on your tuition costs. Instead, they come in the form of the self-confidence, discipline, and assertiveness that is cooked into your soul in the crucible of the service.
You'll need that drive to get one of these hardcore degrees. But when you do, you'll be glad you had all the support and training that came with your service.
2021 US Bureau of Labor Statistics salary and employment figures for Computer and Information Technology Occupations reflect national data, not school-specific information. Conditions in your area may vary. Data accessed August 2022.