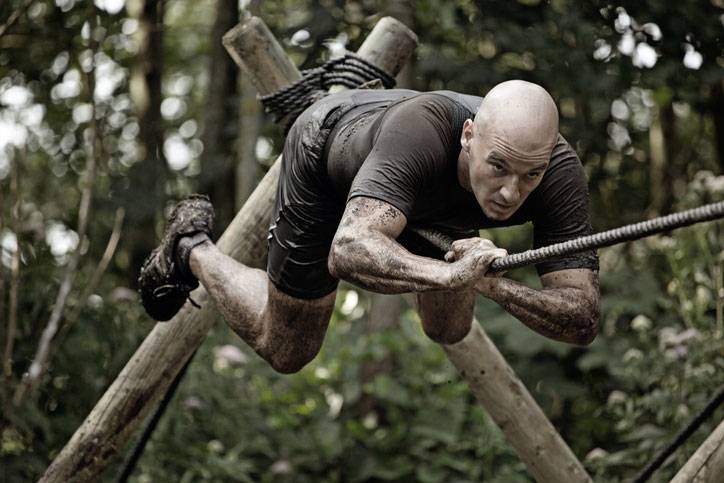 The appearance of U.S. Department of Defense (DoD) visual information does not imply or constitute DoD endorsement.
Organized physical training has been a hallmark of military service for thousands of years. The Greeks and Romans recognized that factors including sleep, food, and exercise were important for soldiers who could go the distance. Both on the march and in battle, militaries that were fit tended to come out on top.
<!- mfunc feat_school ->
Featured Programs:
Sponsored School(s)
<!- /mfunc feat_school ->
PT, or physical training, is kind of an obsession in the American military, and for good reason. One of the first things you will learn in basic training is that you can go longer, push harder, and move faster than you ever imagined before.
Combat puts demands on the body that every soldier must be able to meet. Fitness training ensures victory.
Ruck marches and calisthenics are the traditional, time-tested training techniques used since ancient times, but today's military has science to back up their methods. It's a field that has continuing importance and ongoing research. And if exercise science and human performance training is one you are interested in, the military is definitely the right place to start your career.
Explore Your Military Training and Degree Options
Exercise is Key to Life and Health Both in and Out of Military Service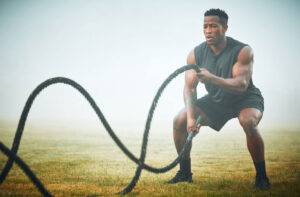 Everyone benefits from being in good health. Although the military has a vested interest in keeping its members fit, that interest is shared by millions of other Americans who exercise for fun, health, and to look good.
Of course, the fitness industry took a big hit during the COVID-19 pandemic. According to research firm IBISWorld, it dropped from an all-time high of more than $40 billion in 2019 to just over $25 billion in 2020.
Interest in fitness remains high in the post-pandemic world. As gyms and fitness clubs reopened, it immediately spurred a 4% job growth rate in the field of fitness and health promotion.
And Americans definitely need those professional exercise and performance services. 2018 data from the CDC found that just over half of Americans get their recommended levels of aerobic conditioning, but only about 23 percent meet both aerobic and muscle-strengthening targets.
It's not just general health and fitness that draws in exercise science degree graduates, though. They have roles to play in assessing employee fitness in high-performance occupations ranging from firefighting to package delivery. They also work with organizations to reduce the impacts of more sedentary jobs, devising exercise programs even office workers can keep up with.
And exercise is a vital part of therapy and rehabilitation work. The right kinds of activity can stave off age-related health issues. It gets accident victims back on their feet after injury. And it has significant impacts on mental health as well.
Of course, you know all this already from the regimen of physical fitness activities you had to perform in the military. But you might not realize how easily you can turn that experience into a degree and a career in exercise science.
The American Military Invests Heavily in the Science of Human Performance
Every branch of the American armed forces today has their own version of physical fitness standards, and a unique test that members must pass—in some cases, more than one!
Those numbers aren't just pulled out of a hat. There are entire training and research commands that are devoted to finding the best methods of assessing combat and performance fitness, and for assigning physical training programs to achieve those levels.
Military Jobs Focused on Exercise Science and Human Performance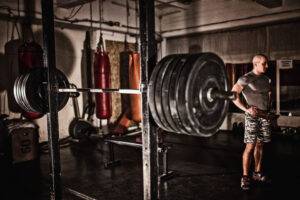 In a very real way, fitness training and mastering exercise instruction is a job for everyone in the American military.
In practice, the day-to-day course of fitness training falls exactly where you would expect it to: on the shoulders of the non-commissioned officer corps.
That makes most NCOs de facto students of exercise science. They must push their units, but also prevent disabling injuries. It's a real concern and you'll find almost every senior NCO spends serious time thinking about it and balancing training, nutrition, and rest.
In doing so, they tap into various specialized training material developed by commands like the Marine Corps Human Performance Branch, or the Navy's Morale, Welfare, and Recreation command. These are the units that crunch the data, do the testing, and come up with guidance on form, intensity, and recovery.
The Grecian warrior Philippides needed a better PT instructor. After running the 26 miles from the battlefield of Marathon to Athens to announce the epic Greek victory over the Persians, he dropped dead on the floor of the Assembly.
It's the responsibility of unit leadership to maintain force fitness and readiness, but every service has an overall program that uses the latest in exercise science and related fields to use as guidelines. For the Navy, for example, NOFFS (Navy Operational Fitness and Fueling System) program that combines holistic nutritional and exercise strategies designed not just for active duty components, but for reservists, retirees, and family members.
This all runs into service-sponsored sporting activities. Everyone recognizes that playing hard is more fun than training hard. That's why each service encourages some healthy competition through individual and team sports as well. These activities are also organized by NCOs and officers, sometimes within a unit, but often in coordination with other morale and recreation initiatives.
How To Get Military Training in Exercise Science and Human Performance
Any job in the military that involves these functions will come with opportunities to get training in exercise and performance factors.
Marine Corps Military Occupational Specialties in Physical Fitness Training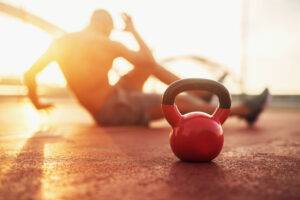 Only the Marine Corps has MOS roles dedicated to physical fitness instruction. The 0919 Force Fitness Instructor and 0916 Martial Arts Instructor roles are additional specialties you can stack to become the Corps' version of personal trainers. 0919s serve as unit subject matter experts in:
Physical fitness
Nutrition
Sports-related injury prevention
They're trained and informed by the Force Fitness Division within USMC Training and Education Command (TECOM). Training can happen within their unit or at the Force Fitness Readiness Center in Quantico.
Other branches also have exercise training roles, such as the Army's Master Fitness Trainer, which NCOs can get into with a two-week course covering topics such as:
These are the same kinds of subjects you'll cover in an exercise science degree programs.
Advanced Military Assignments That Focus on the Science of Exercise and Fitness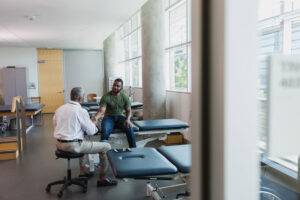 Way up the ladder you'll also find educational opportunities in places like the Uniformed Services University. USU is the military's own medical school, where doctors, nurses, and other professionals from the Navy, Army, and Air Force are trained.
But USU also hosts a cross-service Human Performance Resources Center (HPRC) team that turns the latest evidence-based exercise science into recommendations for personnel training. Operating as part of the Education & Training Directorate of the Consortium for Health and Military Performance (CHAMP), an HPR assignment is what you want if exercise and physiology is your area of interest. CHAMP and HPRC partner with military units such as:
They also partner with many civilian organizations. You'll generally need to be in a healthcare-related MOS to get involved with these programs, but this kind of work will supercharge you for a career in health and fitness.
Credentialing Opportunities On-Line (COOL) Can Prepare You for a Career in Exercise Science With Industry-standard Certifications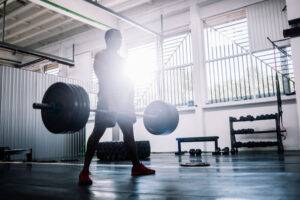 Another in-service program that can get you valuable training is COOL. Through this DoD program, your military specialty is matched with civilian certifications or licenses that are related. COOL can provide up to $4,000 toward any necessary courses or exam fees for you to get those credentials.
Your leadership must approve your participation, and some will require you to hold a degree, but meeting those requirements gives you a chance to earn industry-leading certifications through prestigious industry groups:
Getting one of these certifications is a standard part of career preparation and advancement in the health and fitness industry.
Picking the Right Degree Program: Exercise Science or Human Performance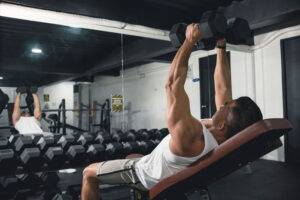 So, what exactly are studies in human performance and exercise science? They are often two different degree programs, although they study subjects that overlap and are closely related. You'll also find degrees in kinesiology, exercise physiology, and athletic training that have similar courses and goals.
Exercise science is the study of the physiological responses and processes of physical exercise. The focus is on how the human body responds to exercise and how that can best be made use of for both health and performance goals.
Human performance is specifically focused on maximizing human athletic achievement. Students learn how to optimize exercise, nutrition, and even mental processes to boost specific skills and athletic efforts.
Human performance degrees are slightly more aimed at coaching and high-level organized athletic trainers, while exercise science degrees offer a more general approach that can fit into all kinds of health and fitness jobs.
Both kinds of degrees, together with their variations, are available at all levels of college:
Associate – A two-year program that offers qualifications for entry-level roles while also contributing credits toward an eventual bachelor's degree.
Bachelor's – A four-year course of study that includes many general education courses and more electives and in-depth coursework in the major. The standard degree for most positions in the field.
Master's – These two-year degrees pack in more research, science, and theoretical instruction. They qualify graduates for pursuit of more advanced studies or higher level positions in the health and fitness industry.
Doctoral – PhDs in these fields may take three or more years to complete. They are primarily aimed at qualifying researchers and high-level educators in the field.
You'll take aim at the degree level that most closely aligns with your career goals. Whether you take advantage of active duty benefit programs like Military Tuition Assistance (MTA) to get started before you are discharged, or put it all on the tab of the GI Bill®, you'll have a leg up through your military experience.
<!- mfunc feat_school ->
Featured Programs:
Sponsored School(s)
<!- /mfunc feat_school ->
Degree Concentrations Focus Your Studies in Specialized Areas of Exercise and Performance
In addition to having several different kinds of majors to consider, you'll also find that you can pick from many different focus areas in your studies. These concentrations help tailor your general exercise science and performance studies toward particular jobs in the field. They can include:
Because of the close association between these degrees and teaching, you'll sometimes find them available with concentrations that serve as ITP, or initial teacher preparation, qualifications in your state. These include the extra coursework required to get a teaching license and are your ticket to a career as a wellness or phys-ed teacher.
What to Expect from the Curriculum in an Exercise Science Program
Relax… your degree program isn't going to look like bootcamp. There, you were practicing physical fitness and exercise. Here, the core curriculum is centered around theory and the state-of-the-art practices in our understanding of health and the human body.
Biology, Anatomy, and Physiology – Sports and exercise are fun, but you signed up for a science program, and this is where you get it. Core principles of human systems are covered so you understand the underlying biochemical and physical processes that exercise impact.
Kinesiology – Following the essentials of anatomy and physiology, you'll study kinesiology, or the science of human movement. This is important in understanding limitations of physical stress, proper form, and rehabilitation work.
Health and Nutrition – The human machine needs the right fuel to burn for maximum effectiveness. You'll study the biochemistry of muscle development, and the principles of nutrition for health and wellness.
Psychology – The proper mental attitude has long been understood to be an important element of exercise and performance. That means your coursework will include some of the latest understandings of sports and performance psychology, helping you offer motivation as well as exercise coaching.
Physical Activity and Education – Having absorbed a lot of information about how the body works and moves, you'll also study specific exercises and groups of exercises to understand how to effectively work muscles and other body systems for targeted goals.
Depending on your concentration, you will get other coursework that is more focused on your ultimate goals, such as:
The Importance of Selecting a Military-Supportive School for Your Exercise Science or Human Performance Degree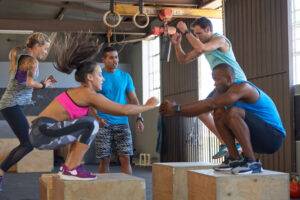 A military-supportive school can make all the difference when it comes to getting through a degree in exercise science or human performance. As a veteran, you are coming from a very different place than the average college freshman. You have more resources, different perspectives, and face distinct challenges.
Your primary objective is finding a school that helps you make the most of your military education benefits and that respects your status as a veteran.
The most important criteria to look for is a school that accepts GI Bill® benefits. Covering up to 36 months of in-state tuition at public universities, or an equivalent amount at other schools, that's going to be your single biggest benefit for earning your degree. It also offers a housing stipend and allowances for books and supplies.
What if you are going to a private school, or facing out-of-state tuition rates? That's where military friendliness really kicks into gear, with schools that participate in the Yellow Ribbon program. Those schools show the flag by offering to cover partial tuition costs over and above the basic GI Bill® limits for a set number of students. The VA matches their contribution, and that usually means you are home free for tuition even at big-name private schools—at least at military-supportive ones!
Colleges show their colors in other important ways, too. They may offer:
These kinds of features and more are revealed in the VA's GI Bill® Comparison Tool, available on the VA website. You can find and compare GI Bill®-accepting schools around the country and dig into the kind of support they can really provide you.
Turning a Passion for Fitness Into a Career in Coaching and Health Promotion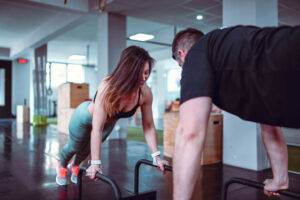 You probably already have a few different career paths in mind that you can apply one of these degrees to. Personal fitness coaches, trainers with professional and amateur sporting teams, even personal performance consultants get their start with an in-depth understanding of the latest physiological and exercise science research and practices.
But there are also many other opportunities that might not immediately spring to mind.
How about teaching high school physical education? Getting kids started on the right path to a healthy and fit lifestyle is a worthy cause. And any experience you had in team leadership will be great preparation for dealing with today's high schoolers.
There are also community-oriented positions like wellness directors, recreation coordinators, and sport program coordinators. You'll have the tools you need to work one-on-one with individuals, but also the right skills to handle big-picture management jobs in government, non-profits, and even private corporations.
Military Service Also Builds the Mental Factors Behind Human Performance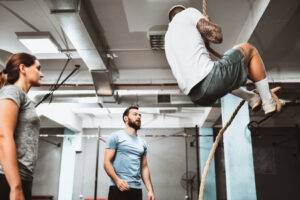 You deserve to get an education at a place that offers you those kinds of services and support because you have a lot to offer, too. Veterans bring maturity and experience to classrooms. With real-world experience in exercise and performance training, you can take the pure theory of college and put it into perspective earned in the field.
Those are the kind of qualities that impress future employers, too. Your time in the service will have given you more than just loads of physical training. There is a lot of mental performance training, too. You will have picked up values and characteristics that make you an example and a leader wherever you end up: