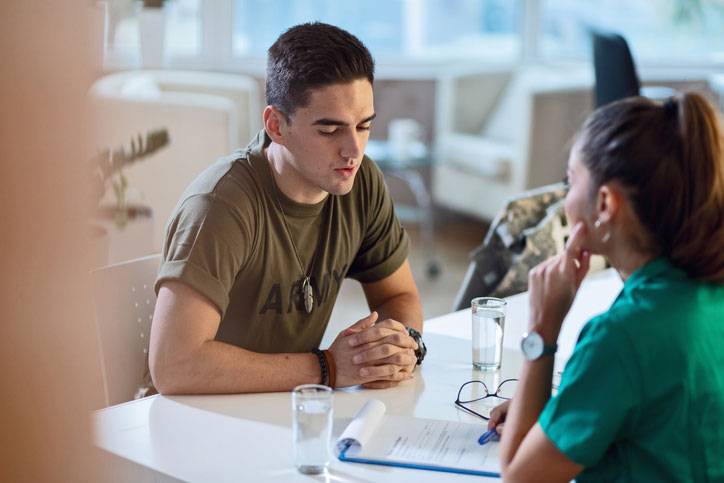 The appearance of U.S. Department of Defense (DoD) visual information does not imply or constitute DoD endorsement.
Saying that healthcare administrators in and out of the military have a lot on their plates may be the understatement of the decade.
<!- mfunc feat_school ->
Featured Programs:
Sponsored School(s)
<!- /mfunc feat_school ->
American healthcare was facing a big wall even before COVID-19 hit. Long-term projections from organizations ranging from the Association of American Medical Colleges to the Health Resources and Services Organization have been projecting mass shortages of important medical professionals for decades.
An aging population brings more severe disease, new and more technologically demanding procedures, and higher costs that all put strain on the healthcare system.
On top of that, pandemic-related burn-out has created a wave of early retirements and left some with second thoughts about planning careers in healthcare. The military isn't immune to those issues. According to a 2021 report from the Department of Defense (DoD) Inspector General, military health systems have been hit with shortages of staff and beds stemming from COVID-19, deployment demands, and force reductions.
Being solutions oriented in the face of adversity is something that the military excels at, however. And the problem-solving and resource management skills it takes to come out on top in challenging situations like this are exactly what the best healthcare administrators bring. If you're interested in a civilian career as a healthcare administrator, military service combined with a degree in the field is a good way to prepare for the challenge.
Explore Your Military Training and Degree Options
Healthcare Administration Turns Complexity Into Order in the Service of Patient Health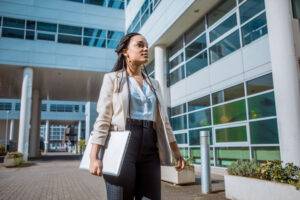 Healthcare administrators are the linchpin in the vast American healthcare system. They are the people responsible for running a sector that represents around 17 percent of the nation's Gross Domestic Product, serving tens of millions of Americans each year, and employing 16 million professionals industry-wide.
There are as many specialties in healthcare administration as there are healthcare specialties. You'll find jobs that involve running independent two-physician clinics as well as multi-state health services organizations that staff thousands of beds and hundreds of clinics and hospitals. You can work in hospice or outpatient care, specialize in oncology clinic management, or go into public health service.
The day to day work of healthcare managers and administrators is the same as that of any kind of manager—processing paperwork, organizing staff, working the phones to unsnarl supply tangles and line up resources. But it's also exciting stuff… the adrenaline hits when you are down two ICU beds and a multi-patient trauma report comes in from EMS only four minutes out. Lives rest on your decisions, big and small.
It's great work for anyone who thinks on their feet and has a can-do attitude no matter what the odds… the same kind of person who thrives in the service. And job prospects are expected to be strong in the coming decades – according to the Bureau of Labor Statistics (BLS), the field of medical and health services managers is expected to grow by 32 percent between 2020 and 2030.
Healthcare Administrators Earn Salaries that Reflect the Responsibility They Bear
That 32 percent is much faster than the average rate of growth for American jobs, and it has some predictable effects—strong salaries, for one thing.
For 2021, BLS found the median salary for medical and health services managers came out at $101,340.
But that's a number that can swing around a lot depending on your education, your expertise, and your industry.
By industry, for example, the median salary varied substantially in these top areas:
And those with the most experience and the highest levels of education, in the top ten percent of the field, earned more than $205,620 per year.
With military training and experience and a Master of Health Administration on your resume, there's no reason you can't shoot for the top.
Military Healthcare Administration Work Is Perfect Preparation for Civilian Careers
Troops with health problems aren't effective troops. The Department of Defense (DoD) invests a lot of time and effort into keeping the force in good shape.
That effort involves around 78,000 active duty service members and 61,000 civilian healthcare professionals according to a 2021 report from the Congressional Research Service. And tying all these resources and stakeholders together are some of the best healthcare administrators in the business.
If you join their ranks, you'll be putting a big highlight on your resume that's going to catch the eye of private sector employers and college admissions committees alike.
The Military Health System is part of the National Defense Strategy. It provides care to over 9 million beneficiaries, comprising active-duty service members, their families, and military retirees.
METC: The Medical Education and Training Campus on Fort Sam Houston
 METC is located on an Army post, but it's a tri-service campus that three service branches rely on to maintain their own healthcare communities:
Army
Navy (also provides service for the Marine Corps and, in part, the Coast Guard)
Air Force (also provides service to the Space Force)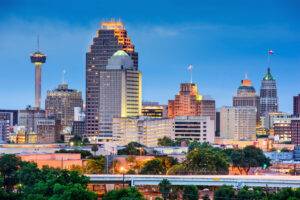 METC comprises 48 different medical programs and graduates more than 16,000 trainees each year from a high-tech facility that represents some of the best in American healthcare training—period. Every specialty from dental lab technicians to combat medics pass through METC… as do healthcare administrators.
Jobs in Military Healthcare Administration Come in Both Enlisted and Officer Ranks
Healthcare administration incorporates skillsets at every level, so there are roles for both officers and enlisted personnel that specialization in it.
The Navy's yeoman rating is unique in that it represents a general administrative and clerical service role. Yeomen won't automatically end up in the Medical Service Corps without getting the assignment as part of their enlistment contract.
This division of roles also means there are two very different paths for pursuing a career in health services administration using military benefits.
How To Pursue a Commissioned Role in Military Healthcare Administration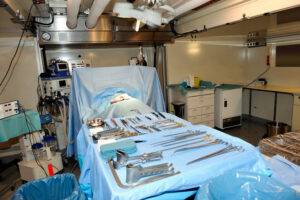 Officer roles in all three services require that you hold a bachelor's degree. For the Army and Air Force, that has to specifically be a BHA (Bachelor of Health Administration) or a closely related field. The Navy goes even further, requiring a master's degree to qualify for the Health Care Administrator title.
Because the roles are specialized staff positions, you can enter as a Direct Commission officer—going to a special officer training course that will involve less time on the obstacle course and in training related to leading troops under fire part.
The GI Bill® and Tuition Assistance education benefit programs won't apply though—you need to have your degree in hand before signing your service contract and joining up.
But there are still options that can help you get your bars and cover the cost of your degree along the way.
The Reserve Officer Training Corps Is the Most Common Path To Commissioning
ROTC supplies over half of all new officers to both the reserve and active duty forces. In cooperation with more than 1,700 colleges nationwide, the three services that commission healthcare administrators offer two, three, and four-year scholarships that cover the full costs of tuition, provide stipends for books and supplies, and in some cases even offer a monthly living stipend.
This is a great way to get the expenses covered for a bachelor's degree, which is enough to get you in as a health care administrator to the Army or Air Force. If you are heading for the Navy, with their master's degree requirement, you'll need to apply for an educational delay for the period of time it takes to complete that program. You won't get any additional funding from ROTC beyond the initial degree, but you will be able to put off your service obligation… and may be able to use one of these other programs to eventually help you cover the costs of an advanced degree.
The Health Professional Loan Repayment Takes Over Your Student Debt Repayment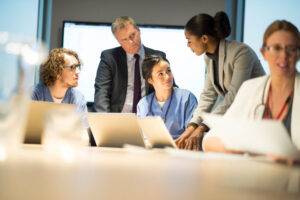 While all military personnel may be eligible for the blanket Student Loan Repayment Program offered through DoD, if your degree was in healthcare, you can angle for the Health Professional Loan Repayment Program instead.
This doesn't help you pay for school up front, but it can take over your loan payments if you still have any outstanding when you join up. You can get up to $40,000 per year covered for eligible loans. Each service has a different amount of time it is willing to cover, however—the Air Force only will pay for two years. But that's still $80,000 in debt off your books!
HPLR is not an automatic benefit. You will have to negotiate with your recruiter to be covered, either before you join or when you decide to re-up. The terms of your HPLR can be unique, with more or less time allowed or different levels of coverage offered depending on how in-demand healthcare administrators happen to be at the time.
Unlike other military education benefits, the IRS treats HLRP as income. That means you pay taxes on it, even though the payments go right to your lender.
In the Navy, the Health Scholarship Collegiate Program Can Pay You While You Earn a Degree in Healthcare Administration
Sometimes, individual branches compete with other branches for top talent in critical roles like healthcare administration. The Navy does this with their Health Scholarship Collegiate Program (HSCP).
Students who are currently enrolled in approved programs, including healthcare administration, can be immediately enlisted in the Navy during their schooling. Although the program doesn't cover any tuition or fees associated with school, it does entitle you to full military pay and benefits as an E-6. On graduation, you will be commissioned as a Health Care Administrator… with your time served in school counted toward retirement and other education benefits.
Using Military Benefits as an Enlisted Healthcare Admin Specialist To Earn a College Degree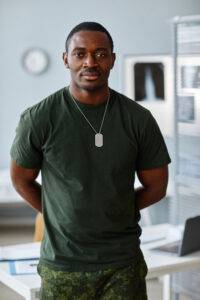 The path for enlisted members heading for healthcare administration jobs after the service is a little more straightforward. You'll have the full range of veterans education benefits to rely on, primarily the GI Bill® program, which pays for up to 36 months of college together with a stipend for books and supplies and housing cost coverage.
You may also have the option of taking advantage of one of several enlisted commissioning programs (ECP) available in the three services that employ health care administrators. Many of these programs, such as the Army's Green-to-Gold ECP, are basically a path to go straight from an enlisted position into ROTC. You get the same benefits as other ROTC students, although each ECP offers its own benefits and requirements.
Either way, you'll have a chance during your service to absorb a whole lot of practical experience in day-to-day administration at military clinics, hospitals, and even forward medical sites or hospital ships. Enlisted healthcare management specialists handle tasks like:
And they may work in specialty areas that mirror civilian practice areas like family health, physical therapy, or obstetrics.
You'll be working with officers who have already gone through the degree programs you are heading toward, and now working in the field. This means there is a lot you can learn from the job.
METC Training Boosts Your Specialized Expertise in Healthcare Administration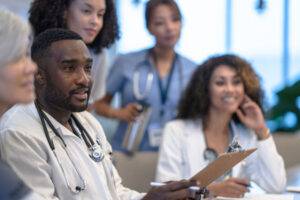 But on-the-job training isn't all you will get. In most cases, after completing basic you will be sent to METC for about a month to go through the Healthcare Administration Specialist course. This covers key features of medical administration like:
On completing your advanced instruction, you may be posted directly to a medical unit, or sent on for additional training. That can also come at later points in your career, as you are promoted or specialize. It's also likely to be conducted at METC. Other specialized courses you might take there can include:
All this coursework will be directly applicable to a healthcare management degree. In fact, at military-supportive colleges, you are very likely to be awarded actual college credits for this work. And it's pretty easy to see how you can apply METC training to future specializations in healthcare management, training in areas like healthcare information systems or medical supply management.
Just as importantly, you'll have a ground-level perspective on the function of medical facilities, which will only make you a better-informed and more responsive administrator.
The Community College of the Air Force Offers Bachelor's Studies in Healthcare Administration
Air Force HSM personnel have another special branch-specific training option while serving: a Health Services Management degree through the Community College of the Air Force (CCAF).
CCAF is the world's largest community college, partly because every airman is instantly enrolled when they join up. It's fully accredited, and automatically awards some credits for your assigned training. But you can build on those by enrolling yourself in additional coursework to complete bachelor's degree programs through partnerships CCAF has built with private colleges.
That means you'll be pursuing, and applying military training credits, toward a full degree just as you would as a civilian. And because CCAF programs are eligible for Military Tuition Assistance, you can do it while the Air Force pays the tab… up to $250 per credit, and up to $4,000 per year to further your education.
What To Expect While Earning a Degree in Healthcare Administration
For starters, you can expect to find a lot of different names for these programs. You'll find similar degrees called:
You'll even find degrees in related fields, like the prestigious MBAs offered with healthcare management concentrations. Any of these programs will cover basically the same academic ground. And any can be a good option to pursue depending on your own personal career goals.
These degrees are available at every level of college education. If you are starting out as an officer in healthcare administration, then you're going to be looking only at bachelor's and higher levels; if you go in as an enlisted healthcare management specialist, you will probably have the equivalent of an associate degree by the time you leave the service. So, we'll focus only on four-year programs and beyond.
Bachelor's Degrees in Healthcare Administration
These four-year degrees are the foundation of most healthcare management careers. With a strong blend of both traditional critical-thinking, math, and communication general ed courses and specialized healthcare instruction, you can quickly pick up jobs in mid-level management, like coding administrator, or enrollment manager.
Master of Healthcare Administration (MHA)
With an additional two years of study, you can develop even more expertise and truly focus on one of the many specialty areas that exist in healthcare management. MHA programs bring a high level of expertise and leadership training to the table. That's a good fit with your service background, and also unlocks high-level jobs in healthcare like hospital administrator, chief medical officer, or even chief executive officer
Doctoral Degrees in Healthcare Administration
For another two to four years of study, you can pick up a PhD in the field. It's a step that is usually only taken by someone interested in going into advanced research or teaching in the field. But it delivers the highest level of theoretical knowledge and thinking in healthcare today.
<!- mfunc feat_school ->
Featured Programs:
Sponsored School(s)
<!- /mfunc feat_school ->
Specialties in Healthcare Administration Let You Drive Your Career Toward Your Interests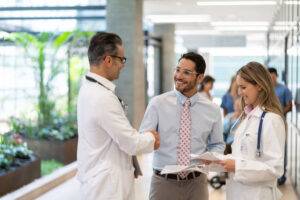 Healthcare is a broad field, with many new technologies and specialized information and treatments focused on particular areas of care. That creates a lot of opportunities for specialization in administration at healthcare facilities, too. Many degrees in healthcare administration reflect this by offering special degree concentrations in subjects like:
Finance – More than $4 trillion was spent on healthcare in 2020, which makes healthcare economics and finance a major consideration for administrators. This specialty preps you for work in billing, accounts, or finance departments at major healthcare providers.
Entrepreneurship – One of the excellent parts of the American healthcare system is the freedom to innovate. Starting new services or introducing new devices to the market pushes the whole system ahead, and this concentration teaches you how to succeed on your own.
Information Systems – Innovation in information technology has been a vast sea change in the healthcare system. Specialists who understand the implications and handling of Electronic Medical Records (EMR) are in high demand… and since Tricare has gone into EMRs with gusto, you will have a leg up with this specialization.
Human Resources – HR management is becoming critical in the healthcare sector as shortages in skilled professionals become widespread. Understanding how to attract, retain, and manage high-skill medical providers is important for every tiny clinic and major hospital in the country.
Long-term Care Management – With an aging population, big portions of the healthcare system are being dedicated to the challenges of handling chronic conditions and supporting people in long-term care facilities.
Systems and Policy – The combination of a changing patient population, new technologies, and massive provider shortages are all creating challenges that must be addressed at the highest levels. A systems and policy concentration gives you the big picture perspective and expertise to come up with answers to those important questions.
Public Health – If public health management wasn't a huge focus before COVID-19, it sure is now. Studies in this concentration help you prepare for or lead the charge to prevent the next pandemic.
You can pick a specialization that leans into your experience in the military, or go in the other direction and broaden your capabilities through a specialty you haven't yet mastered.
A Healthcare Administration Curriculum Will Cover Both Old Knowledge and New
The curriculum that you study in any of these programs will reflect not just subjects relevant to your specialization, but also the wide range of other topics that the modern healthcare administrator needs to master. Many of these are areas you will already have touched on if you enlisted before going to school. But the college-level classes you will take toward your degree will be more intensive and more focused in areas such as:
And you'll have other coursework that might not have been as applicable in the military setting, but is a big deal in civilian healthcare administration, like:
You'll also likely get the civilian version of on-the-job training as part of your degree through internships or practicum placements. These will send you out into real-world healthcare settings, in line with your specialization. You will participate and get genuine experience with the hard calls that today's healthcare administrators must make.
Finding Military-Supportive Schools To Meet Your Healthcare Administration Degree Goals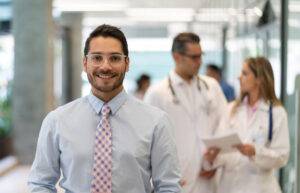 Whether you are picking up your degree before commissioning as an officer, or after your service as an enlisted healthcare admin specialist, it's going to be important to find a college that gives you the full range of support you need in this demanding career path.
How do schools offer that kind of support? It starts with support for the kind of benefit programs you can use, whether starting your path through an ROTC program or by using GI Bill® benefits post-service. Since these are the biggest programs you might tap into to help pay for a degree, this is a pretty critical level of support.
But it's also just the most basic. The kind of schools that will give you the best chance for getting through your degree and finding success in a healthcare management career will go much further. That can include:
Participating in the Yellow Ribbon program. Yellow Ribbon is a joint venture between colleges and the VA that kicks in additional money for tuition when needed. Since the GI Bill® basically covers the highest level of in-state public school tuition, that means when you want to attend a private school or an out-of-state college. Accepting all students who apply and offering full funding for the program show that a school has a real financial commitment to veteran success.
Offering credits for your military training. Colleges get to pick what they do or do not award credits for in life experience or even as far as classes in other colleges. A military-supportive school will recognize the quality and content of your healthcare management training in the service and offer full credit for it.
Delivering dedicated academic advising and counseling for vets. Your military educational benefits are great, but let's face it: they can be complicated. Having a school that has dedicated resources to help you work through VA paperwork and check all the boxes is invaluable. And advisory departments who can decipher a Joint Services Transcript are worth their weight in gold.
Providing military tuition discounts and priority admissions. Although in many cases your benefits will cover all tuition and fees, there are some healthcare administration paths, like the Navy's HSCP program, where you will still have to pay. Schools that give you a break on your rates, as well as priority admission to courses you need for completion, are definitely military-friendly.
You'll find that military-supportive schools tend to draw other vets as well. That means you'll often find them through on-campus support groups, places where you can connect with people with a shared experience through military service.
The VA website has a great resource for finding schools with these characteristics. The GI Bill® Comparison tool can give you much of the information listed above, and more. You can see any complaints lodged against a school, as well as how many current GI Bill® students are in attendance.
Your college experience at the right school will stack on top of not just prior military healthcare administration expertise, but other important qualities you will have learned in the service. Characteristics like:
…are all valuable in almost any line of work.
As a well-trained, highly-experienced healthcare administrator with those values and qualities, you'll be a competitive candidate for medical administration positions.
2021 US Bureau of Labor Statistics salary and employment figures for Medical and Health Services Managers reflect national data, not school-specific information. Conditions in your area may vary. Data accessed June 2022.