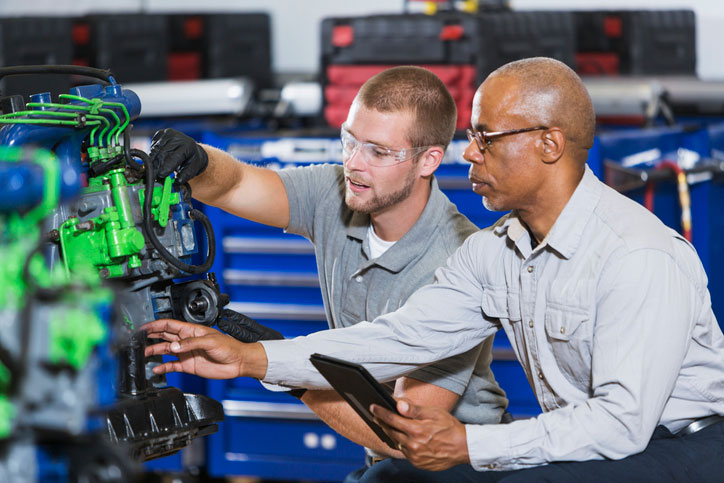 The appearance of U.S. Department of Defense (DoD) visual information does not imply or constitute DoD endorsement.
College may not be for you. There's a good chance that's why you joined the military in the first place.
<!- mfunc feat_school ->
Featured Programs:
Sponsored School(s)
<!- /mfunc feat_school ->
But after serving your country, you've decided to take the next step and get into a trade. You'll be happy to learn that the GI Bill® does cover thousands of trade schools across the country. What are some of the big-name schools that the GI Bill® will pay for? Here's a rundown. 
Instead of listing the thousands of schools in the database, we've picked what we feel are the top five GI Bill® approved trade schools that have been helping veterans and their families transition to stable and rewarding civilian careers.
1. Universal Technical Institute (UTI)
A well-recognized name across the nation, UTI is a GI Bill® approved trade school that offers a 10 percent tuition discount to honorably discharged and general under honorable discharged veterans. Specializing in the automotive space, UTI offers the following programs:
With locations in Colorado, Pennsylvania, Massachusetts, Connecticut, Georgia, Maryland, New Jersey, and Texas, Lincoln Tech is one of the nation's premier trade schools. Offering courses in HVAC/R, CNC machining, automotive, culinary, healthcare and information technology, Lincoln Tech is also a member of the Yellow Ribbon Program. So, if the tuition is too high for the Post-9/11 GI Bill® to cover, you can tap into the Yellow Ribbon benefits to help pay for schooling.
The HVAC program also includes Environmental Protection Agency (EPA) certification testing: a must-have accreditation for anyone who wants to get into HVAC 
3. Pittsburgh Institute of Aeronautics
We know how it is. You may have wanted to work on aircraft when you entered the service, but it didn't pan out that way. At the Pittsburgh Institute of Aeronautics (PIA), you can use your GI Bill® benefits to launch your career as an aircraft maintenance technician.
Offering two programs of study (Aircraft Maintenance and Aviation Electronics), PIA's programs prepare you for FAA Airframe & Powerplant certification. The school's campuses are eligible to receive VA Education Benefits covered under chapters 30, 31, 33, 35, 1606, and 1607.
PIA gives students two options: get a diploma or an associate degree in specialized technology (AST). An AST covers general studies, propulsion systems, aircraft structures, and other aviation technology. The diploma/certificate route is a 16-month program broken up into four semesters that prepares you for FAA accreditation as a technician. 
4. State Technical College of Missouri
State Technical College of Missouri is not only GI Bill®-approved, but also in an agreement with the Department of Defense. Called an Education Partnership Memorandum of Understanding (MOU), the agreement states that State Tech delivers "educational services to military service members participating in off-duty, postsecondary education programs."
The Memorandum of Understanding acts as a code of conduct for the college, ensuring the school's employees don't use "aggressive marketing" tactics attempting to delude or mislead military personnel interested in enrolling.
If you do decide to attend, you have quite the selection of programs. They have HVAC, automotive, and other courses common among other trade schools. They also offer several programs that are hard to come by:
5. Mitchell Technical College
In addition to being a GI Bill®-approved school, Mitchell Tech also offers benefits to those currently serving. If a military service member attends 75 percent of the classes for which they're enrolled, they'll receive full credit for the course so long as they've maintained a grade of C or better.
What sort of programs do they offer? Mitchell Tech contains several schools, each of which offers different areas of study. Here are the schools that cover the trades:
You can use the GI Bill® to pay for any school that's listed in the Weams Institution Search. You can search by "On-the-Job-Training/Apprenticeship" or "Non College Degree," and then list your state or territory of residence to find a trade school in your area.