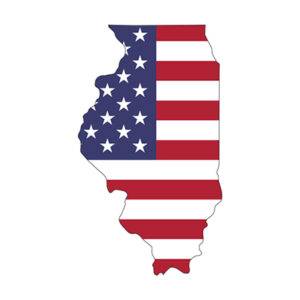 Illinois has played a vital role in our nation's defense, throughout history and right up to the present day. In fact, it was in Illinois universities where key developments in atomic theory were developed, shepherded by leading scientists in the field who eventually made it possible to usher in the nuclear age and decisively bring an end to the second World War.
<!- mfunc feat_school ->
Featured Programs:
Sponsored School(s)
<!- /mfunc feat_school ->
Today Illinois is home to the Navy's only boot camp, housed at Naval Station Great Lakes where more than 20,000 servicemen, women, and DoD civilians work daily to bolster national security. Together they contribute $4.6 billion to Illinois' economy every year.
Service in the U.S. Armed Forces isn't for everyone. But with 7% of the state's adult population recognized as veterans, it was clearly the right fit for a significant number of men and women who call Illinois home. Among the more than 721,000 veterans in Illinois, over half a million were in foreign conflicts, serving in World War II, the Vietnam War, Korean War, the Gulf War, and of course, more recently in Iraq and Afghanistan.
Whether you're currently on active duty, a discharged veteran, or a military affiliated family member, you've experienced first-hand what it means to serve and sacrifice. And in exchange, you're entitled to some generous benefits as you transition back to the civilian world, both from the federal government and from the state of Illinois.  
Illinois Department of Veterans' Affairs (IDVA) Military Education Benefits
The Illinois Department of Veterans' Affairs (IDVA) mission is to help you navigate the complex system of benefits and services you've earned through your service, especially those relating to education. It staffs 84 offices across the state in 80 different counties where professionals are standing by to assist you in minimizing the cost of higher education for you and your family.
At the federal level, the IDVA commonly helps to navigate the application process for popular benefits programs like the GI Bill® and Yellow Ribbon Program. To guarantee quality standards of education, any school that wants to admit you on the basis of your GI Bill® benefits must first gain the IDVA's approval.
When it comes to education benefits offered at the state, county, and even university-level, Illinois is a national leader. The IDVA can help you parse all the benefits listed below, in addition to scholarships and other veteran advantages.
Illinois Veterans' Grant (IVG)
Are you a veteran from Illinois? Then you may be eligible for this grant, which covers the tuition and mandatory fees at any public college, university, or community college in the state.
To be eligible you must meet the following conditions:
If you're in the Illinois National Guard (ING) or Reserves (but not ROTC) and meet these eligibility requirements, then you could qualify for this grant too.
This grant covers up to four years and can be applied to both undergraduate and graduate study. It's possible for you to use this benefit alongside the GI Bill®. It's also flexible: you can study part-time and the four-year limit will pro-rated and extended based on how many credits you take each semester.
Basically, if you've served your country in the U.S. Armed Forces and the GI Bill® benefits you qualify for don't quite cover the entire cost of your education, Illinois will step in to extend a thank you in the form of four years of paid college.
Children of Veterans Tuition Waiver Scholarship
Each of Illinois' 102 counties can award up to three scholarships per year to the children of veterans. That's potentially 306 scholarships every year, which cover four consecutive years of tuition at any school in the University of Illinois system offering degrees at the undergraduate and graduate levels.
This translates into huge savings. Underwriting the foundation for a secure career for your child is a way that Illinois can show its appreciation for your service and sacrifice.
To be eligible for this benefit you must be a resident of a county in Illinois, and have served in one of the following campaigns:
The deadline to apply for this scholarship is January 5th each year. The most preference points for these scholarships are given to children of deceased veterans, followed by disabled veterans, and finally a candidate's ACT composite score.
Illinois National Guard (ING) Grant
If you're in the ING then you may be eligible for this grant, which covers the cost of tuition and some fees at certain schools in Illinois. Prior ING service can also qualify you.
To be eligible you must:
If you were in the ING for at least five consecutive years and were placed on federal active duty for at least six months within a 12-month period before you were discharged, then you may also qualify for this grant.
You can use this benefit at public two and four-year colleges in Illinois. The Illinois Student Assistance Commission (ISAC) maintains a list of these qualifying schools, which currently number 57.
The amount of coverage of this grant is correlated to the number of years you spend in the ING. If you're in the ING for less than 10 years, then this grant can cover up to four years of study. If you're in the ING for 10 years or more, this grant can cover up to six years of study.
The benefits of full tuition coverage for up to six years are obvious, but that's not where they stop. You can:
Educational Opportunity Grant
If you are 100% disabled for at least two years, killed while on active duty, or die as a result of a service-related incident, then your child may be eligible to receive $250 per year to put towards a public K-12 school or a public vocational training school.
Your child must be between the ages of 10 and 18, and you must have served in war such as:
Naturally this program can be used in conjunction with other survivors' benefits. With the ability of public school students to enroll in vocational school courses as teenagers, this benefit could potentially be worth $1,000 over four years.
Deceased, Disabled, and MIA/POW Scholarship
If you are MIA, POW, die while on active duty or as a result of a service-related injury, or are 100% disabled then your loved ones –spouse and minor children/dependents– may be eligible for this benefit.
For your service to be eligible you'll first need to meet an Illinois residency requirement, which can be done through any one of the following:
This benefit covers the full cost of tuition and mandatory fees for four years at any public college or university in Illinois.
Essentially, if you've made the ultimate sacrifice through your service, this benefit will cover four years of your loved ones' education at the undergraduate and/or graduate levels. A year includes the summer term which makes it even easier to stretch this benefit's coverage.
Veteran Friendly Colleges in a Veteran Friendly State
Illinois offers many other perks for its veterans in addition to the benefits listed above.
For one, a cadre of dozens veteran coordinators are waiting for you at public colleges and universities across the state. Their job is to help you connect with all the benefits you've earned, and to help you deal with any issues that are unique to the wider veteran community.
The Illinois' Community College Board, Office of the Governor, the IDVA, the Illinois Board of Higher Education, and additional partners have worked together on a collaboration aimed at maximizing the transferability of your military experience to academic credit. The result is the Illinois Articulation Initiative and the online iTransfer portal; yet another resource.
The IDVA also offers work-study opportunities while you're a student at its offices across the state. You can find other work-study options at your school's veterans office, a VA medical facility, or other approved location.
This is a general overview of what's available for veterans and their families in Illinois. Your school may have even more programs that it offers, all in recognition of the fact that an education is perhaps the best way to invest long-term in your future prospects.
Possible Station Assignments and Military Bases in Illinois
Illinois hosts vital Air Force, Army, Navy, and Coast Guard bases. If you're in the Navy then Illinois is a guaranteed stop on your itinerary, with its station on Lake Michigan serving as its central and only Recruit Training Command.
While you're training or stationed at any of the following facilities keep in mind that many host their own higher education center with resources available to help you take full advantage of your education benefits.
SAFB is the proud home of the 375th Air Mobility Wing and Air National Guard refueling and mobility units. Over history it's gone from being a lighter-than-air balloon and dirigible station to hosting joint cybersecurity missions today.
SAFB's Education Office located in Building 1650 at 404 W. Martin Street can connect you with the six colleges and universities that have an on-base presence. Associate's, bachelor's, and master's degree programs are all offered on-base, in addition to online programs.
RIA is the home of the First Army, the oldest and longest-established field army in the nation. It also hosts organizations like Joint Munitions Command, the Joint Manufacturing and Technology Center, and the Edgewood Chemical Biological Center.
The Rock Island Arsenal Education Center, located on-base in Building 56 on East Avenue, can provide you and your family with resources about your education benefits and schools in the local area.
Home of the Navy's largest training facility and its only boot camp, every sailor in America will pass through this location as part of their initiation into Navy life. It hosts over 50 tenant commands from the DoD, Marines, and Army, including the Army's Cadet Command 3rd Brigade which is responsible for ROTC programs throughout the Midwest.
The Navy College Learning Center, located in Building 617 at 2221 Mac Donough Street, can link you up with education benefit resources and provide information about the four colleges and universities that have on-base satellite campuses.
Illinois falls into the Coast Guard's Ninth District that includes coverage of all the Great Lakes. Every year the Ninth District saves dozens of lives, conducts air rescues, assists in navigation, and enforces international maritime laws. It maintains five facilities in Illinois:
Military Friendly Colleges in Illinois that Accept GI Bill® and Yellow Ribbon Program Benefits
Of the more-than 2,000 colleges and universities that participate in the Yellow Ribbon Program, only around 500 provide full funding and place no limits on the number of eligible students who can take advantage of it. These schools ensure that every eligible veteran who enrolls can count on full coverage of all tuition costs that exceed GI Bill® limits.
You'll be glad to know that a number of those military friendly colleges and universities are located right here in Illinois:
Clinical Mental Health Counseling, (M.A.)
Master of Arts Clinical Mental Health Counseling Online (M.A.)
Clinical Rehabilitation Counseling (M.A.)
Master of Arts Counseling: Art Therapy (M.A.)
Master of Arts Couple and Family Therapy (M.A.)
Forensic Mental Health Leadership (M.A.)
Master of Public Administration
Forensic Mental Health Leadership (M.A.)
Master of Public Administration
Master of Public Policy Sport & Human Performance (M.S.)
Doctorate Art Therapy (Ph.D.)
Doctorate Clinical Psychology (Psy.D.)
Doctorate Counselor Education and Supervision (Ph.D.)
Doctorate Couple and Family Therapy (Ph.D.)
Certificate in Sex Therapy
American College of Education
Benedictine University Lisle
Goodwin College of Business
College of Liberal Arts
College of Science and Health
School of Education
Art
Biology
Business Admin & Economics
Chemistry & Physics
Computer Science
Education
Educational Studies
English & Communications
History
Justice Administration Leadership Law Public Service
Mathematics
Modern Languages
Music & Theatre
Philosophy & Religion
Physical Education
Psychology
Special Programs
Chamberlain University LLC
Chicago / Addison / Tinley Park, IL
College of Health Professions
Elgin / Freeport / Crystal Lake / Gurnee, IL
Business Administration
Computer & Mathematical Sciences
Education
History, Philosophy, Political Science & Criminal Justice
Language & Communication Studies
Nursing
Physical and Biological Sciences
Psychology, Sociology & Human Services
Visual Arts & Music
Addison / Chicago / Downers Grove / Wood Dale / Tinley Park, IL
Technology
Engineering
IT and Networking
Network Systems Administration
Business
Healthcare
Business
Computer Information Systems
Healthcare Administration
Accounting
Liberal Arts
Media Arts
Medical Billing and Coding
Business Essentials
Cloud Computing
MBA
Accounting
Project Management
Technology
Business
Healthcare
Public Administration
Human Resource Management
Human Resources Management
Project Management
Healthcare
CPA Preparation
Big Data and Analytics
Entrepreneurship
Global Supply Chain Management
Le Cordon Bleu College of Culinary Arts
Bachelor's
accounting
business administration
IT
criminal justice
healthcare management
Lincoln College Of Technology
Automotive Technology
Collision Repair and Refinishing Technology
Electrical and Electronic Systems Technology
Medical Assistant
Welding Technology
College of Arts and Humanities
Plaster College of Business and Entrepreneurship
College of Education and Human Services
College of Science, Technology, and Health
Pre-Professional Programs
College of Arts and Sciences
School of Business
School of Education
School of Nursing/Health
National Lewis University
Undergraduate College
The National College of Education (NCE)
School of Business and Information Technology
College of Psychology and Behavioral Sciences
Kendall College
Accelerate U
National University of Health Sciences
College of Professional Studies:
Doctor of Chiropractic
Doctor of Naturopathic Medicine
Master of Science in Acupuncture
Master of Science in Oriental Medicine
School of Professional Studies (Evanston)
Law School (Chicago)
Weinberg College of Arts and Sciences
School of Communication
School of Education & Social Policy
McCormick School of Engineering & Applied Science
The Graduate School
Medill School of Journalism Media Integrated Marketing Communications
Northwestern Pritzker School of Law
Kellogg School of Management
Feinberg School of Medicine
Bienen School of Music
Olivet Nazarene University
College of Arts & Sciences
McGraw School of Business
Walker School of Science, Technology, Engineering and Mathematics
College of Professional Studies
School of Nursing
School of Music
School of Theology & Christian Ministry
School of Graduate and Continuing Studies
CCPA Music Conservatory
CCPA Theatre Conservatory
Chicago College of Performing Arts
College of Arts and Sciences
College of Education
College of Science Health and Pharmacy
Walter E. Heller College of Business
College of Arts and Sciences
Graham School of Management
School of Nursing and Health Sciences
The Chicago School of Professional Psychology
school psychology
clinical psychology
ABA
organizational leadership
business psychology
behavior analysis
counseling psychology
industrial and organizational psychology
forensic psychology
clinical mental health counseling
psychology
Social Sciences
Humanities
Pritzker School of Medicine
School of Physical Sciences
Biological Sciences
Crown Family School
Law School
Harris School of Public Policy
Graham School
Divinity School
Pritzker Molecular Engineering College
Advertising and Marketing Communications
Counseling
Criminal Justice
Cybersecurity
Data Analytics
Education
Educational Leadership
Health Administration
Human Resources Development
National Security Studies
Management & Leadership
Marketing
MBA
Media Communications
Nurse Anesthesia Practice
Procurement and Acquisitions Management