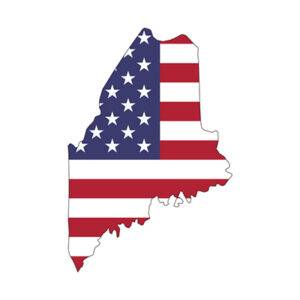 In many ways, driving through Maine feels like one of the last frontiers in the U.S. Sure, it's not out west, but take a glance on either side of Route 27, and you can imagine just how easy it is to get lost in the forest around you. You have to wonder what it was like fighting in that forest hundreds of years ago.
<!- mfunc feat_school ->
Featured Programs:
Sponsored School(s)
<!- /mfunc feat_school ->
Between Maine's native peoples and early colonists, warfare pockmarks Maine's history. The Colonial Wars of the 17th and 18th centuries saw battles among the Wabanaki, English and French. One hundred years later, 700,000 Mainers fought in the Civil War for the Union cause.
Today, Maine's veterans and active duty service members carry the same fighting spirit. With that fighting spirit comes a desire to learn. The state's Bureau of Veterans' Services connects veterans, active duty members, and their families to educational opportunities. 
Maine Bureau of Veterans' Services Education Benefits
Maine's Bureau of Veterans' Services directs active duty and retired service members to federal tuition assistance programs. These include benefits granted through the Post 9/11 GI Bill®, the Veterans Educational Assistance Program and the Montgomery GI Bill®. However, it does have a state-level educational program for veterans' family members.
Maine's Veterans Dependents Educational Benefits (VDEB)
If you're a spouse or dependent of a veteran who was killed in action or sustained a 100 percent total permanent disability, Maine will cover 100 percent of your tuition and mandatory fees through VDEB. This benefit applies to any spouse or child of a veteran attending a school in the University of Maine system, a Maine community college, or the Maine Maritime Academy.
Eligibility for these benefits isn't entirely dependent on whether a veteran was killed in action or sustained a 100 percent total disability. You may receive a tuition waiver if the veteran to whom you're related:
Perks of the VDEB Program
What if you're part of a big family? Doesn't matter. If you're one of five children born to a veteran who meets the criteria, all of your tuition and fees are covered – even if every one of your siblings decides to attend a school in Maine.
While dependents can use the VDEB program to pay for certificate, associate's and bachelor's programs, spouses can use VDEB to pay for master's degrees as well. Both children and spouses have up to 10 consecutive years of study to complete whatever degrees they're pursuing.
What if you're tapping into Chapter 35 Benefits? Receiving aid from the federal Dependents Education Assistance program doesn't disqualify you from Maine's VDEB program. You can use funds from both programs at the same time.
Applying for the VDEB Program
The first step is to submit a Free Application for Federal Student Aid (FAFSA) form.  You can do this by creating a Federal Student Aid (FSA) ID online. Click "Create an Account." You'll submit your name and Social Security number exactly as they appear on your Social Security card. Then, fill out the FAFSA form, which will auto-populate the information you entered when creating your FSA ID.
After you've submitted a FAFSA application, you can then apply for the VDEB by filling out this application. You'll send it to the Maine Bureau of Veterans' Services, State House Station 117, Augusta, Maine 04333 once you've completed the form.
You'll have to submit a range of supporting documentation to the Bureau of Veterans' Services with your VDEB application. This may include:
The type of supporting documentation you have to submit depends on your relationship to the veteran. Spouses, for example, must submit a copy of their marriage certificate. Look over the VDEB form carefully to ensure you're sending the correct documentation.
Veterans Upward Bound
Veterans Upward Bound (VUB) is a federally funded pre-college program that assist veterans who want to pursue a degree, certificate, or professional license. Although the University of Southern Maine runs the program, the school welcomes veterans wishing to attend any school in Maine. You can earn a $40 monthly stipend as well as:
All you have to do is submit this online form. Once that's done, a member of VUB will reach out to you to set up a meeting.
Possible Station Assignments and Military Bases in Maine
Active duty personnel can expect to find themselves anywhere in the world, from Japan to Germany; Armenia to Guatemala. It's both an exciting and scary experience – especially if you're entering a base supporting combat operations. 
That said, there are hundreds of bases throughout the United States, so you may find yourself in the Pine Tree State. If you do find your duty assignment here, where could you expect to serve?
Located a stone's throw away from the New Hampshire border, Portsmouth Naval Shipyard's mission to "overhaul, repair, and modernize the U.S. Navy's nuclear-powered attack submarine fleet." A mix of civilian and military personnel help the base carry out this mission.
There's quite a bit to do in and around Kittery. Hop over the border into NH for some fun at Portsmouth – the boardwalk at Prescott Park has a ton of places to eat, and there's plenty of nightlife if you have the time. If you like the coast, check out Seapoint Beach. It's kind of hard to find, but it's not overrun with tourists, so you'll have a relaxing time there.  
Military Friendly Colleges in Maine that Accept GI Bill® and Yellow Ribbon Program Benefits
Of the more-than 2,000 colleges and universities that participate in the Yellow Ribbon Program, only around 500 provide full funding and place no limits on the number of eligible students who can take advantage of it. These schools ensure that every eligible veteran who enrolls can count on full coverage of all tuition costs that exceed GI Bill® limits.
You'll be glad to know that a number of those military friendly colleges and universities are located right here in Maine:
Africana Studies
Anthropology
Art
Biology
Chemistry
Classics
Computer Science
Earth and Oceanographic Science
Economics
Education
English
German
Government and Legal Studies
History
Mathematics
Music
Philosophy
Physics
Psychology
Religion
Romance Languages and Literatures
Russian
Sociology
Theater and Dance
Aviation
Business
Communication
Criminal Justice
Education
Fire Science
Health Sciences
Human Services
Information Technology
Legal Studies
Nursing
Professional Studies
Psychology
Public Policy
Roux Institute at Northeastern University
College of Arts Media and Design
Bouvé College of Health Sciences
D'Amore-McKim School of Business
Combined Majors
Khoury College of Computer Sciences
College of Engineering
College of Science
College of Social Sciences and Humanities
Northeastern Explore Program for undeclared students