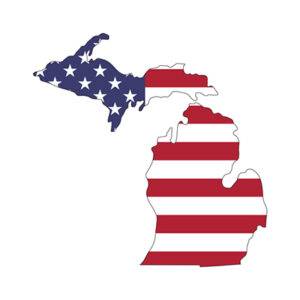 The people and cultures of the Great Lakes State are as diverse as its geography. From the streets of Detroit to the northern reaches of the Tahquamenon Falls area of the Upper Peninsula… and from picturesque college towns to endless rolling plains of farmland. You'll see it all and meet all types of people if you're lucky enough to call Michigan home during your college years.
For veterans, active duty service members, and military affiliated families, Michigan's military history is a source of pride that predates any modern foreign conflict that any veteran here may have served in. You could say it goes back to the Revolutionary War when Detroit's Cadillac Papers called for developing militia companies to defend the colony against the British.
<!- mfunc feat_school ->
Featured Programs:
Sponsored School(s)
<!- /mfunc feat_school ->
More than two centuries later, the Michigan National Guard was one of the first units of U.S. troops to see combat in the Second World War, and every generation sense, the state has sent its sons and daughters off to defend freedom and the American way of life.
As the generations change and the wars that define them are replaced with new battles to fight, there's one thing that service members, veterans and their families can count on: Michigan's leadership and the people that call the state home are looking out for the welfare of those who serve.
Today, the state offers a range of educational benefits to veterans, service members, and their families that go above and beyond the federal benefits they may already qualify for.
College Education Benefits Available Through the Michigan Veterans Affairs Agency and Other State Agencies
Michigan's Veterans Affairs Agency (MVAA) offers transition assistance, licensing accreditation resources, and health care services as any good state veterans administration does, but it also offers and helps support benefits programs specifically designed to make earning a college degree more accessible.
Knowing that most former service members will qualify for free college through the GI Bill®, the MVAA had the foresight to design the bulk of Michigan's education benefits programs with veteran family members in mind.
Michigan's Professional Licensing and Credentialing Programs for Service Members and Vets

Thanks to the MVAA, Michigan lawmakers have implemented policies that decrease the amount of time it takes for veterans to get licensed in certain professions.
Managed by the state's Licensing and Regulatory Affairs (LARA) department, both veterans and active-duty service members can take advantage of programs that help them earn licenses faster than usual. Here are a few examples:
LARA offers many licensing and certification exemption options for vets and active duty service member. Speak with a LARA Veteran Liaison by calling (517) 241-0199.
The Children of Veterans Tuition Grant
The Children of Veterans Tuition Grant (CVTG) provides tuition assistance to biological or adopted children of Michigan veterans. Children aged 17 to 25 are eligible for the grant if their parent died or became totally or permanently disabled in the line of duty. The Children of Veterans Tuition Grant also assists children of veterans who are listed as Missing in Action in a foreign country.
How much a student receives depends on their enrollment:
Qualifications for the Children of Veterans Tuition Grant
Aside from the stipulations listed above (a child of a deceased, disabled, or MIA veteran), students applying for the CVTG must meet the following qualifications:
To renew a grant, you must maintain a minimum cumulative GPA of 2.25, and meet the school's Satisfactory Academic Progress (SAP) policy.
Applying for the Children of Veterans Tuition Grant
Students can apply for the grant through the MiSSG Student Portal. Through the portal, you can submit the CVTG application with the following documents:
If approved for the CVTG, you may only use it at a participating institution. A participating institution includes any Michigan community college, public university or independent degree-granting college or university.
The Michigan National Guard State Tuition Assistance Program
The Michigan National Guard State Tuition Assistance Program (MINGSTAP) delivers tuition assistance to active duty Michigan National Guardsmen and Guardswomen. These soldiers can use the tuition assistance to help pay for degrees at colleges, universities, vocational schools, technical schools or trade schools located in the state. In addition, they may use MINGSTAP assistance in conjunction with the GI Bill® and other Federal education benefits.
How much you'll receive depends on the program in which you are enrolled:
To apply for the program, you should call the MINGSTAP department at (517) 481-7640 or email them at MINGSTAP@michigan.gov.
University and College Programs for Those with Military Experience
Michigan is a great example of a state with military-friendly colleges. Several universities throughout the state offer fast-track and discounted programs for both active-duty service members and veterans. While most offer credit transfers for your military experience, we've highlighted the ones who offer degree-programs specifically for military personnel.
Military Police Basic Training Program – Grand Valley State University
Whether you served as military police in the Army, Navy, Marines, Air Force, or another branch, the Grand Valley State University (GVSU) program is a great option for you. GVSU's program is an accelerated, 8-week, basic military police training program designed to assist veteran MPs transition into civilian policing.
Veteran Bachelor in Nursing – Wayne State University
Wayne State University's BSN for Nursing program is designed for veterans transitioning out of the service and into the civilian sector. It's an accelerated program that includes clinical rotations at the John D. Dingell VA Medical Center in Detroit.
The best thing about WSU's program is that you don't need health care experience to apply. Those with health care MOSs, Air Force Specialty Codes or Navy Enlisted Classification Codes may receive transfer credits if accepted into the program. However, if your military occupation was in a different specialty, you're not disqualified from the program.
Applying for the BSN for Nursing program is a multi-step process:
Possible Station Assignments and Military Bases in Michigan
If you're active duty, there's a chance you'll be stationed overseas. The world's a chaotic place, and as commanders identify new threats across the globe, you'll be called upon to address them. That being said, it's possible you'll be stationed at a base somewhere right here in The Great Lakes State.
The Camp Grayling Joint Maneuver Training Center is the largest National Guard training facility in the country. Its core mission is to support the operational readiness of the nation's soldiers, and contains 148,000 acres of four-seasons training lands. It possesses a Combined Arms Collective Training Facilities, two impact areas for aerial weapons systems, the Maneuver Area Training Equipment Site and Multipurpose Range Complex.
If you find yourself off base, you'll be surrounded by some of the most beautiful natural land in the country. Hartwick Pines State Park has 10,000 acres of hiking and biking trails. Fishermen and kayakers can find solace on the Au Sable and Manistee Rivers, both known for their easy-moving waters.
Dedicated to training members of the Air National Guard. It delivers airspace for the Department of Defense, Department of Homeland Security, coalition forces and emergency responders. It instructs more than 20,000 joint and coalition personnel every year on a facility expanding 147,000 acres.
Alpena is located on the coast of Lake Huron. When off base, you can visit the Thunder Bay national Marine Sanctuary. Its 4,300 square miles of protected waters, in which divers can explore approximately 200 shipwrecks. If you like to fish, the sanctuary allows anglers to catch bass, northern pike, trout, salmon and other species.
A home for the 127th Wing – a joint DoD and DHS installation – Selfridge ANG focuses air fighter and refueling missions. It serves a key role in supporting our nation's ability to support ground forces and gain control of enemy air space. The base achieves these goals with the KC-135 Stratotanker refueling aircraft and the A-10 Thunderbolt II.
What is there to do in and around Harrison Township? If you're of age, the Superior Lakes Winery is one of the top-rated vineyards on TripAdvisor. If you're in for some rec time, Total Sports & Entertainment is a huge complex offering bowling, axe throwing, Softball, Cornhole and Wallyball courts.
Military Friendly Colleges in Michigan that Accept GI Bill® and Yellow Ribbon Program Benefits
Of the more-than 2,000 colleges and universities that participate in the Yellow Ribbon Program, only around 500 provide full funding and place no limits on the number of eligible students who can take advantage of it. These schools ensure that every eligible veteran who enrolls can count on full coverage of all tuition costs that exceed GI Bill® limits.
You'll be glad to know that a number of those military friendly colleges and universities are located right here in Michigan:
Anthropology and Sociology
Art and Art History
Biology
Chemistry and Biochemistry
Communication Studies
Earth and Environment
Economics and Management
Education
English
Ethnic Studies
History
International Studies
Kinesiology
Mathematics and Computer Science
Modern Languages and Cultures
Music
Philosophy
Physics
Political Science
Psychological Science
Religious Studies
Theatre
Women's, Gender, and Sexuality Studies
African and African Diaspora Studies
archaeology
Asian studies
astronomy
biology
business
chemistry and biochemistry
communication
computer science
congregational and ministry studies
data science
economics
education
engineering
English
ESL
environmental science environmental studies
faith and community leadership
gender studies
geology and geography
global development studies
health science
historical studies
kinesiology
mathematics and statistics
medieval studies
nursing
off-campus programs
philosophy
physics
politics
politics philosophy and economics
psychology
public health
religion
science education studies
sociology and social work
speech pathology and audiology
urban studies
visual and performing arts
world languages
College of Health Professions
College for Creative Studies
Undergraduate Programs
Advertising Design
Art Education
Art Practice (Fine Arts)
Communication Design
Craft & Material Studies (Ceramics, Fiber & Textiles, Glass, Metalsmithing & Jewelry)
Entertainment Arts (Animation, Concept Design, Game Design)
Fashion Design
Film
Illustration
Interdisciplinary Art + Design
Interior Design
Photography
Product Design
Transportation Design
Undeclared
Foundation
Liberal Arts
Graduate Programs
Art Education MA
Color & Materials Design MA/MFA
Design for Climate Action MA/MFA
Motion Design MA/MFA
Transportation Design MA/MFA
User Experience Design MA/MFA
Grand Rapids / Lansing / Warren, MI
Urban Education
Arts and Sciences
Grand Valley State University
Seidman College of Business
College of Community and Public Service
College of Education
Seymour and Esther Padnos College of Engineering and Computing
College of Health Professions
Brooks College of Interdisciplinary Studies
College of Liberal Arts and Sciences
Kirkhof College of Nursing
American Ethnic Studies
Art and Art History Department
Asian Studies
Biochemistry and Molecular Biology
Biology Department
Campus Health
Celebration of Undergraduate Research and Creative Activity
Center for Global Engagement
Center for Leadership
Center for Ministry Studies
Chemistry Department
Communication Department
Computer Science Department
Dance Department
Day1 Research Communities
Economics and Business
Education Department
Emmaus Scholars Program
Engineering Department
English Department
Environmental Science
Environmental Studies
ExploreHope Academic Outreach
Fostering a Community of Excellence in Science (FACES)
General Education
Geological and Environmental Science Department
Global Education
Global Studies
History Department
Interdisciplinary Studies
Kinesiology Department
Mathematics and Statistics Department
Music Department
Neuroscience
Nursing Department
Office of the Dean for Arts and Humanities
Office of the Dean for Natural and Applied Sciences
Office of the Dean for Social Sciences
Peace and Justice
Phelps Scholars Program
Philosophy Department
Physics Department
Political Science
Pre-Health Programs
Pre-Law Program
Pre-Professional Programs
Program for the Academically Talented (PATH)
Psychology Department
Religion Department
Sociology and Social Work Department
Theatre Department
Washington Honors Semester
Women's and Gender Studies
World Languages and Cultures Department
College of Arts and Sciences
College of Education and Human Development
School of Business
College of Nursing and Health
Michigan State University
College of Agriculture and Natural Resources
College of Arts and Letters
Eli Broad College of Business and Eli Broad Graduate School of Management
College of Communication Arts and Sciences
College of Education
College of Engineering
Graduate School
Honors College
College of Human Medicine
International Studies and Programs
James Madison College
College of Law
Lyman Briggs College
College of Music
College of Natural Science
College of Nursing
College of Osteopathic Medicine
Residential College in the Arts and Humanities
College of Social Science
College of Veterinary Medicine
Northern Michigan University
Art and Design
Associate of Arts/Associate of Science in General Studies
Biology
Business
College of Chemistry
Clinical Sciences
School of Communication and Media Studies
Criminal Justice
Earth, Environmental and Geographical Sciences
Economics
Education, Leadership & Public Service
School of Engineering Technology
English
English Language Institute
Health and Human Performance
School of History
Honors Program
Interdisciplinary and Individually Created Programs
International Studies
Languages, Literatures, and International Studies
Mathematics and Computer Sciences
Military Science
Music
Native American Studies
Nursing – Baccalaureate
Nursing – Practical
Philosophy
Physics
Political Science and Public Administration
Pre-Professional Programs
Psychological Science
Public Safety Institute and Regional Police Academy
Social Work
Sociology and Anthropology
Technology and Occupational Sciences
College of Theatre and Dance
School of Business
School of Education
School of Humanities
School of Nursing
Dept. of Psychology & Behavioral Sciences
Dept. of Science & Mathematics
Dept. of Theology & Ministry
University of Detroit Mercy
Engineering and Science (doctoral)
Liberal Arts and Education (doctoral)
School of Art and Design
School of Business Administration
Law School
Dental School
School of Medicine
School of Nursing
School of Kinesiology
School of Information
School of Engineering
School of Public Policy
School of Natural Resources
School of Music Theatre and Dance
School of Literature Science and Arts
School of Education
School of Architecture-Urban Planning
School of Public Health
School of Pharmacy
School of Social Work
University of Michigan Flint
College of Arts & Sciences
School of Management
College of Health Sciences
School of Education & Human Services
School of Nursing
College of Innovation & Technology
University of Michigan of Dearborn
College of Arts, Sciences, & Letters
College of Business
College of Education, Health, & Human Services
College of Engineering & Computer Science
Business
Criminal Justice
Education
Healthcare
Nursing
Psychology
Behavioral Sciences
Liberal Arts
Technology
RN to BSN
MBA
Health Administration
Information Systems
Criminal Justice and Security
Business Fundamentals
Wayne County Community College
Urban Education
Arts and Sciences