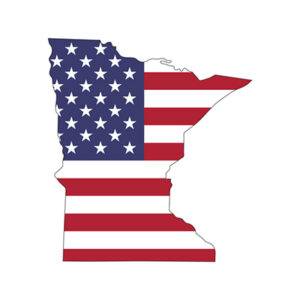 Minnesota has a pronounced place in our nation's military history. Old Fort Ripley set the stage for westward expansion during the 19th century. In the Civil War, the state offered a militia of 1,000 volunteers in April of 1861. That group ballooned to 22,000 militiamen for the duration of the war. But the state's contribution to the nation didn't end there.
During the Cold War, the 47th "Viking" Infantry Division of the National Guard maintained the country's readiness against the threat of communism. Its training and aptitude changed as national security issues evolved throughout the last half of the 20th century.
<!- mfunc feat_school ->
Featured Programs:
Sponsored School(s)
<!- /mfunc feat_school ->
Minnesota's defensive presence hasn't waned. Furthermore, the state rewards vets and active duty members for their service. If you find yourself in the state, you and your loved ones can take advantage of a range of tuition assistance programs. Here's an overview of the programs available.
State College Education Benefits Through the Minnesota Department of Veterans Affairs
The Minnesota Department of Veterans Affairs (MDVA) runs the Higher Education Veterans Program. This program connects veterans and eligible family members to scholarships, tuition assistance, and other such resources.
Anyone currently or formerly stationed in Minnesota as well as veterans who reside here with station assignments somewhere else can access the Higher Education Veterans Program through MDVA. The whole purpose behind the program is to give service members, veterans, and military families the guidance they need to understand all the benefits available to them and how to put them to work toward job training or a college degree.
The department will put you in touch with a Regional Coordinator, who will help you find the right educational programs and connect you with the right military-friendly colleges in Minnesota. Your Regional Coordinator will discuss the federal GI Bill®, as well as programs sponsored by the state – including the Minnesota GI Bill®.
Minnesota GI Bill®
On top of the federal GI Bill®, Yellow Ribbon Program and other federal education benefits, if you call Minnesota home, you have additional money that could be coming your way to help cover education expenses: The Minnesota GI Bill®. This unique state program provides financial assistance above and beyond the federal benefits programs to veterans, active duty, National Guard, reservists, and select family members pursuing:
If you, your children, or your spouse qualifies for the Minnesota GI Bill®, you'll receive up to $10,000 in financial aid. Anyone who is a permanent resident in Minnesota can apply to the program.
Qualifying for the Minnesota GI Bill®
Veterans who served in any U.S. military branch at any time are eligible for the Minnesota GI Bill®. Non-veterans, including active-duty members, who served at least five years in the Minnesota National Guard or another service branch on or after September 11, 2001, qualify for the program as well.
If you're the spouse of a veteran who either died in service to our country or sustained a 100 percent permanent disability as a result of that service, you're eligible for the Minnesota GI Bill®. The same applies to any children of that veteran. How much financial assistance you'll receive depends on what type of education you're pursuing.
Using the Minnesota GI Bill® to Pay for Degrees, Diplomas, and Certificates
You may receive up to $3,000 per academic year if you're enrolled in an eligible certificate, diploma, undergraduate or graduate program. You can also use the Minnesota GI Bill® to pay for courses preparing you for admission tests such as SAT, GRE, and LSAT prep courses.
In addition to the requirements listed earlier (veteran, active duty, or eligible family member), you must have filled out the Free Application for Federal Student Aid, be enrolled at a Minnesota institution and under the age of 62.
Using the Minnesota GI Bill® to Pay for On-the-Job Training or Apprenticeships
Many apprenticeships require you to take courses as a part of your on-the-job training. For example, if you want to work as a licensed plumber in Minnesota, you must take a licensing exam administered by the state. Night classes will help you prepare for the exam, and the Minnesota GI Bill® will help you pay for them.
Applicants in on-the-job (OTJ) training or apprenticeships can receive up to $2,000 per fiscal year while training in a program approved by the Minnesota Department of Labor and Industry. To receive this financial assistance, your OTJ training or apprenticeship must:
Using the Minnesota GI Bill® to Pay for Licenses and Certifications
The Minnesota GI Bill® also reimburses you for any fees you had to pay to receive or renew a license or certificate. These include any certifications that help you advance your career, whether it's for an IT certification, massage therapy license – or any other certification program approved by the MDVA Commissioner.
This is where there's some overlap between the benefits for those seeking higher education. As stated earlier, you can receive up to $3,000 per academic year to pay for any admission tests fees and preparatory programs. This includes:
You can apply for the Minnesota GI Bill® by creating an account on the program's website. If you have any questions regarding the application, call (888) 547-5838.
Minnesota Veteran Education Assistance Program
What if you've used up all the financial assistance you've received through the federal GI Bill®? The state has a Veteran Education assistance program that grants a one-time $750 payment to veterans pursuing a bachelor's degree. Note that this program does not apply to active duty service members or a veteran's family members. In addition, you must meet the following requirements:
You can use the $750 grant to pay for bachelor's degrees at any of the following Minnesotan institutions:
If you're interested in the Veteran's Education assistance program, you can submit this application form to the MDVA. The mailing address is 20 West 12 Street, St. Paul, MN 55155.
Minnesota's Surviving Spouse & Dependent Education Benefit
This benefit applies to all spouses and dependents of veterans who either died in the line of duty or sustained a disability. It also applies to a veteran's adopted children or step-children. Relatives who qualify for the benefit will receive $750 per fiscal year to pay for books, supplies, and/or room and board at the following institutions:
To be eligible, your veteran parent or spouse must have either:
To apply for the Surviving Spouse & Dependent Education Benefit, you can fill out and submit this application to the Minnesota Department of Veterans Affairs. The address is 2nd Floor, 20 West 12th Street, St. Paul, MN 55155.
Possible Station Assignments and Military Bases in Minnesota
If you're active duty, the chances of you being stationed in Minnesota isn't too high. While a large percentage of our Armed Forces are stationed in the U.S., most of them are fulfilling duty assignments in California, Virginia, and Texas, to name a few.
What's the reason? Minnesota doesn't have too many military bases compared to other states across the country. With that said, if you do find yourself stationed in Minnesota, where would you be carrying out your duty orders?
Located on 53,000 acres, Camp Ripley is the primary training site for the Minnesota Army National Guard. Established in 1929, the base supported the Army's efforts during World War II. Today, the base contains facilities training soldiers for close-quarter and urban combat as well as federal, state, and local civilian emergency operations.
There's quite a bit to do around Little Falls. The Pine Grove Zoo has a range of North American and Asian animals, from Siberian Tigers to Bison. If you're into aviation, the Charles Lindbergh House and Museum offer some cool insights into how the man lived.
Home of the 834th Airlift Wing, or the "Flying Vikings" the Minneapolis-Saint Paul Joint Air Reserve Station is a combat-ready installation at the Minneapolis-St. Paul International Airport (MSP). The base's mission is to provide airdropping and transportation of personnel and cargo. It operates the C-130 H cargo aircraft, and provides aeromedical evacuation of patients serving in our theater of operations.
The Twin Cities offer a lot to airmen and airwomen stationed at MSP Joint Air Reserve. The Mall of America is one of the largest shopping centers in the country, and sports enthusiasts will find plenty of entertainment as well. The area's known as a hub for hockey enthusiasts, so there's ample opportunity to join a rec league if you have the time.
Military Friendly Colleges in Minnesota that Accept GI Bill® and Yellow Ribbon Program Benefits
Of the more-than 2,000 colleges and universities that participate in the Yellow Ribbon Program, only around 500 provide full funding and place no limits on the number of eligible students who can take advantage of it. These schools ensure that every eligible veteran who enrolls can count on full coverage of all tuition costs that exceed GI Bill® limits.
You'll be glad to know that a number of those military friendly colleges and universities are located right here in Minnesota:
Fine Arts and Humanities
Natural and Social Sciences
American studies department
Biology department
Broad Field social studies department
Business administration department
Chemistry department
Communication department
Computer science department
Education department
Engineering sciences department
English department
Exercise science department
Graphic design department
History department
Languages department
Legal studies department
Liberal arts department
Mathematics department
Media arts department
Music department
Nursing department
Physics department
Psychology department
Religion department
Special education department
Studio art department
Theatre department
Business
Counseling & Therapy
Education
Health Sciences
Human Services
Information Technology
Nursing
Psychology
Social Work
Africana Studies
American Music
American Studies
Archaeology
Art and Art History
Asian Languages and Literatures
Asian Studies
Biochemistry
Biology
Chemistry
Cinema and Media Studies
Classics
Cognitive Science
Computer Science
Cross-Cultural Studies
Digital Arts and Humanities
Economics
Educational Studies
English
Environmental Studies
European Studies
French and Francophone Studies
Gender, Women's & Sexuality Studies
Geology
German and Russian
History
Judaic Studies
Latin American Studies
Linguistics
Mathematics and Statistics
Medieval and Renaissance Studies
Middle East Studies
Middle Eastern Languages
Music
Neuroscience
Philosophy
Physical Education, Athletics, and Recreation
Physics and Astronomy
Political Science
Psychology
Public Policy
Religion
Sociology and Anthropology
Spanish
Theater and Dance
Concordia University St Paul
business and technology
education
social science
healthcare and exercise science
language and communication
visual and performing arts
pre-professional healthcare
theology and ministry
science and mathematics
pre-engineering
Dunwoody College of Technology
automotive
business
computer technology
construction sciences and building technology
radiologic technology
robotics and manufacturing
school of design
school of engineering
Gustavus Adolphus College
African Studies
Art and Art History
Arts Administration
Biology
Biochemistry and Molecular Biology
Chemistry
Chinese
Communication Studies
Comparative Literature
Computer Science
Economics and Management
Elementary and Secondary Education
English
Environmental Studies
French
Film and Media Studies
Gender, Women, and Sexuality
Geography
Geology
German
Greek, Latin, and Classical Studies
Health and Exercise Science
History
Interdisciplinary Studies
Japanese
Japanese Studies
Latin American, Latinx, and Caribbean Studies
Mathematics
Modern Languages, Literatures, and Cultures
Music
Nursing
Peace, Justice, and Conflict Studies
Philosophy
Physics
Political Science
Psychological Science
Public Health
Religion
Russian
Russian and Eastern European Studies
Scandinavian Studies and Swedish
Social Studies Teaching
Sociology and Anthropology
Spanish
Statistics
Theatre and Dance
Graduate
School of Business
School of Education
Undergraduate
College of Liberal Arts
School of Business
School of Education and Leadership
Mitchell Hamline School of Law
Institute of Production and Recording
audio production and live sound
film and sound design
video editing and motion graphics
Mitchell Hamline School of Law
Northwestern Health Sciences University
College of Chiropractic (grad)
College of Acupuncture and Chinese Medicine (grad)
College of Health and Wellness (undergrad, grad)
University of Minnesota Twin Cities
Carlson School of Management
Saint Paul / Minneapolis, MN
Saint Paul:
College of Arts and Sciences
School of Divinity
School of Engineering
Morrison Family College of Health/School of Social Work
Minneapolis:
School of Law
Opus College of Business
Morrison Family College of Health/School of Psychology
School of Education
business and management
communication
counseling
criminal justice
education
health and health sciences
nursing
psychology
public policy and administration
social work and human services