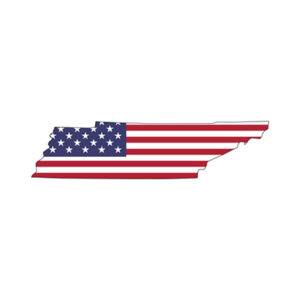 Tennessee isn't called the Volunteer State for nothing. The state's legacy of military service and sacrifice runs deep. In fact, the nickname can be traced back to the War of 1812 when a group of volunteer citizen-soldiers organized under the Tennessee Militia to defend against the British, fighting alongside indigenous allies. Three years after joining the war effort, they contributed to a decisive victory at the Battle of New Orleans, marking the last major stand-off in the war and the beginning of the British drawdown.
Today, we're generations removed from those historic battles, and living at a time when even the prospect of being sent off to deployments in middle eastern theaters no longer looms as heavy as it did just a handful of years ago. This gives new service members and veterans recently discharged a whole new lease on the American dream, thanks in part to all the benefits that come with military service– chief among them is the ability to access a college education.
<!- mfunc feat_school ->
Featured Programs:
Sponsored School(s)
<!- /mfunc feat_school ->
Tennessee Department of Veterans Services (TDVS) Military Education Benefits
It's not just federal programs like the GI Bill® and the Yellow Ribbon program that are making college more accessible to Tennessee's service members, vets, and their eligible dependents. Tennessee stands behind its vets and military families. Here you'll find state-level benefits, along with military friendly colleges familiar with the programs in place to cover tuition costs and streamline the transition to college.
The Tennessee Department of Veterans Services (TDVS) has 14 field offices throughout the state, from Chattanooga, Knoxville and Mountain Home to Nashville and Murfreesboro to Jackson and Memphis and beyond, many located in the VA Medical Centers that you may already be familiar with. Each one of those locations has resource officers on-staff to help military members and their families file for the federal benefits they've earned. The TDVS also serves as an advocacy group, promoting pro-veteran legislation in Tennessee.
College assistance is counted among the many support and assistance programs that veterans and active duty service members can access through the TDVS. Some run parallel to certain federal programs but are even more generous and state oriented. The scholarship and grant programs are fully in addition to what you are already entitled to through the federal programs.
Tennessee's Tuition-Based Assistance Programs
Whether you're a veteran, an active service member, or service member dependent, Tennessee provides in-state tuition rates for all. You're state of residency is irrelevant; if you're serving in Tennessee, you qualify for in-state tuition rates and don't pay any out-of-state fees.
There's educational assistance for surviving spouses and dependents, too, though this program is only open to Tennessee residents. In the event that an active duty service member dies in the performance of their duties, their spouse or dependent child aged 23 or younger, gets a complete tuition waiver. Even though the program is for Tennessee residents only, the waiver can be used to cover the total cost of tuition and fees at any state-owned college anywhere in the country.
You've always heard about how you can turn your military service into college credits to shave years off the time it takes to earn a degree, but you may not have known exactly how it works. The Tennessee Higher Education Commission (THEC) makes it easy. THEC operates an interactive database – the Servicemember Opportunity Portal – that does the number-crunching for you, converting your military experience into academic credit. You simply input your information, the conversion is made, and you can use the academic credit at any military friendly college in Tennessee that recognizes certain experience as equivalent to college credit.
Tennessee Veteran Grant Programs
There are two large grant programs for service members and veterans in Tennessee: Helping Heroes and Tennessee STRONG (Support, Training, and Renewing Opportunity for National Guardsmen).
This grant is available to current and former service members. Many of Tennessee's would-be first-time college students easily meet these requirements:
Support, Training, and Renewing Opportunity for National Guardsmen (STRONG) 
If you're a member of the Tennessee National Guard, or considering becoming one, the Tennessee STRONG program is ideal for you. Tennessee STRONG provides financial assistance to Guardsmen and women pursuing a bachelor's degree. The requirements are even easier to meet for this program:
Veterans Support Programs
As you transition from military life to becoming a college student, it's reasonable to expect you may need some support along the way. The Veterans Upward Bound program and the Tennessee Veterans Education Transition Support (VETS) Act are designed to offer you exactly that.
The Veterans Upward Bound program provides pre-college assessment and instruction in core areas like math, literature, and science. It also offers remedial and refresher courses to help veterans prepare for college and to be successful once there. Services provided by the Veterans Upward Bound program include:
The Tennessee Veterans Education Transition Support (VETS) Act was passed into law in 2014 in recognition that veterans' needs post-service are unique and separate from that of civilians. The VETS act certifies college campuses that focus on meeting these needs and that prioritize veteran outreach and support programs. Schools that are VETS-certified must meet a high bar of excellence. Requirements include:
Possible Station Assignments and Military Bases in Tennessee
If you're from Tennessee, there's a chance you'll be stationed here eventually, but it's even more likely you'll spend most or all your military career in a place you've never been to before. It's not easy to be stationed away from home, or to be on the move at a moment's notice, but that's part of what you signed up for.
Whether it's your first, second, or last duty assignment, Tennessee is a great place to be stationed. If you're a service member from out of state that finds yourself here, you'll find you're eligible for many of the same programs available to Tennessee natives while in service. And if you stick around and settle down here after service, the veterans' programs available in Tennessee will be yours to take advantage of too.
Although the Army has several armory and munitions plants throughout the state, the major military installations here in Tennessee are limited to the Air Force, Navy, and Air National Guard.
Arnold AFB is a leading aerospace research and development center and a hub for outdoor recreational activities. Nearby marinas, lakeside beaches, and wilderness areas provide opportunities to kayak, canoe, camp, or just plain get away from it all.
The 164th Airmen out of Memphis ANG Base have collectively flown 18,000+ hours across six continents for Operation Iraqi Freedom, Operation New Dawn, and Operation Enduring Freedom. And, for service members stationed here, there's plenty of community to enjoy – including museums, parks, and zoos.
Both Arnold AFB and Memphis ANG bases are nearby to multiple military friendly, VETS-certified colleges.
The Mid-South Naval Base in Millington has something for everyone. There's outdoor recreation, crafting classes, movies, and swimming for the family; child development and youth programs for the kids; an on-site veterinary clinic for pets; and voluntary education (VolEd) programs for you. VolEd programs are college-level degree programs offered online and on-base. In fact, there are four large state university branches on-base in Millington.
Military Friendly Colleges in Tennessee that Accept GI BIll® and Yellow Ribbon Program Benefits
Of the more-than 2,000 colleges and universities that participate in the Yellow Ribbon Program, only around 500 provide full funding and place no limits on the number of eligible students who can take advantage of it. These schools ensure that every eligible veteran who enrolls can count on full coverage of all tuition costs that exceed GI Bill® limits.
You'll be glad to know that a number of those military friendly colleges and universities are located right here in Tennessee:
Austin Peay State University
College of Arts and Letters
Art and Design
Center of Excellence for the Creative Arts
Communication
History and Philosophy
African American Studies
Languages and Literature
Music
Theatre and Dance
Women's And Gender Studies
College of Business
Accounting Finance and Economics
Management Marketing and General Business
College of Behavioral and Health Sciences
Criminal Justice
Health and Human Performance
Leadership and Organizational Administration
Military Science and Leadership
Political Science and Public Management
Psychological Science and Counseling
School of Nursing
Social Work
Sociology
College of Education
Educational Specialties
Teaching and Learning
College of Graduate Studies, College of Science, Technology, Engineering & Mathematics (STEM)
Agriculture
Allied Health Sciences
Biology
Chemistry
Computer Science & Information Technology
Engineering Technology
Geosciences
Geology
Geography
Mathematics and Statistics
Physics Engineering & Astronomy
Pre-Professional Health Programs
Honors Program
Accounting
Art (Visual)
Biblical Studies and Ministries
Biology
Business Administration
Business with Sales Management Specialization
Business with Supply Chain Management Specialization
Chemistry
Classical Education
Computer Information Systems
Computer Science
Creative Writing
Criminal Justice
Dance
Digital Media
Elementary Education
Engineering (Dual Degree)
English
Film Production
Global Mathematics
Global Psychology
Graphic Design
Health Administration
History
Intercultural Studies
Interdisciplinary Studies
International Studies
Leadership and Coaching
Mathematics
Mathematics with Actuarial Science Specialization
Music
Nursing: BSN / RN to BSN
Political Science
Psychology
Public Relations
Social Work
Sports Management
Sports Medicine and Exercise Science
Theatre
Tradigital
Pre-Professional Programs
Associate of Arts
Associate of Arts in Biblical Studies
Associate of Arts in Business
Bachelor of Arts in Applied Psychology
Christian Ministries Concentration
Criminal Justice Concentration
Human Services Concentration
Bachelor of Arts in Biblical Studies
Human Services Concentration
Bachelor of Arts in Human Services
Christian Ministries Concentration
Criminal Justice Concentration
Bachelor of Arts in Interdisciplinary Studies
Bachelor of Business Administration
IT Management for Business Leaders Concentration
Bachelor of Science in Accounting
Bachelor of Science in Hospitality Management
Bachelor of Science in Management
Criminal Justice Concentration
IT Management for Business Leaders Concentration
Bachelor of Science in Nursing – RN to BSN
Bachelor of Health Administration
Certificate in Accounting
Certificate in Biblical Studies
Graduate Certificate in Finance
Graduate Certificate in Health Administration
Graduate Certificate in Human Resources
Graduate Certificate in Leadership
Graduate Certificate in Public Administration
Graduate Certificate in Sports Administration
Doctor of Business Administration
Doctor of Education in Educational Leadership
Education Specialist Degree in Educational Leadership
Entrepreneurial MBA
Master of Arts in Biblical and Theological Studies
Master of Arts in Teaching
Master of Business Administration
Finance Concentration
Health Administration Concentration
Human Resources Concentration
Leadership Concentration
Project Management Concentration
Public Administration Concentration
Sports Administration Concentration
Master of Education – Curriculum and Instruction
Educational Technology
Master of Education in Reading Literacy
Master of Education
School Leadership and Supervision
Master of Health Administration
Master of Public Administration
Finance Concentration
Human Resources Concentration
Master of Science in Information Technology Management
Master of Science in Leadership
Human Resources Concentration
Ministry Concentration
Public Administration Concentration
Master of Sports Administration
Mississippi Teacher Certification
Online High Scholars Dual Credit for high school students
O'More College of Architecture & Design
Watkins College Of Art
Jack C. Massey College Of Business
College of Education
Mike Curb College of Entertainment & Music Business
Gordon E. Inman College of Health Sciences & Nursing
College of Law
College of Liberal Arts & Social Sciences
Thomas F. Frist Jr. College Of Medicine
College of Music & Performing Arts
College of Pharmacy
College of Sciences & Mathematics
College of Theology & Christian Ministry
Interdisciplinary Studies & Global Education
University College
Adult Degree Programs
Diagnostic Programs
Cardiovascular Sonography
Diagnostic Medical Sonography
Polysomnographic Technology
Dental Programs
Nursing Programs
Allied Health Programs
Medical Assistant
Medical Office Administration
Patient Care Programs
Respiratory Therapy
Surgical Technology
Technology
Engineering
IT and Networking
Network Systems Administration
Business
Healthcare
Business
Computer Information Systems
Healthcare Administration
Accounting
Liberal Arts
Media Arts
Medical Billing and Coding
Business Essentials
Cloud Computing
MBA
Accounting
Project Management
Technology
Business
Healthcare
Public Administration
Human Resource Management
Human Resources Management
Project Management
Healthcare
CPA Preparation
Big Data and Analytics
Entrepreneurship
Global Supply Chain Management
East Tennessee State University
Clemmer College of Education
College of Arts and Sciences
College of Business and Technology
College of Clinical and Rehabilitative Health Sciences
College of Nursing
College of Public Health
Gatton College of Pharmacy
Honors College
Quillen College of Medicine
College of Graduate and Continuing Studies
Arts & Sciences
Bible & Theology
Business Administration
Church & Ministry Leadership
Communication & Media Arts
Counseling & Social Work
Education
Health & Physical Education
Music Worship & Performing Arts
Lincoln College of Nashville
Automotive Technology
Collision Repair and Refinishing Technology
Diesel and Truck Technology
Heavy Equipment Maintenance Technology
Welding and Metal
Fabrication Technology
Lincoln Memorial University
Bachelor of Art (BA)
Bachelor of Science in Nursing (BSN)
Bachelor of Science (BS)
Biology
Chemistry
Conservation Biology
Criminology and Criminal Justice
Communication and Media
Exercise and Rehabilitation Science
Education
Mathematics
Computer Science
Medical Laboratory Science
Psychology
Social Work
Special Education
Veterinary Medical Technology
Veterinary Health Science
Bachelor of Business Administration (BBA)
Bachelor of Veterinary Animal Science (BS)
Bachelor of Veterinary Health Industry (BS)
Doctoral Law School JD
College of Bible and Ministry
College of Pharmacy and Health Sciences
Raymond B. Jones College of Engineering
College of Liberal Arts and Sciences
George Shinn College of
Entertainment and the Arts
College of Education
Hazelip School of Theology
College of Computing and Technology
College of Leadership and Public Service
School of Nursing
College of Business
College of Professional Studies
College of Arts and Sciences
School of Business
School of Computer Science and Engineering
School of Physical Therapy
School of Pharmacy
School of Physician Assistant Studies
Allied Health
Ministry
School of Legal Studies
School of Nursing
School of Education
Associate in Arts in Accounting
Associate in Arts in Acquisition and Contract Management
Associate in Arts in Business Administration
Associate in Arts in Information Technology
Associate in Arts in Marketing
Bachelor of Applied Science in Management
Bachelor of Business Administration
Bachelor of Science in Accounting
Bachelor of Science in Criminal Justice
Bachelor of Science in Information Technology
Certificate of Education in Corporate Learning
Certificate of Education in Educational Administration
Diploma in Acquisition Contract Management
Graduate Certificate in Digital Entrepreneurship
Graduate Certificate in Entrepreneurial Leadership
Graduate Certificate in Finance and Accounting for Entrepreneurs
Graduate Certificate in Marketing and Branding for Entrepreneurs
Jack Welch MBA
Jack Welch Management Institute Executive Certificates
Jack Welch Management Institute Graduate Certificates
Joe Gibbs Performance Management Certificate
Master of Business Administration
Master of Business Administration
Master of Education
Master of Health Services Administration
Master of Human Resource Management
Master of Public Administration
Master of Science in Accounting
Master of Science in Information Security and Assurance
Master of Science in Information Systems
Master of Science in Management
Tennessee Technological University
College of Agriculture and Human Ecology
College of Arts and Sciences
College of Business
College of Education
College of Education
College of Engineering
College of Fine Arts
College of Graduate Studies
College of Interdisciplinary Studies
Whitson-Hester School of Nursing
Honors College
ROTC
Trevecca Nazarene University
School of Science Technology Engineering & Mathematics (STEM)
School of Arts & Social Sciences
School of Music and Worship Arts
Skinner School of Business
School of Education
Millard Reed School of Theology & Christian Ministry
College of Arts & Sciences
College of Communication and Fine Arts
College of Education
College of Health Sciences
College of Professional & Liberal Studies
Fogelman College of Business & Economics
Herff College of Engineering
Kemmons Wilson School of Hospitality & Resort Management
Loewenberg College of Nursing
School of Communication
Sciences and Disorders
School of Public Health
Helen Hardin Honors College
Graduate School
Cecil C. Humphreys School of Law
Owen Graduate School of Management
Advertising and Marketing Communications
Counseling
Criminal Justice
Cybersecurity
Data Analytics
Education
Educational Leadership
Health Administration
Human Resources Development
National Security Studies
Management & Leadership
Marketing
MBA
Media Communications
Nurse Anesthesia Practice
Procurement and Acquisitions Management