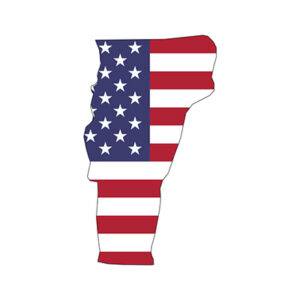 Vermont's state motto and its National Guard flag have a legacy that goes back to more than decade before the Revolutionary War. Back then Vermont's Green Mountain Boys served as the state's military might, from a time when the state first declared its independence from the most powerful colonial force the world had ever known till it elected to join the newly-formed United States. It was only then that it renounced its status as an independent republic.
<!- mfunc feat_school ->
Featured Programs:
Sponsored School(s)
<!- /mfunc feat_school ->
Its military tradition exemplified by the Green Mountain Boys continued as duty called. In general Vermonters were loosely affiliated as a unit under the informal Green Mountain flag, seeing action in World War Two, Vietnam, and all the way through the War on Terror.
Today Vermont is neither stranger to above-average national service nor state recognition for such. Carrying on in the Green Mountain tradition, Vermont salutes the contributions made by its active duty and discharged veterans, and their families.
Not least among these are education benefits, which you've earned for yourself and your family over years of dedicated service to your state and country.
Vermont Office of Veterans Affairs (OVA) Military Education Benefits
The Vermont OVA aims to be your one-stop-shop resource for all types of veteran's benefits. It can help you navigate all the federal, state, and private benefits you've earned through your service. That goes double for ones related to education. In addition to a staff with a wealth of customer service experience, 44% of the OVA professionals who are waiting to hear from you are veterans themselves.
Not only that: the OVA also serves as the state agency that evaluates and approves schools offering GI Bill® benefits; any school that wants to admit you on the GI Bill® must first be approved by the OVA.
If you've served in the Armed Forces check your eligibility for these Vermont education benefits for yourself and your family:
Free Tuition at Vermont State Schools for Vermont National Guard (VTNG)
This is a scholarship that covers the full in-state tuition rate for any Vermont State College or at the University of Vermont. This benefit can also be applied by extension to private schools, certificate training programs, and other non-degree training programs, all capped at the in-state university tuition rate.
This program is technically a forgivable loan. To be eligible you need to be an active VTNG member in good standing who's completed basic training. This scholarship is offered through the Vermont Student Assistance Corporation (VSAC).
This benefit is applicable to these programs:
The benefits of this program are eligible to kick in once you've exhausted all other federal military tuition-assistance education benefits.
You'll need to complete two years in the VTNG for every year of benefits you earn from this program, and this can be adjusted if you're studying part-time.
The main bragging right about this benefit is its flexibility. You can use it at public and private schools, to earn four certificates per year, to earn a bachelor's degree, and to earn a graduate degree. When it comes to flexible education benefits this is about as good as it gets.
Family Scholarship for KIA Service Members – Armed Services Scholarship
If you're the child, stepchild, or spouse of a Vermont service member who's KIA then you may be eligible for this scholarship, which is offered through the Vermont Student Assistance Corporation (VSAC). Qualifying service members include:
As an eligible dependent or spouse this scholarship will cover tuition for an undergraduate education at a school that's approved by the VSAC, including public and private schools.
Tuition coverage is capped at a maximum of the per-semester cost of up to 18 credits at a Vermont public university, college, or technical college, including if you attend an approved private school. A maximum of 130 credits are covered.
This scholarship's 130 credits mean you have some room to explore extra electives or maybe even change your major as you progress in your education. It's also noteworthy that you can apply it to both public and private schools in Vermont, even if it's capped at the in-state public school rate.
Possible Station Assignments and Military Bases in Vermont
Coast Guard and National Guard units from the Army and Air Force have important stations throughout Vermont. Whether you're just visiting for training or part of the VTNG, you're eligible for certain military education benefits the moment your Vermont station assignment comes through.
This VTNG Army base hosts the 86th Infantry Brigade Combat Team (mountain), the 124th Regional Training Institute, and Garrison Support Command. The 86th is composed of seven battalions with members hailing from New England states plus Colorado, though 42% of total forces call Vermont home. Mountain terrain skills are mastered at the Army Mountain Warfare School alongside the Ethan Allen Firing Range in Jericho.
The 158th Fighter Wing, with aircraft stationed at the Burlington International Airport, is proud to have been the nation's first ANG recipient of F-35 II Lightnings. It's exciting to be in charge of operating the country's most advanced aircraft, whose missions take the airmen and airwomen of this unit across the world.
While a landlocked state, Vermont's Coasties still have an important role to play when it comes to aids to navigation, boating safety, search-rescue, and regulating international commercial traffic. This station maintains units responsible for Lake Champlain, Lake George, Lake Sacandaga, and Lake Memphramagog.
Military Friendly Colleges in Vermont that Accept GI Bill® and Yellow Ribbon Program Benefits
Of the more-than 2,000 colleges and universities that participate in the Yellow Ribbon Program, only around 500 provide full funding and place no limits on the number of eligible students who can take advantage of it. These schools ensure that every eligible veteran who enrolls can count on full coverage of all tuition costs that exceed GI Bill® limits.
You'll be glad to know that a number of those military friendly colleges and universities are located right here in Vermont:
Advancement of Public Action
Animation & Production Design
Anthropology
Architecture
Art History
Biology
Ceramics
Chemistry
Chinese
Computer Science
Cultural Studies and Languages
Dance
Digital Arts
Drama
Earth Science
Economics
Environmental Studies
French
History
Italian
Japanese
Literature
Mathematics
Media Studies
Music
Painting & Drawing
Philosophy
Photography
Physics & Astronomy
Politics
Printmaking
Psychology
Science & Mathematics
Sculpture
Social Practices in Art Society Culture & Thought
Sociolinguistics
Spanish
Video
Visual Arts
College of Arts Humanities and Social Sciences
College of Health and Science
Robert P. Stiller School Communication & Creative Media
Education & Human Studies
Information Technology & Sciences
Community College of Vermont
Art & Design
Business
Healthcare
Human Services
Information Technology
Liberal Studies
Manufacturing
STEM Studies
Agriculture and Life Sciences
Arts and Sciences
Business (Grossman)
Education and Social Services
Engineering and Mathematical Sciences
Environment and Natural Resources (Rubenstein)
Nursing and Health Sciences
Honors
Graduate
Medicine (Larner)
Professional and Continuing Education
Vermont Technical College
School of Agriculture Plant and Animal Sciences
School of Engineering and Computing
School of General Education
School of Nursing and Health Professions
School of Professional Studies and Management