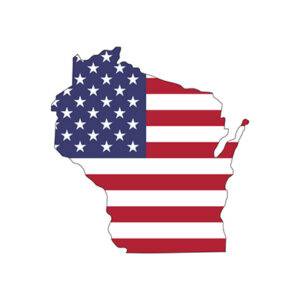 The state flag of Wisconsin bares a coat of arms, at the center of which is a shield representing defense. Defense has been at the heart of Wisconsin's identity ever since it was founded, and it's a value that's been borne out generation after generation by state residents who have served in the armed forces.
<!- mfunc feat_school ->
Featured Programs:
Sponsored School(s)
<!- /mfunc feat_school ->
7% of Wisconsin's population are veterans, and of those 73% are combat veterans. Over a third of the state's veterans took part in the Vietnam War, and over a quarter were involved in the Gulf War.
If you're among the 413,723 veterans who call Wisconsin home, then it's important to familiarize yourself with the benefits you've earned through your service – benefits that are yours to use or transfer to eligible family members. Education benefits are among the most generous of all those, and they serve as your ticket to a secure future and stable career prospects.
Wisconsin Department of Veterans Affairs (WDVA) Military Education Benefits
The Wisconsin Department of Veterans Affairs (WDVA) is here to serve you. It's led by a secretary who's appointed by the governor in consultation with a minimum of six Wisconsin veterans organizations. Its deputy division administrator of veterans benefits is a veteran himself with 17 years of service experience.
The WDVA can help you decipher the eligibility and application processes for federal benefits like the GI Bill® and Yellow Ribbon Program. For any Wisconsin school to be eligible to admit you on GI Bill® benefits, it must first be approved by the WDVA.
The WDVA is also a natural resource when it comes to navigating these military education benefits offered by Wisconsin at the state level:
Wisconsin GI Bill and Wisconsin Veteran Student Assistance Grant
These two programs are public and private versions of each other with the same goal: to help you achieve your educational aspirations by paying for your tuition and fees.
Eligibility for both programs has a residency and military service component.
For residency, to qualify you need to have been a Wisconsin resident at the time you signed up for active-duty service or be a veteran who's lived in Wisconsin for the last five consecutive years.
For military service, you must have completed your service under honorable conditions and meet one of the following:
Together these programs cover the greater of either eight semesters or 128 semester credits. You can use either program to cover the full eight semesters or 128 credits, or you can combine them to equal this coverage. But you can't combine the programs to exceed 128 credits or eight semesters of coverage.
Your spouse or child can also use these benefits if they meet the same residency requirements in the event you are KIA or at least 30% disabled due to a service-related injury.
Wisconsin GI Bill® – Public
Separate from the federal GI Bill®, Wisconsin's GI Bill® is a state benefit that waives all tuition and fees. It can be applied at schools in the University of Wisconsin system and the Wisconsin Technical College system.
The potential savings provided by this program are huge, potentially $35,640 for an eight-semester bachelor's degree. This figure is according to our research for military friendly colleges in Wisconsin, based on the cost of an eight-semester bachelor's degree from a school in the University of Wisconsin system.
Wisconsin Veteran Student Assistance Grant – Private
This state grant covers the lesser of either $2,000 or 50% of tuition each semester, and applies to private schools that are members of the Wisconsin Association of Independent Colleges and Universities (WAICU). But that's just half of this benefit's advantage.
The other half is that WAICU school members, currently 23 college and universities, agree to fully match the state grant, covering another $2,000 or 50% of tuition. For you this works out to the lesser of either 100% tuition or $4,000 per semester.
For an eight-semester undergraduate degree this benefit means either a full-ride or an extra $32,000 towards your education.
Vet Ed Reimbursement Grant
You can apply for this benefit through the WDVA. You'll need to use up you federal GI Bill® benefits before funding under this program can kick in, and the amount you receive through a reimbursement grant will also be reduced if you're receiving other scholarships or benefits.
The maximum amount of tuition this program covers depends on how many days you've served on active duty:
This program is income-based. If your annual income is more than $50,000 then you're ineligible. Likewise, if you already have a bachelor's degree.
For your education to be eligible for reimbursement it must contribute towards you earning a degree or certificate, and you'll need to maintain at least a 2.0 GPA. You'll receive reduced credit if you don't take advantage of this benefit within 10 years after you're discharged.
If you're from Wisconsin and you've served in the military, your education benefits almost make it more difficult not to earn a degree. This benefit is additionally useful in that it's not confined to certain public schools or to WAICU private schools
Academic Credit for Military Experience
Say you've studied geometry to triangulate enemy signal intercepts, biology as part of your medic duties, or geology to better understand submarine navigation and communication. In Wisconsin you may be eligible to receive academic credit for experience gained in the Armed Forces.
Wisconsin has directed its public and private schools to scrutinize your military record for any possible equivalencies that can translate into earned academic credit. This is done through several programs which the WDVA can help you through:
Possible Station Assignments and Military Bases in Wisconsin
As a service member in any branch of the Armed Forces there's a chance you'll come through Wisconsin for training at Fort McCoy, a large facility with a multi-branch training mandate. You may also be involved in training with one of Wisconsin's Air or Army National Guard units. Wisconsin is home to the following facilities:
Fort McCoy is a total force training center that's vital for maintaining readiness across all branches of the military. In the mid-1980s it saw over 100,000 troops cycling through annually. During the War on Terror 140,00 troops were trained here, and in the seven months leading up to April 2021 the Navy trained 30,000 of its sailors here.
There are two universities and one technical college located within 40 miles of the fort in LaCrosse. On-base you can find information about additional schools and entrance exam requirements at the Fort McCoy Education and Learning Center located at 1765 South F Street, Building 50.
Sharing space with the Milwaukee Mitchell International Airport, this facility's host unit is the 128th Air Refueling Wing which operates KC-135 stratotankers to ensure the air force has a global reach. Recent operations have supported the global War on Terror. Recent deployments have been as far afield as Nicaragua, Kosovo, Haiti, Qatar, and more.
Home of the 128th Air Control Squadron, Volk Field is the only ANG combat readiness training center in the nation that doesn't share its airfield with a civilian airport. Here airmen and women learn about elements like airspace, equipment, and facilities.
This base is home to the 32nd Infantry Brigade Combat Team, itself a descendant of the 32nd "Red Arrow" Division. Most recently this unit was deployed to Iraq in 2009 as part of the state's largest Guard deployment since World War Two.
Military Friendly Colleges in Wisconsin that Accept GI Bill® and Yellow Ribbon Program Benefits
Of the more-than 2,000 colleges and universities that participate in the Yellow Ribbon Program, only around 500 provide full funding and place no limits on the number of eligible students who can take advantage of it. These schools ensure that every eligible veteran who enrolls can count on full coverage of all tuition costs that exceed GI Bill® limits.
You'll be glad to know that a number of those military friendly colleges and universities are located right here in Wisconsin:
Health Care
STEM
Behavioral and Social Sciences
Education
Business and Communication
Humanities
Arts
African Studies
Ancient Mediterranean Studies
Anthropology
Art
Asian Studies
Biochemistry
Biology
Business and Economics
Chemistry
Chinese Language and Culture
Cognitive Science
Comparative Literature
Computer Science
Critical Identity Studies
Dance and Theatre
Data Science & Data Analytics
Economics and Business
Education and Youth Studies
Engineering Program
English
Environmental Studies
European Studies
French Language and Culture
Geology
Greek and Latin Studies
Health and Society
History
Interdisciplinary Studies
International Relations
Japanese Language and Culture
Journalism
Latin American and Caribbean Studies
Law and Justice
Mathematics
Media Studies
Medieval Studies
Museum Studies
Music
Philosophy
Physics Engineering and Astronomy
Engineering Physics
Physics
Political Science
Psychology
Sociology
Spanish Language and Culture
Theatre and Dance
Pre-professional Tracks

Engineering Programs
Health Professions Advising
Pre-Law Preparation Advising
Bryant and Stratton College
Milwaukee / Wauwatosa, WI
Legal services
Design
Healthcare
Cardinal Stritch University
College of Business and Management
College of Arts and Sciences
College of Education and Leadership
College of Nursing
College of Arts and Sciences
College of Health Sciences
School of Business and Technology
School of Education and Human Services
Concordia University Wisconsin
Undergraduate
Architecture
Art and music
Business
Church
Civics and public life
Construction and trades
Culture and society
Data and analytics
Economics
Education and teaching
Entertainment and media
Global issues
Healthcare
History
Innovation
Language
Law
Leadership
Literature
Math
Mental health
Ministry
Nature and environment
Philosophy
Safety and security
Science
Software
Sports and exercise
Technology
Teens
Theology
Writing
Youth and kids
Graduate
School of Education
School of Business Administration
Arts and Communications
Business Marketing and Management
Education
Government and Public Administration
Human Services
Information Technology
Liberal Arts and Sciences
Nursing and Health Sciences
Public Safety and Security
Science, Technology, Engineering and Math
Schilcutt School of Business, Science & Technology
School of Humanities & Fine Arts
Kellett School of Undergraduate & Graduate Studies
College of Arts & Sciences
Business
Criminal Justice
Education
Liberal Arts
Math & Science
Nursing Human Services & Healthcare
Milwaukee School of Engineering
Rader School of Business
Civil Engineering
Architectural Engineering
Construction Management
Electrical Engineering
Computer Science 
Humanities
Social Science and Communication
Mathematics
Mechanical Engineering
School of Nursing
Physics and Chemistry
Nashotah House Theological Seminary
Master of Divinity
Master of Theological Studies
Master of Sacred Theology
Doctor of Ministry
Master of Pastoral Ministry
Master of Ministry
Certificate in Anglican Studies
Art
Biology
Business Administration
Business Management
Chemistry
Climate Change Studies
Climate Science
Directed Studies
Ecological Restoration
Education
Engineering
English
Environmental Education
Environmental Humanities
Environmental Studies
Fisheries and Wildlife Ecology
Forestry
Gender and Women's Studies
Geographic Information Systems
Geology
Graphic Design
History
Humanities
Humanity and Nature Studies
Mathematical Sciences
Music
Native American Studies
Natural Resources
Outdoor Education
Philosophy
Physics
Pre-Health Care
Pre-Law
Pre-Ministry
Pre-Veterinary Medicine
Psychology
Religious Studies
Sociology and Social Justice
Spanish
Sports Management
Studio Art
Sustainable Community Development
Sustainable Business
Sustainable Agriculture and Food Systems
Water Science
Writing
Aviation
Business
Communication
Criminal Justice
Education
Fire Science
Health Sciences
Human Services
Information Technology
Legal Studies
Nursing
Professional Studies
Psychology
Public Policy
College of arts and sciences
College of business
College of education and human sciences
College of nursing and health sciences
Wisconsin Lutheran College
Accounting
Anthropology
Art and Graphic Design
Biochemistry
Biology
Business Administration
Chemistry
Communication – Business Communication
Communication – Communication Studies
Communication – Media and Journalism Studies
Communication – Public Relations
Computer Science
Criminal Justice
Diagnostic Medical Sonography
Education
English – Literary Studies
English – Writing
Environmental Science
Finance
History
Human Social Services
Interdisciplinary (Self-Designed)
Management
Marine Biology
Marketing
Mathematics
Music
Neuroscience
Nuclear Medicine Technology
Nursing
Physics
Politics and Law – Politics and Government
Politics and Law – Pre-Law
Psychology
Radiologic Technology
Spanish
Sport and Exercise Science
Sport Management
Theatre
Theology