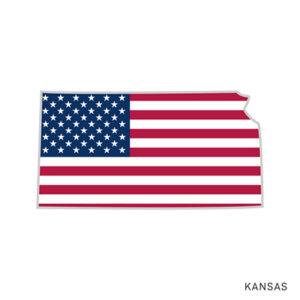 Kansas wasn't nicknamed the Great Soldier State for nothing. It was when the Civil War was over that Union soldiers across the nation traveled with their families to Kansas to secure land through the Homestead Act. These new Kansans established farms and opened new businesses in hopes of building a better life as the population grew. With this large influx of Civil War veterans, Kansas became known as the Great Soldier State.
<!- mfunc feat_school ->
Featured Programs:
Sponsored School(s)
<!- /mfunc feat_school ->
Today, Kansas is still a military-supportive state full of military friendly colleges and state agencies that have lot to offer veterans and service members.
Now, decades removed from domestic military battles and foreign entanglements, veterans and service members have a chance live the American dream, by using their hard-earned military education benefits to get a college education.
Kansas Commission on Veterans Affairs Office (KCVAO) Military Education Benefits
There's more to military education benefits than just federal programs, like the GI Bill® and Yellow Ribbon program, to help veterans, service members, and dependents get a college education. You'll find that the Kansas Commission on Veterans Affairs Office (KCVAO) is an incredible resource for finding the education benefits available to you here in Kansas. The KVCAO's mission is to provide Kansans who have served with the guidance and assistance needed to be successful in post-military life.
Shown here are the military education benefits available to you in Kansas:
Kansas Tuition Assistance for Dependents of Deceased Resident Service Members and former POWs
Spouses and children of service members who died while serving are entitled to free tuition, including academic fees, at all public colleges and universities in Kansas. POWs are eligible for this benefit, too. To get this benefit, the service member must have died while on active duty and must have served after September 11, 2001. The program pays for up to ten semesters of undergraduate study at public colleges and universities in Kansas, including technical colleges.
Kansas Resident Tuition Rates for Eligible Veterans, Service Members and Dependents
If you're eligible for federal VA benefits or currently serving, you qualify for in-state tuition rates at public colleges and universities in Kansas. This benefit is open to veterans, active service members, and dependents, no matter how long you've been in the state. You must, however, be living in Kansas at the time of college enrollment to get in-state tuition rates.
Refund or Credit for Tuition for Activated Service Members Attending Kansas Regent Institutions
If you're attending college and get called into active service, the Kansas Board of Regents will refund or credit any tuition you've paid. It's important to note that this only applies if you're attending a public college or university in Kansas.
Kansas Education Benefits for Dependents of Veterans of the Vietnam War
This benefit applies to children of Vietnam veterans who died during active service in Vietnam. The program offers a complete tuition waiver for up to 12 semesters at all Kansas public colleges and universities, including academic fees. Adopted children and children of Vietnam veterans who died due to a service-related disability incurred during active service in Vietnam are eligible, too. The only requirement is that the veteran must have entered the service in Kansas.
Kansas Military Service Scholarship
If you served in Iraq or Afghanistan, in international waters, or foreign soil in support of the military campaigns Enduring Freedom, Nobel Eagle, or Iraqi Freedom, you're eligible to receive the Kansas Military Service Scholarship. It pays for all tuition and academic fees for undergraduate programs at public colleges and universities in Kansas. The scholarship pays for a maximum of ten semesters, and you can still use federal VA education benefits, too. To qualify for this scholarship, you'll need to:
For National Guard Members
Kansas National Guard Educational Assistance Program
This program helps Kansas National Members get a college education by paying for a percentage of tuition and academic fees. The great thing about this program is that it'll pay for any type of educational program you pursue, whether it's a technical certificate, college degree, or diploma. The program is state-funded, so the percentage you receive depends on how many applicants there are and how much federal tuition assistance you get. You'll get financial assistance with up to 15 credits hours each semester, and you don't have to enroll full-time. To be eligible for this program, you must:
This program awards an honorary high school diploma to World War II and Korean War veterans who left high school to join the military. To get your high school diploma through Operation Recognition, you must have an honorable discharge and must have served in World War II between September 16, 1940, through December 31, 1946, or in Korea between June 27, 1950, and January 31, 1955. High school diplomas can be awarded posthumously, too.
Interstate Compact on Educational Opportunity for Military Children (MIC3)
Military families are often on the move, which can make educational success difficult for military children. The MIC3 program was developed to help remove barriers and ensure a seamless transition between schools for military children. Benefits of the MIC3 program include promoting priority enrollment for military children, facilitating participation in extracurricular activities and sports, and promoting partnerships between schools and parents.
Possible Station Assignments and Military Bases in Kansas
Whether you're from Kansas or another state, it's possible you'll be stationed here at some point. Of course, it's not easy being away from home and family and having to be ready deploy at any moment. Whether this is your first duty assignment or your last, if you've received PCS orders for Kansas, you've landed in a great state.
Here's a look at the bases you could be stationed at:
McConnell AFB is home to the 22nd Air Refueling Wing and houses tenants of the 184th Intelligence Wing, 931st Air Refueling Wing, and the 64th Air Refueling Squadron, with the mission to provide air refueling and airlift anytime, anywhere. What's unique about McConnell AFB is that it's one of only three KC-135 Stratotanker wings in the United States. If you're stationed here, you can serve your country and get a college education at any of the three colleges on-base – Butler Community College, Embry Riddle Aeronautical University, and Wichita State University.
Fort Leavenworth is the oldest active military base west of the Mississippi River, spanning more than 100 acres and housing 3,700 active service members. Fort Leavenworth really has everything you could possibly need, including an education center where you'll have access to education counseling and help with tuition assistance. You can also get your college degree at one of the many colleges on-post – Barton Community College, Upper Iowa University, Central Michigan University, Kansas State University, and University of Kansas.
Located in the Flint Hills Region, Fort Riley is home to the 1st Infantry Division and houses more than 15,000 active-duty service members. At Fort Riley, the Kansas National Guard and Reserve units also train with the 1st Infantry Division to develop the skills needed to protect the country. If you want to pursue a college degree while you're in the service, there's no better place to be stationed than Fort Riley. The education center on base houses several colleges where you can take courses, including Upper Iowa University, Hutchinson Community College, Southwestern College, Central Texas College, Barton Community College, and Kansas State University.
Military Friendly Colleges in Kansas that Accept GI Bill® and Yellow Ribbon Program Benefits
Of the more-than 2,000 colleges and universities that participate in the Yellow Ribbon Program, only around 500 provide full funding and place no limits on the number of eligible students who can take advantage of it. These schools ensure that every eligible veteran who enrolls can count on full coverage of all tuition costs that exceed GI Bill® limits.
You'll be glad to know that a number of those military friendly colleges and universities are located right here in Kansas:
Cleveland University Kansas City
College of Health Sciences
Fort Hays State University
College of Arts Humanities and Social Sciences
W.R. and Yvonne Robbins College of Business and Entrepreneurship
College of Education
College of Health and Behavioral Sciences
Peter Werth College of Science Technology and Mathematics
Bachelor's
Business
Education
Fine Arts
Science Technology Engineering and Mathematics
Theology and Humanities
College of Adult and and Professional Studies
Graduate
Master of Arts in Christian Spiritual Formation
Global MBA
Professional MBA
MS in Marriage and Family Therapy
Master of Healthcare Leadership MHCL
Master of Management Information Systems (MMIS)
Master of Education
Master of Science in Strategic Leadership (MSSL)
ASSOCIATE
Business Administration and Management (Associate of Arts)
Computer Science (Associate of Science)
Criminal Justice (Associate of Arts)
Electronics and Computer Engineering Technology (Associate of Science)
Engineering Management Technology (Associate of Science)
Healthcare Administration (Associate of Applied Science)
Medical Administrative Assistant (Associate of Applied Science)
Medical Coding and Billing (Associate of Applied Science)
Multidisciplinary Studies (Associate of Arts)
Paralegal Studies (Associate of Arts)
BACHELOR'S
Accounting (Bachelor of Science)
Business Administration (Bachelor of Business Administration)
Concentration in Human Resource Management
Concentration in Logistics and Supply Chain Management
Concentration in Procurement and Contract Management
Concentration in Marketing
Concentration in General Management
Concentration in Operations Management
Computer Engineering Technology (Bachelor of Science)
Computer Science (Bachelor of Science)
Criminal Justice (Bachelor of Arts)
Concentration in Homeland Security
Concentration in Computer Forensic Investigation
Cyber Security (Bachelor of Science)
Electronics Engineering Technology (Bachelor of Science)
Engineering Management Technology (Bachelor of Science)
Financial Planning (Bachelor of Business Administration)
Health Information Management (Bachelor of Science)
Information Systems (Bachelor of Science)
Concentration in Cybersecurity
Concentration in Health Informatics
Concentration in Web Development
Multidisciplinary Studies (Bachelor of Arts)
Concentration in Homeland Security
Multidisciplinary Studies (Bachelor of Science)
RN to BSN Degree Completion (Bachelor of Science in Nursing)
Strategic Communications (Bachelor of Arts)
MASTER'S
Business Administration – Information Management (Master of Business Administration)
Business Administration – Project Management (Master of Business Administration)
Business Administration (Master of Business Administration)
Business Intelligence (Master of Science)
Health Systems Management (Master of Science)
Healthcare Administration (Master of Healthcare Administration)
Information Management – Project Management (Master of Science)
Information Management Technology (Master of Science)
Information Technology (Master of Science)
Leadership (Master of Science)
Nursing Case Management Specialization (Master of Science in Nursing)
Nursing Education Specialization (Master of Science in Nursing)
Nursing Informatics Specialization (Master of Science in Nursing)
Nursing Management and Organizational Leadership Specialization (Master of Science in Nursing)
Performance Improvement (Master of Science)
Kansas Wesleyan University
Art & Design
Behavioral Science & Human Services
Biology
Business & Accounting
Center of Public Policy and Safety
Chemistry
Communication Studies & Theatre Arts
Computer Studies
English
History
Mathematics & Physics
Music
Nursing Education & Health Science
Religion & Philosophy
Social Work
Sport & Exercise Science
Teacher Education
Midamerica Nazarene University
College of Arts and Sciences
Department of Arts and Humanities
Department of Business Administration
Department of Christian Ministry and Formation
Department of Natural Health and Mathematical Sciences
School of Education
Department of Teacher Education
Department of Social and Behavioral Sciences
School of Nursing
Department of Prelicensure Nursing Education
Graduate Business
Graduate Studies in Counseling
Graduate Education
Graduate Nursing
Interdisciplinary Studies
Art & Design
Biblical Studies
Biology
Business Administration
Chemistry
Christian Ministries
Christian Thought
Communication and Media Arts
Criminal Justice
Education
English
Health and Human Performance
Health Science
History
Independent
Interdisciplinary
Mathematics
Music
Psychology
Sports Management
Theatre Arts
Writing and Editing
Architecture & Design
Arts
Business
Education & Human Sciences
Engineering
Journalism & Mass Communications
Health Professions
Law
Liberal Arts & Sciences
Medicine
Music
Nursing
Pharmacy
Professional Studies
Public Affairs and Administration
Social Welfare
Undergraduate
Division Of Business And Information Technologies
Division Of Health Sciences
Division Of Liberal Arts And Humanities
Division Of Natural Sciences And Math
Division Of Nursing
Division Of Social And Behavioral Sciences
Pre-health Professional And Pre-veterinary Curricula
Graduate
Division Of Business And Information Technologies
Division Of Health Sciences
Division Of Nursing
Division Of Social And Behavioral Sciences
School of Law – JD (Juris Doctor)
JD/MAcc Dual Degree
JD/MBA Dual Degree
JD/MSW Dual Degree
JD/MCJ Dual Degree
Master of Studies in Law
LLM Global Legal Studies
Fort Leavenworth / Mcconnell AFB, KS
Advertising and Marketing Communications
Counseling
Criminal Justice
Cybersecurity
Data Analytics
Education
Educational Leadership
Health Administration
Human Resources Development
National Security Studies
Management & Leadership
Marketing
MBA
Media Communications
Nurse Anesthesia Practice
Procurement and Acquisitions Management