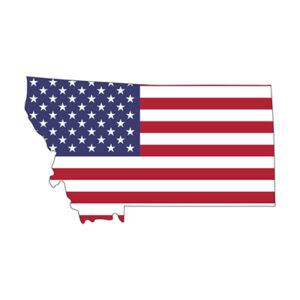 Montana is more than just a tourist destination for hikers, backpackers, and skiers. A sprawling landscape of mountain lakes to the west and semi-arid, sagebrush plains to the east, the state combines the gritty, independent cowboy culture still alive in America's heartland with the adventurous spirit of the western truth-seekers we read about in travel books.
Many people know of Montana in the history books for Custer's Last Stand, a pivotal battle in indigenous peoples' fight to retain the lands that they had settled for thousands of years. Today, many people don't know that Montana still boasts some of the highest participation in military service. The state is home to more than 100,000 veterans—which, given its relatively small population (the state only recently surpassed one million residents), speaks to Montanans' dedication to protecting our nation's people and values.
<!- mfunc feat_school ->
Featured Programs:
Sponsored School(s)
<!- /mfunc feat_school ->
Whether you're just signing onto the military or completing a second or third tour, getting stationed somewhere other than home is always a possibility. But for now, it's less likely that you'll be deployed abroad – which means that now is an optimal time to take advantage of the many benefits offered to veterans, active-duty service members, and dependents—including benefits that help reduce college tuition costs.
Montana Veterans Affairs Division (MVAD) Military Education Benefits
Montana already makes a concerted effort to make college affordable to its residents. But for veterans, military service members, and their families, Montana makes earning a college education even more accessible. The GI Bill® and the Yellow Ribbon program, which are sanctioned by the federal government, are making college more accessible to Montana's service members, vets, and their dependents. But there are a few other state benefits that veterans, active-duty service members, and military dependents can take advantage of to get them on track for earning a college degree. Read about these state-level benefits here, along with military friendly colleges familiar with the programs in place to reduce your costs and help you transition to college.
The Montana Veterans Affairs Division (MVAD) recognizes that while veterans are eligible for a number of benefits, navigating these benefits and knowing what assistance is available is the tricky part. The MVAD connects Montana veterans and their families with fully trained and certified veterans service officers (VSO's) at a veteran's center, primary care clinic, or regional office in their area. They also have ten specific MVAD service offices throughout the state, including in rural areas like Miles City and Lewistown. MVAD Service Officers and VSO's are the best places to start when figuring out what educational benefits pertain specifically to you.
Montana's Tuition-Based Assistance Programs
You've probably heard that in many states, you can apply your military and training experience to academic credit. In Montana, the credit that you receive for your military service is determined by the state institution that you're applying for.
Montana is particularly generous when it comes to reducing the tuition costs for active-duty service members, veterans, and their eligible dependents. Military service members, along with their spouses and children, can take advantage of Montana's in-state tuition rates, even if Montana is not their state of residency. So long as you are living in Montana at the time that you or your spouse or child enrolls, you will pay in-state tuition. This also applies to veterans and dependents who are eligible for VA education benefits.  
Montana Veteran Tuition Waiver
Honorably discharged veterans who served during wartime and are residing in Montana can use a waiver to pay their in-state tuition costs. You can only utilize this after you've exhausted your GI Bill benefits. You must be pursuing your first associate's or bachelor's degree. Since you can use this waiver for up to 12 semesters, or six academic years, this is a great option for those who are still working while they are earning a degree.
Montana National Guard Tuition Waiver
Those serving in the Montana National Guard may be able to waive as much as 100% of their tuition at any Montana University system school, so long as you are a member of the National Guard on the date that you enroll. You will need to apply online each year that you plan to take advantage of this benefit, and you are limited to 144 semester credits – which will cover most bachelor's degree programs.
War Orphans Tuition Waiver
Children who are orphaned by a veteran who was a Montana resident may be eligible for a full tuition waiver to any institution of higher education within the Montana University system. The veteran must have served on active duty during WWII, the Korean, Vietnam, or conflicts in Iraq and Afghanistan and have either been killed in action or died as a result of combat related injury, disease, or other disability while in service. Note that these waivers do not cover the cost of fees and can only be used to pay for an associate's or bachelor's degree.
Dependents who are applying for this waiver must meet a few other requirements:
Veterans Support Programs
Montana doesn't necessarily have state-wide programs dedicated to veterans' success in college; rather, each college in the Montana University System has their own office and programs to help veterans, active service members, and their families optimize their success. You can work with your VSO or directly with your chosen institution of higher education to see what extra support services are available to you, whether that be academic counselors specially trained to work with veterans and military service members, mental health support services, or mentor programs specifically for veterans. For instance, Montana State University in Bozeman offers a Return to Learn program for students who have halted their education for at least one full academic year and are looking to return to school – a program that veterans and active military service members can take advantage of if they have to suddenly leave for service.  
Possible Station Assignments and Military Bases in Montana
A permanent change of station is often a given for military service. When you sign on for military service, you know that it's likely that you'll have to move somewhere new. Even if you aren't from Montana, a permanent change of station to the state is an opportunity to adventure to one of the most beautiful states in the nation. Montana is home to one military base:
Home to the 341st Missile Wing Vision, Malmstrom is dedicated to becoming the strongest nuclear force in the world, working to build, store, maintain, and employ the most powerful weapons in existence. Over 3,000 service members, civilian employees, and service member families live on base as they maintain and manage launch facilities, launch control centers, and support equipment.
While Malmstrom is Montana's only military base, it's centrally located, making it an ideal starting place for accessing the state's diverse landscapes and recreational activities. The beautiful Highwood Mountains are right next door, along with the Showdown ski and snowboard area. Plus, once you're acclimated to Montana, you'll be accustomed to doing lots of driving; several hot springs, Glacier National Park, ski resorts, and the artsy college towns of Missoula and Bozeman are ideal weekend getaways. Don't be surprised if you see countless bumper stickers featuring the state's "Get Lost" motto—and trust us, you'll want to get lost in all the magnificence that Big Sky country has to offer.
Military Friendly Colleges in Montana that Accept GI Bill® and Yellow Ribbon Program Benefits
Of the more-than 2,000 colleges and universities that participate in the Yellow Ribbon Program, only around 500 provide full funding and place no limits on the number of eligible students who can take advantage of it. These schools ensure that every eligible veteran who enrolls can count on full coverage of all tuition costs that exceed GI Bill® limits.
You'll be glad to know that a number of those military friendly colleges and universities are located right here in Montana:
Animal Studies
Arts Humanities and Natural Sciences
Health Professions
Computer Science and Engineering
Social Sciences
Business
Teacher Education
Additional Programs
Helena College University of Montana
Arts & Humanities
Business & Accounting
Computer Science & Technology
Education
Engineering & Math
Health Sciences
Industry & Trades
Law & Public Safety
Science
Social Science & Human Services
College of Agriculture
College of Arts & Architecture
College of Business
College of Education Health & Human Development
College of Engineering
College of Letters & Science
College of Nursing
The Graduate School
Gallatin College
Honors College
Montana State University Billings | Montana State University City College
College of Health Professions and Science
College of Liberal Arts & Social Sciences
College of Business
College of Education
City College
Interdisciplinary
W.A. Franke College of Forestry and Conservation
Graduate School
Pre-professional
College of Business
College of Health
Missoula College
College of Arts and Media
Phyllis J. Washington College of Education
Alexander Blewett III School of Law
College of Humanities and Sciences
University of Montana Western
Biology
Business and technology
Education
English
Environmental sciences
Equine studies
Fine arts
Health and human performance
History philosophy and social sciences
Mathematics
Honors
School of outreach
Distance and online education