<!- mfunc feat_school ->
Featured Programs:
Sponsored School(s)
<!- /mfunc feat_school ->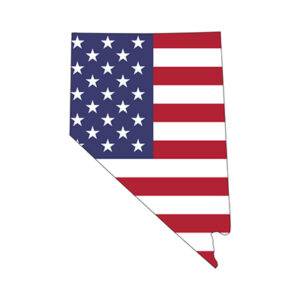 Between Las Vegas and Reno, Nevada is widely known as a hub for entertainment. Glamor, gambling, and burlesque permeate the boulevards of its major cities and tend to dominate the state's reputation. But the state doesn't only cater to Americans' vices; the do-what-you-want mentality comes from the days of Nevada's early settlement, where the discovery of the Comstock Lode in 1859 made this state's settlement population skyrocket with people eager to make their fortunes. No longer was it a collection of intermittent villages along the trail to California: it was a worthy stop itself.
Today, the state is one of delightful contrasts. Las Vegas is a massive valley, surrounded by flat desertscapes in what is known to be the most mountainous state in the lower 48. Between cities with high population density, Nevada is also home to dozens of tour-able ghost towns. The muti-colored Seven Magic Mountains sculpture, constructed by Swiss artist Ugo Rodindone, projects against a desolate Death Valley.   
The Road Trip Capital of America has also played a distinguished role in military service. During the Cold War, Nevada became the largest nuclear testing site in the United States, and today, thousands of people flock to Area 51 to indulge their suspicions about government secrecy.
Today, serving in the military can often mean relocating within the US, often for the purpose of building and testing equipment and training. Since getting deployed abroad is less likely, new service members, veterans, and their families can excite in the opportunities to learn right here in the US. And in many states, those who are serving or have served can take advantage of several benefits – benefits that make pursuing a college education more affordable and attainable.
Nevada Department of Veterans Services (NDVS) Military Education Benefits
The Nevada Department of Veterans Services (NDVS) is your starting place for finding all the educational benefits that are available to veterans, active-duty service members, and their spouses and children. The NDVS can connect you with a certified veterans service officer (SVO) to navigate these benefits and fill out applications. While the NDVS can help facilitate your use of the GI Bill® and the Yellow Ribbon program, the state of Nevada also offers a range of scholarships, grants, and tuition waivers, all of which are sanctioned by the state.
To find out about these benefits, the NDVS points veterans, military service members, and their dependents specifically to the Nevada System of Higher Education (NSHE). Here you'll find state-level benefits, along with military friendly colleges familiar with the programs in place to cover tuition costs and streamline the transition to college.
Nevada's Tuition-Based Assistance Programs
When it comes to paying residency tuition rates, the state of Nevada is particularly generous. The Veterans Access, Choice, and Accountability Act of 2014 requires that public institutions of higher education offer in-state tuition rates for veterans who are living in that state and have recently (within three years) been discharged (honorably or otherwise) from that service. This is a federal law. But the state of Nevada enacted a similar law that extends this generosity to veterans who were discharged within the last five years; if you're a veteran living in Nevada within five years of being discharged from service, you're eligible to pay in-state tuition rates at an NSHE institution.
Active-duty members who are stationed in Nevada, along with their spouses and children, are also eligible for the same in-state tuition rates. If in the middle of your education you have a permanent change of station to a state other than Nevada, you and your dependents are still considered Nevada residents for tuition purposes. Similarly, veterans who are stationed in Nevada when they are discharged are also considered residents – if they want to attend college in Nevada, they can pay an in-state tuition rate.
The non-resident tuition reduction for veterans as well as active-duty service members also applies to those stationed at the Marine Corps Mountain Warfare Training Center in Pickle Meadows, California.
Nevada Veteran and Military Member Grants, Waivers, and Scholarships
In addition to scholarships offered by NSHE institutions, the state of Nevada also offers one grant opportunity and several fee waivers.
Grant-In-Aid for the Family of a Member Killed in the Line of Duty
This grant is available for financially dependent children of veterans who were killed in the line of duty while permanently stationed in Nevada. Recipients of this grant are not expected to repay the funds once they complete their college education. The NSHE does not outline the specifics of these grants, so it's best to contact your NSHE institution and ask specifically about what grants are available for veterans' dependents.
National Guard Fee Waivers
Active service members in the Nevada National Guard are eligible to waive all registration fees for courses at an NSHE institution. Nevada National Guard members can also use these fee waivers for some laboratory fees associated with some of their courses. The fee waiver is also available for eligible dependents. For children and spouses to receive the waiver, they must be the dependent of a veteran who was killed while performing duties as a member of the Nevada National Guard. You may also be able to apply these waivers for some laboratory fees in some courses.
Purple Heart Fee Waiver and Tuition Reduction
Veterans who have been awarded the Purple Heart for their service are eligible to receive a waiver for their fees associated with course registration. Those who are eligible for this fee waiver are also considered Nevada residents when it comes to tuition at NSHE institutions. Essentially, NSHE schools can't charge Purple Heart recipients for registration, laboratory, and other mandatory fees, provided that they are eligible.
POW/MIA Benefits for Children and Spouse
Children and spouses of active service members who have been identified as a prisoner of war or declared missing in action are also eligible to have their registration fees waived. The member of the Armed Forces must have been permanently stationed in Nevada. Children who wish to take advantage of this fee waiver may do so for ten years after their 18th birthday, or, if they are enrolling in college prior to 18, they can use the waiver for ten years after their enrollment date. Spouses can use the waiver for up to ten years from the date when the Active Service member was declared a POW or MIA. Eligible recipients may also use this waiver toward laboratory fees at some NSHE institutions.
The Millennium Scholarship Extension for Military Service Members
The Governor Guinn Millennium scholarship awards up to $10,000 in tuition to students who have graduated from a public, private, or charter school in Nevada. The award is for students who are attending one of the nine NSHE institutions.
There is no application process for students who are from Nevada; instead, schools nominate their most exceptional students for the award. Students who are homeschooled or are applying to a Nevada state school can still receive this award, but they have to apply for it. Recipients have access to the award for up to six years following their high school graduation date. However, if you are serving as an active member of the Armed Services, you can get an extension equal to the time that you've served, but not to exceed six years. To take advantage of this extension, you will have to fill out an appeal with the NSHE.
Students receiving this award must meet a few other requirements:
Veterans Support Programs
In the state of Nevada, NSHE institutions have their own service centers for veterans, where many of them offer specialized academic guidance, counseling, and student success programs in order to maximize the potential of their student veterans and military service members. These programs are approved by the Nevada State Approving Agency (SAA), set up by the federal GI Bill ® to ensure that veterans, active service members, and their families receive the quality education that they deserve. On the NSHE site, you can find links to the specific veterans and active military service offices at your specific NSHE institution.
Possible Station Assignments and Military Bases in Nevada
When enlisting in the military, a permanent change of station is always a possibility. Even if you're from somewhere far less arid and mountainous, there's a chance that you'll be stationed in Nevada, depending on where the military needs you.
In the event that you are stationed in Nevada, the in-state tuition rates and fee waivers for service members, veterans, and their families offers promise for being able to pursue higher learning. Moreover, veterans and members of the Armed Forces have accessed to extra support and services at each of the NSHE institutions, who are dedicated to the well-being and success of military service members.
Regardless of your stage of life or stage of career in the military, Nevada is a great place to be stationed. You and your dependents may be eligible to take advantage of the tuition reduction programs as well as many of the fee waivers.
If you're assigned a permanent change of station to Nevada, there are three military bases that you could be moving to: one is a Navy base and two are Air bases.  
The NAS Fallon Navy Base is famous for Naval Aviation training. Taking full advantage of the flying space over northern Nevada, the base is home to the Naval Strike and Air Warfare Center, where they instruct Navy pilots in all aspects of tactical integrated warfare. Fallon Navy Base hosts as many as 3,000 active service members and their families in an area that is relatively rural, offering a gateway to outdoor activities like fishing, boating, hiking, and camping. If you need a dose of city life, Reno is just an hour west of the base.
Established during WWII, Nellis has quickly become a hub of support for American military operations around the world. Almost any type of aircraft owned by the Air Force can get full service and equipment repairs in this location, and the base also hosts troops from each branch of the military as well as allied forces throughout the world. It's also a popular place for civilians to view the United States' impressive Air Force operations and equipment. The base, which hosts 12,000 total employees, is located in the southern side of the state, just a few miles from the neon lights of Las Vegas. Service members stationed at Nellis can also enjoy surrounding areas like the Red Rock Canyon and Sloan Canyon Conservation Areas, as well as Lake Mead.
This is a base with a highly specialized purpose. At Creech AFB, the main objective is to provide enough space for advanced training sessions for the famous Thunderbirds, who put on performances that showcase all the talent and expertise of Air Force pilots. Creech also hosts several drones and vehicles used in recent conflicts in Pakistan, Afghanistan, and Iraq. This base is under an hour northwest of Vegas.  
Military Friendly Colleges in Nevada that Accept GI Bill® and Yellow Ribbon Program Benefits
Of the more-than 2,000 colleges and universities that participate in the Yellow Ribbon Program, only around 500 provide full funding and place no limits on the number of eligible students who can take advantage of it. These schools ensure that every eligible veteran who enrolls can count on full coverage of all tuition costs that exceed GI Bill® limits.
You'll be glad to know that a number of those military friendly colleges and universities are located right here in Nevada:
College of Health Professions
Technology
Engineering
IT and Networking
Network Systems Administration
Business
Healthcare
Business
Computer Information Systems
Healthcare Administration
Accounting
Liberal Arts
Media Arts
Medical Billing and Coding
Business Essentials
Cloud Computing
MBA
Accounting
Project Management
Technology
Business
Healthcare
Public Administration
Human Resource Management
Human Resources Management
Project Management
Healthcare
CPA Preparation
Big Data and Analytics
Entrepreneurship
Global Supply Chain Management
Business
Criminal justice
Education
Healthcare
Nursing
Psychology
Behavioral sciences
Liberal arts
Technology
RN to BSN
MBA
Health administration
Information systems
Criminal justice and security
Business fundamentals
Business
Criminal Justice
Education
Healthcare
Nursing
Psychology
Behavioral Sciences
Liberal Arts
Technology
RN to BSN
MBA
Health Administration
Information Systems
Criminal Justice and Security
Business Fundamentals