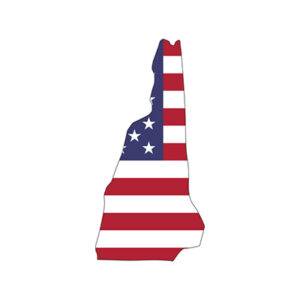 Originally dubbed the Granite State for its lucrative quarries, New Hampshire has become a new England vessel for more than just economic promise. Like many of the northeastern states, New Hampshire is geographically tiny but economically and recreationally diverse. The White Mountains tower throughout the central area of the state, interspersed by glacial lakes and woods. Cities like Concord and Manchester have recently seen an uptick in population, catering to young crowds who want metropolitan amenities like restaurants and museums, while also reasonable costs for housing. And even though New Hampshire's known for its mountains, we can't forget the seaport area of Portsmouth – and its relative proximity to the vibrant intellectual and cultural centers of Boston, MA.
New Hampshire is surely endearing. But the reason people move to and stay in New Hampshire is also because of its values and culture. The Free State and the people in it are committed to protecting the individuals' right to make their own choices and to feel heard by their local politicians. Preserving their state's values and protecting liberty is at the forefront of many peoples' minds in New Hampshire.
<!- mfunc feat_school ->
Featured Programs:
Sponsored School(s)
<!- /mfunc feat_school ->
As much as New Hampshire values these classical American principles, they value the veterans and military service members who stand for and support our freedoms. And at this time, military service members are less likely to be deployed overseas and more likely to be sent somewhere in the United States – making this an ideal time to take advantage of the educational benefits offered to military members, veterans, and dependents.
New Hampshire Department of Military Affairs and Veterans Services (DMAVS) Military Education Benefits
Federal programs like the GI Bill® and the Yellow Ribbon program are of course making college more accessible to New Hampshire's veterans. But New Hampshire also has a few programs of its own, made explicitly for those who protect our nation's freedom and safety.
Like many aspects of life in New Hampshire, they keep their bureaucracy simple. Recognized by the DAV as a 2022 Patriot Employer, The New Hampshire Department of Military Affairs and Veterans Services (DMAVS) was commissioned in 2019 to consolidate the military and veterans' services made available across the state's various departments. DMAVS is the one-stop shop where you can learn about all of your benefits, write applications, submit claims, and receive guidance and support as you transition from military to civilian life and pursue your college education at a reduced cost.
To access many of these benefits, those residing in New Hampshire must have first utilized their federal benefits, then to apply for these additional programs. It's best to meet one-on-one with a veterans' service officer (VSO) to see what benefits apply to you. While DMAVS is based in Concord, they have VSO's available at 11 locations across the state, from the north country all the way south to Keene.
New Hampshire's Tuition-Based Assistance Programs
The state of New Hampshire prioritizes making college affordable for its veterans, military service members, and their dependents. And they don't simply do it through a series of grants; in New Hampshire, they enact laws that specifically state that certain military-affiliated students will not pay tuition. In particular, there are laws regarding tuition that apply to National Guard members serving in NH and children of military service members who are deceased or injured.
New Hampshire National Guard Tuition Assistance
In New Hampshire institutions of higher education, like the University of New Hampshire and New Hampshire Community College systems, members of the New Hampshire National Guard can often take courses free of charge. This is on a space-available basis and applies exclusively to tuition (you may still have to pay other fees). You also have to utilize any federal educational entitlements that you're eligible for before you can start taking free classes. 
Those who want to take classes tuition-free in New Hampshire have to be an active member of the New Hampshire National Guard and residing either in-state or out-of-state. You also have to have completed advanced individual training or commissioning at the time that you are enrolling in a state-supported postsecondary institution.
Free Tuition for Eligible Children of Service Members
Children of captured or missing military service members who were living in the state of New Hampshire while serving in the US Armed Forces are eligible to attend a state-supported college for free. They must be the child of a military service member reported or listed as a missing person or POW after February 28, 1961.
Furthermore, children of members of the Armed Forces who have died in service during wartime or died from a disability that is connected to their service are also eligible to attend college tuition-free. The child must be attending a state-supported school, like any of the University of New Hampshire system schools or community colleges. There are also scholarships available for room, board, and related expenses, should these children need it. These scholarships can be up to $2,500 for no more than four years at these educational institutions.
New Hampshire's Scholarships and Grants for Military Service Members
New Hampshire War Orphan's Scholarship
Based on a law enacted in 1943 to grant scholarships to orphaned children of WWII veterans, the state of New Hampshire has updated this law to allow orphaned children of veterans to enroll in a state school free of charge. Children who are residents of New Hampshire and have lost a parent to a war can attend University of New Hampshire colleges as well as New Hampshire community colleges for free. The initiative also includes a stipend of up to $2,500, which can go toward room, board, books, and other educational costs. Children of veterans who later lost their lives due to injuries or conditions related to their service are also eligible to receive these funds. Applications are made available directly through the NH Division of Higher Education.
Veterans Support Programs
The Division of Higher Education within the New Hampshire Department of Education oversees educational and training programs for veterans who are utilizing their GI Bill® at state-supported institutions of higher learning. Any educational institution that is likely to enroll veterans must obtain this approval, which ensures that veterans are receiving the maximum tuition benefits that they are entitled to and that the institution in question is treating veterans with financial integrity.
Like some other states, the state of New Hampshire does not necessarily have specific state-sanctioned support programs for veterans seeking higher education. Rather, individual institutions have their own offices and support centers for military members and veterans.
Possible Station Assignments and Military Bases in New Hampshire
New Hampshire is a small state; chances are, you aren't from there. But relocating is part of what you signed up for when you joined the military, and if you're given a permanent change of station to the free state, you're most likely going to the one area of the state where
The Pease Air National Guard Base in Portsmouth is home to the 157th Air Refueling Wing as well as the 64th Air Refueling Squadron. It was the first Air National Guard unit to equip with the new Boeing KC-46 Pegasus aerial refueling aircraft—regarded as the Air Force's best tanker. The base is now a hub of air combat expertise, with military personnel working in air traffic control, aerospace maintenance, as well as weather services. In the seaport area of New Hampshire, those who work at Pease are in close proximity to the mountains around Manchester and Concord, as well as the Boston, MA and Portland, ME, areas, making this a vantage point for the diverse activities that New England has to offer.
Military Friendly Colleges in New Hampshire that Accept GI Bill® and Yellow Ribbon Program Benefits
Of the more-than 2,000 colleges and universities that participate in the Yellow Ribbon Program, only around 500 provide full funding and place no limits on the number of eligible students who can take advantage of it. These schools ensure that every eligible veteran who enrolls can count on full coverage of all tuition costs that exceed GI Bill® limits.
You'll be glad to know that a number of those military friendly colleges and universities are located right here in New Hampshire:
School of Arts and Sciences
School of Business and Social Sciences
School of Nursing and Health Sciences
Center for Healthcare Development
Thayer School of Engineering
Guarini Graduate Studies
Geisel School of Med
Dartmouth College Tuck School of Business
Dartmouth College Tuck School of Business-Thayer School of Engineering
Dartmouth College Tuck School of Business-Geisel School of Medicine
Dartmouth College Tuck School of Business-Guarini Graduate Studies
Dartmouth College Tuck School of Business-Dartmouth College
Geisel School of Medicine at Dartmouth
Geisel School of Medicine at Dartmouth-Center for Health Care Development
Geisel School of Medicine at Dartmouth-Thayer School of Engineering
Geisel School of Medicine at Dartmouth-Guarini Graduate Studies
Geisel School of Medicine at Dartmouth-Dartmouth College
Interdisciplinary programs
School of arts education and humanities
School of sciences sustainability and health
Massachusetts College of Pharmacy and Health Sciences (MCPHS)
Acupuncture
Arts and Sciences
Dental Hygiene
Healthcare Business
Medical Imaging and Therapeutics
Nursing
Occupational Therapy
Optometry
Pharmacy
Physical Therapy
Physician Assistant Studies
Professional Studies
Art and Design
Business and Management
Education
Government and Criminal Justice
Humanities
Information Technology
Nursing and Healthcare
Sciences
Plymouth State University
Art
Atmospheric Science & Chemistry
Biological Sciences
Business
Communication & Media Studies
Computer Science & Technology
Counselor Education & School Psychology
Criminal Justice
Elementary Education & Youth Development
Education Leadership, Learning & Curriculum
English
Environmental Science & Policy
Health and Human Performance
History, Philosophy & Social Studies
Education
Languages & Linguistics
Interdisciplinary Studies
Mathematics
Music, Theatre & Dance
Nursing
Physical Therapy
Psychology
Social Science
Social Work
Biological Sciences
Chemistry
Classics
Computer Science
Continuing Nursing Education
Criminal Justice
Economics & Business
Education
English
Fine Arts
History
Mathematics
Modern Languages
Nursing
Peace & Justice Studies
Philosophy
Physics
Politics
Pre-professional Programs
Psychology
Sociology & Social Work
Theology